East Longmeadow High School
Class of 1970
Classmates and friends of the
East Longmeadow High School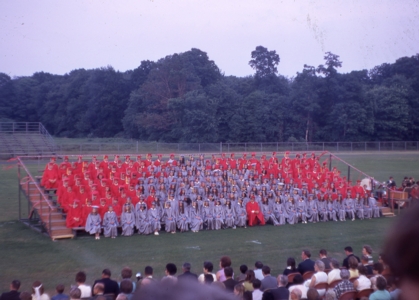 Graduation day - June 9, 1970
We're glad you're here! Administered by classmates Gina Truitt McKinney and Scott Moore, our site provides classmates and friends of our class an opportunity to reconnect, create new friendships, and celebrate the memories of our time together!
Our site is loaded with pages documenting our time together from kindergarten through today. We have info on the status of all our classmates, teachers, and staff, with life tributes for those who have passed, including upper and lower classmen and church pastors from our time.
Click on the "Kindergarten Thru 8th Grade" link to see pages for the schools we attended before ELHS. The K Thru 12th After School page has many photos of East Longmeadow from 1943-1971, and the ELHS 50th Birthday Party page documents our school's 50th anniversary celebration. For details on how ELHS came to be, see the History of ELHS page.
We offer membership to graduates and former classmates, and guest membership to our faculty and staff personnel, relatives, and alumni from other classes. Participation in our site is free of charge.
After joining, you may view the profiles of other members and contact them using the site's email system.
Graduates --- click on the Classmate Profiles page, then on your name, and follow the prompts to create your profile.
Former classmates, faculty and staff personnel, relatives, and alumini from other classes --- please contact us and we'll email you details on how to join.
Have something to share?
We're always seeking photos from our school years and of current events. Please contact us if you have some you'd like to share.
Please visit the Latest News page for current class news.
We hope you're enjoying a wonderful fall season!
Home page visitors to date:
222,707