East Longmeadow High School
Class of 1970
Sophomore Year
Please scroll down the page or click on a link below. After clicking on a link, use your browser's "back" button to return here.
Please hover over the "Our ELHS Years" link to view our commencement, senior candids, and other years. Photos and their captions, and write-ups in quotations are courtesy of our yearbook.
Class Officers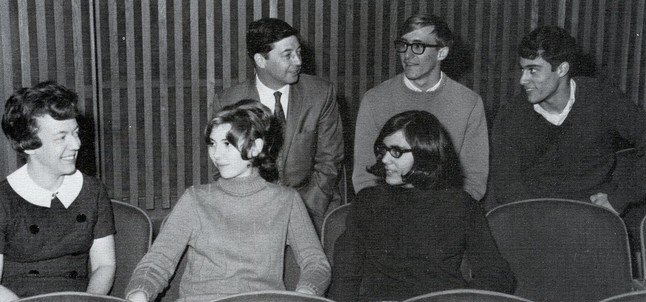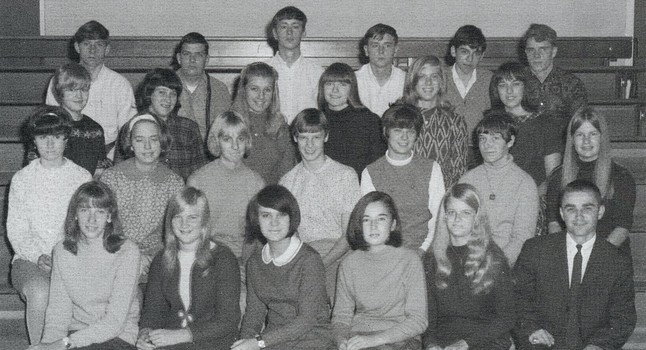 Homeroom 104. Front row: Deborah Andwood, Nancy Blaisdell, Patricia Berard, Laura Bradley, Leslie Bergeron, Mr. Paul Tarsa. Row 2: Donna Bitzer, Kendra Bowker, Sandra Andrews, Janet Betterley, Susan Abel, Judith Bliss, Nancy Birtwell. Row 3: Linda Bates, Lynn Belliveau, Jayne Anderson, Jean Bonin, Donna Anderson, Christine Bortle. Row 4: John Beery, Paul Battige, Robert Bradley, James Bourque, Leonard Beaulieu, William Anderson. Not pictured: Adele Archie.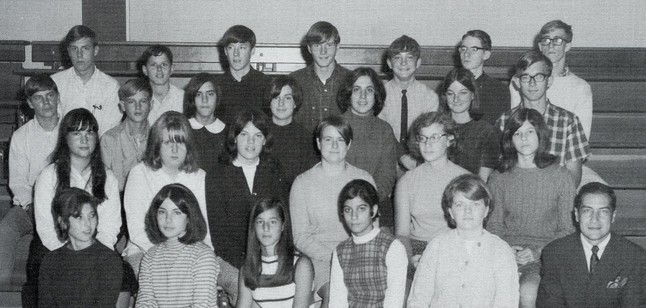 Homeroom 115. Front row: Marlene Cabana, Stephanie Chmielewski, Susan Circosta, Donna Colapietro, Nancy Cauley, Mr. Alexander Kotrotsos. Row 2: Arlene Breau, Sandra Brennan, Marsha Coons, Andrea Burger, Alison Cox, Nancy Burritt. Row 3: Todd Cormier, Lawrence Bradley, Debra Campanella, Nancy Bryson, Debra Butler, Janice Breen, Lawrence Cooper. Row 4: Thomas Churchill, David Carpenter, Roger Campbell, Robert Clark, Charles Ackerman, Steven Corey, Jeffrey Crary. Not pictured: Jeffrey Burton.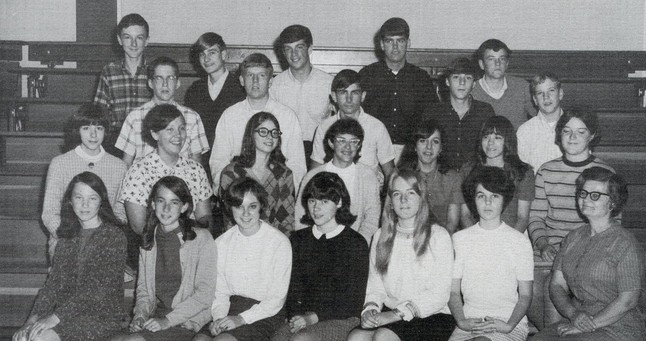 Homeroom 115. Front row: Sandra Cushman, Suzanne Dreyer, Beverly Dion, Lois Dusenberry, Debra David, Denise Descheneaux, Mrs. Nola Sheldon. Row 2: Kristine D'Angelo, Patricia Donovan, Beth Davidson, Karen Esposito, Anna D'Angelo, Barbara Ducharme, Julia Devine. Row 3: William Davis, Donald Eddy, Michael Doe, Roy Esposito, Ralph Donohue. Row 4: Fred Doersam, Mitchell Dante, William Creighton, Michael DiMonaco, Bruce Duncan. Not pictured: Henry Dickinson, John Evans.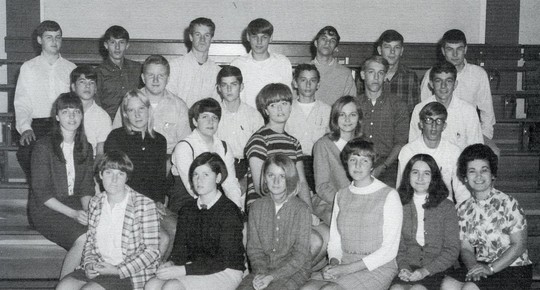 Homeroom 117. Front row: Linda Gray, Nancy Holland, Mary Holotka, Patricia Hendrick, Ann Marie Hearn, Mrs. Dorothy Allard. Row 2: Vivian Haskell, Deborah Gray, Donna Fiorentino, Deborah Hanson, Andrea Hastings, Andrew Farquharson. Row 3: Dale Goddard, Brian Falk, Stephen Geoffrion, Steven Gagner, John Haetinger, David Gallerani. Row 4: Richard Grimaldi, David Farioli, Mark Hadeler, Douglas Goodrich, David Farrell, Armand Gamache, Peter Garafalo.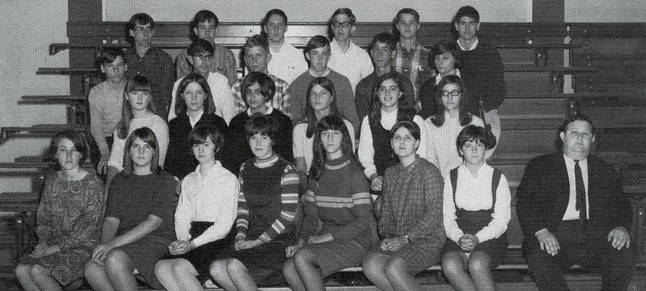 Homeroom 118. Front row: Linda Laliberte, Nancy Jenne, Lynne Kinney, Eileen Jordan, Nancy Lavertue, Susan Jasinski, Margaret Izzo, Mr. Irwin Kerson. Row 2: Pamela Johnson, Katherine LaBerge, Elizabeth Lasek, Diane LaFave, Ellen Hopkins. Row 3: John Illig, Thomas Gorman, Edward Lemanski, Carl Larson, Paul Lieberwirth, Jean Kelly. Row 4: Dennis Kronenberg, Robert Keane, Paul LaBroad, William Kenyon, Edward Kopec, Robert Ireland.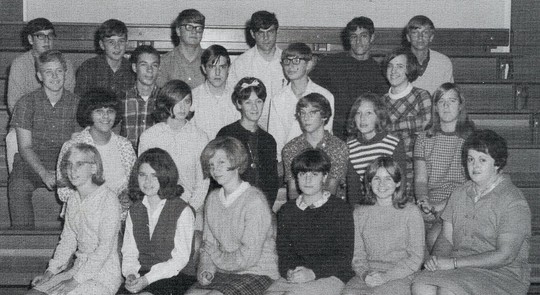 Homeroom 119. Front row: Karen Martin, Virginia Martin, Lois Melbourne, Catherine Maurer, Susan McGill, Miss Sandra Johnson. Row 2: Lee Mazzaferro, Candice Marino, Marilyn Man, Marilyn Medbury, Janet McCarthy Jane Mertz. Row 3: Andrew Malloy, Edward McDonough, George Lull, Victor Linden, Allison Lipp. Row 4: Paul McNamara, Richard Maurer, Douglas Milroy, Thomas Mineo, James Manferdini, Richard Malmstrom. Not pictured: Bruce Lindwall, August Maserati.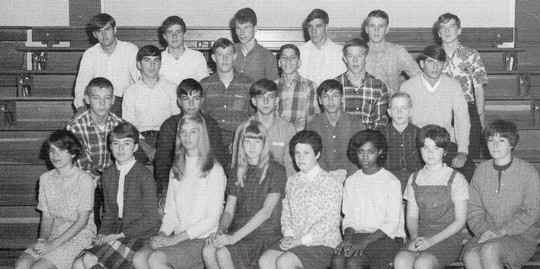 Homeroom 120. Front row: Brenda Misitano, Nola Olmsted, Linda Mottle, Pamela Murphy, Kathleen Newton, Adrienne Myers, Patricia Olier, Mrs. Ruth Hirshberg. Row 2: Bruce Moore, John Ouellette, David Owen, Enrico Oliveri, Channing Orr. Row 3: Thomas Ouellette, Ross Overlock, Stephen Newell, Gregory Naylor, Richard Mondoux. Row 4: Ralph Nooney, Franklin Miorandi, John McGrady, Peter Ouellette, Scott Moore, Kim O'Brien. Not pictured: Bruce Ostrander.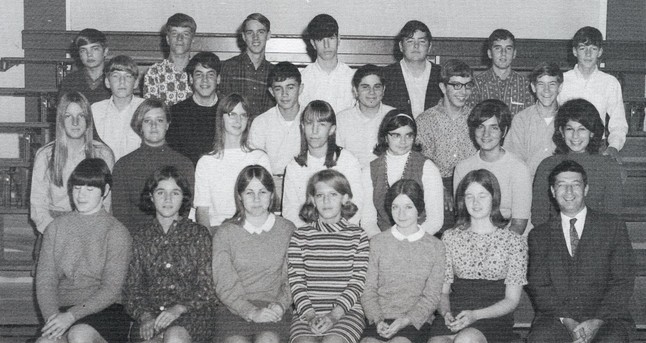 Homeroom 121. Front row: Joanne Rinaldi, Kathleen Price, Deborah Sawyer, Susan Regnier, Linda Redin, Debra Peterson, Mr. Raymond Simonds. Row 2: Jane Passburg, Eleanor Ramey, Priscilla Perusse, Patricia Ryan, Cynthia Richards, Susan Petronino, Pamela Sakakeeny. Row 3: Richard Pesto, John Quinn, Robert A. Price, Carl Porcelli, Stephen St. Marie, Dennis Plante. Row 4: Joseph Roy, David Sabourin, Robert Reis, Albert Raimondi, Robert M. Price, David Radebaugh, David Sand. Not pictured: Cynthia Page.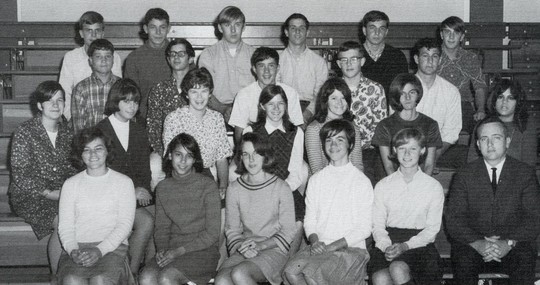 Homeroom 122. Front row: Maria Siano, Christine Stewart, Ann Tesoro, Nancy Steitz, Nancy Sroka, Mr. James Dowd. Row 2: Jeanne Symmes, Paula Seligman, Gail Taylor, Susan Sullivan, Pamela Stenard, Donna Tranghese, Dorothy Stellato. Row 3: Mark Simone, Wayne Soffan, John Stolecki, William Scheumann, William Stark. Row 4: Clark Swanson, Stanley Sroka, Paul Stilphen, Wayne Scully, Felix Tranghese, Charles Taylor. Not pictured: Thomas Sullivan.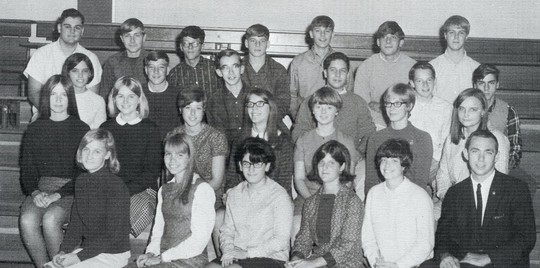 Homeroom 125. Front row: Susan Wicks, Nancy Vallett, Teresa Villamaino, Nancy Yacovone, Gail Vagts, Mr. Gary Bunce. Row 2: Susan White, Susan Waterman, Valarie Weber, Susan Wolcott, Jane Viveiros, Nancy Wrinkle, Melinda Wheeler. Row 3: Regina Truitt, Richard Willard, Jarl Weyant, Anthony Zampiceni, Malcolm White, David Turnberg. Row 4: Stephen Viger, Barry Tuck, John Vigliano, Kurt Whitney, Robert Wenning, Mark Whyte, James Wilkins.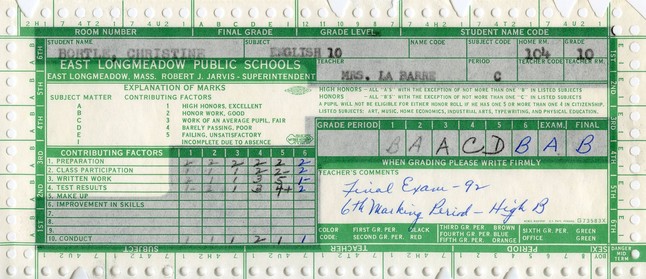 Our report cards consisted of computerized sheets which were marked each period. Here is Christine Bortle's English report card. Her teacher was Mrs. Ella LaBarre.
Activities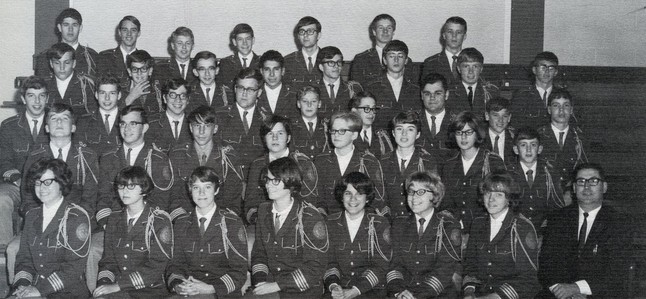 Spartan Band. Front row: Valerie Jamison, Joanne Cangro, Sharon Bode, Pamela Nelson, Brenda Misitano, Karen Carlson, Barbara Darby, Mr. Joseph Charron (conductor). Row 2: Kim O'Brien, Douglas Best, Gus Maserati, Jeanne Symmes, Laura Powers, Nola Olmsted, Fleda Weyant, David Hansen. Row 3: Steve St. Marie, Bruce Eldridge, Paul Krasnovsky, Jim Douglas, Robert Driscoll, M. Pratt, Steve Viger, William Tyler, Charles Rossi. Row 4: Allan Phillips, Robert Moran, Jarl Weyant, D. Bartone, Gary O'Gorman, Bob Bradley, Bob Lundgren, John Corliss. Row 5: Bob Ireland, Bob Reis, Andy Malloy, Dennis Plante, Charles Brooks, Mark Hadeler, Scott Moore. Not pictured: Dave Gee, Richard Clark, Mike Harton, Judith Martin, Karen Martin, Frank Miorandi, Robert Peirce, Bob Roy.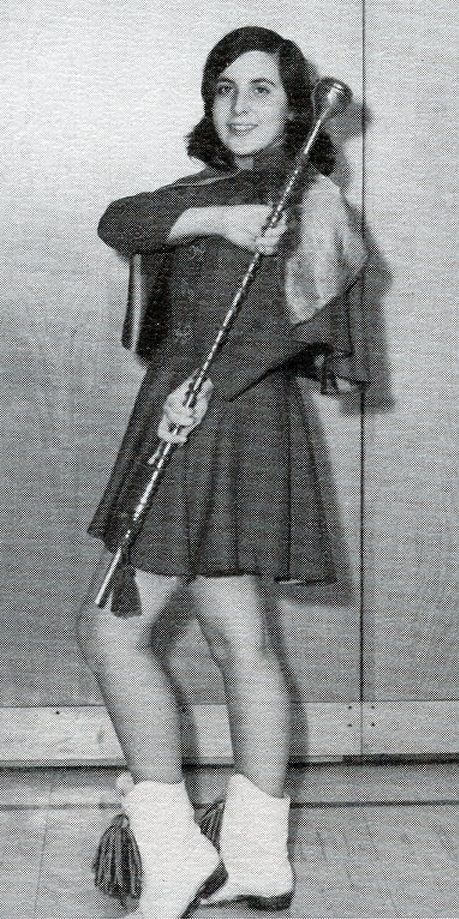 Band majorette Debra Butler.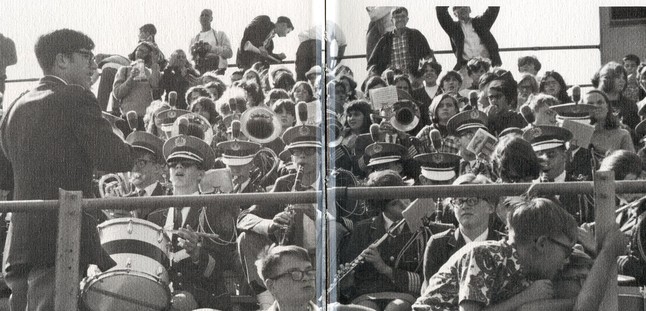 Our music man Paul Krasnovsky, commands the uniformed aggregation of musicians on any football Saturday.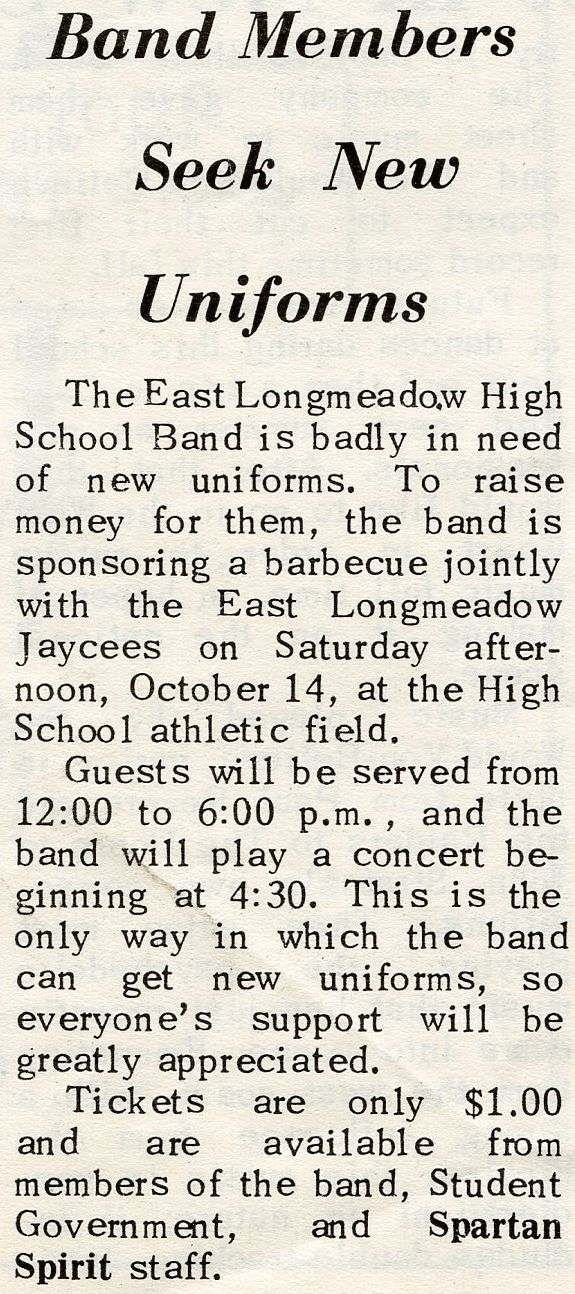 Spartan Spirit, Oct. 6, 1967.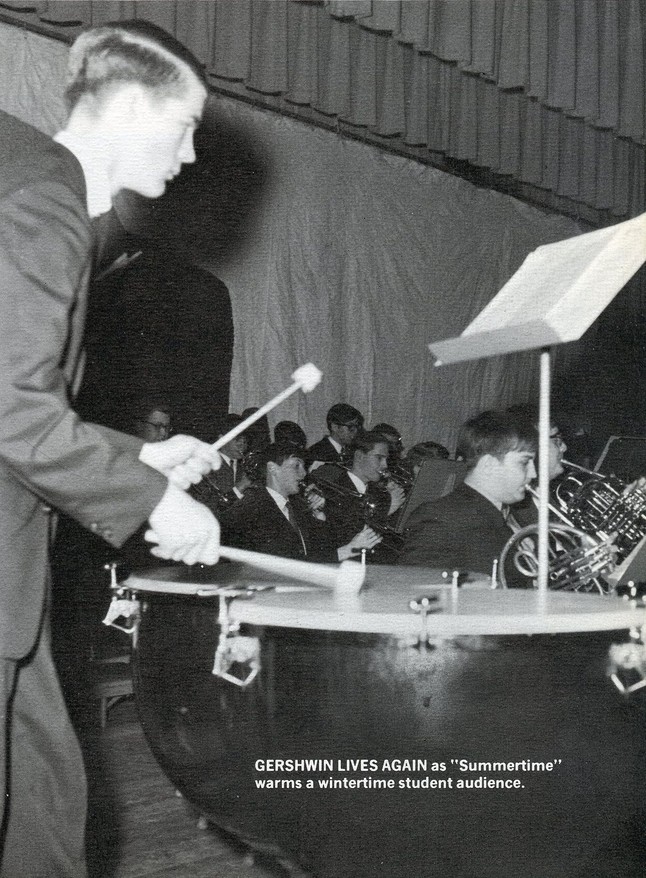 Gershiwn lives again as "Summertime" warms a wintertime student audience.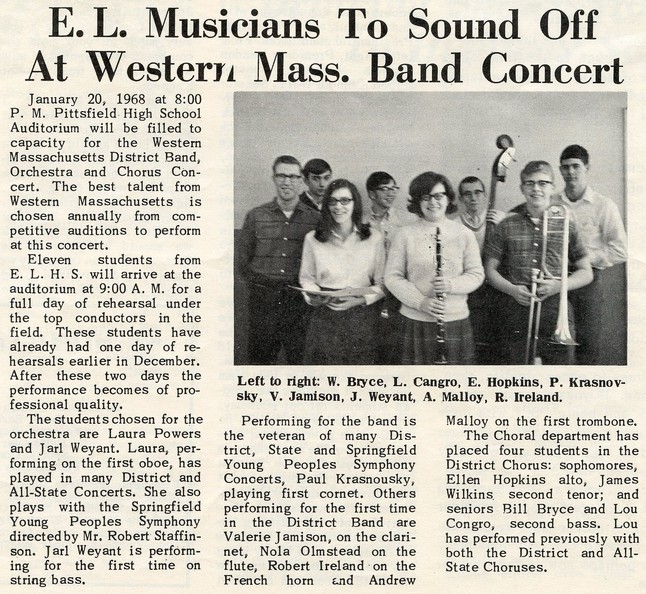 Spartan Spirit, Jan. 19, 1968.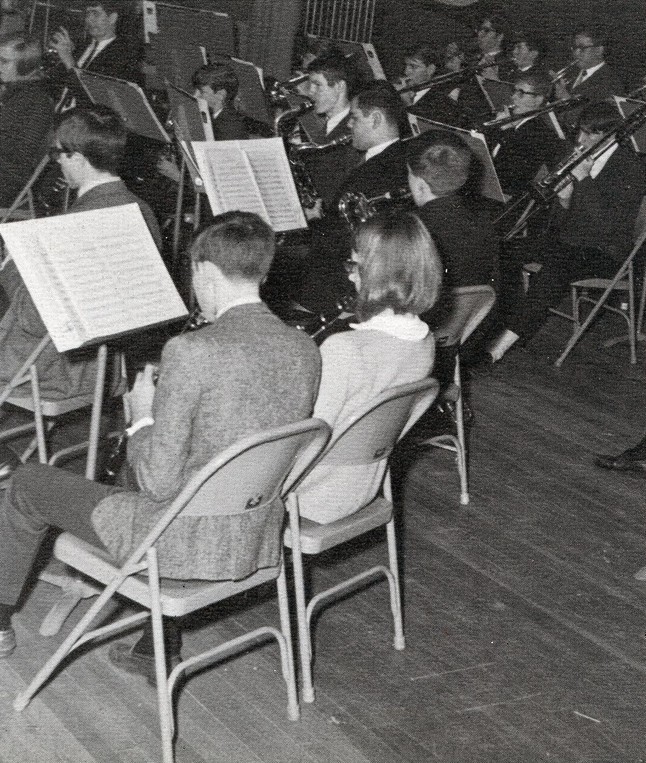 After long hours of musical reaching, the band presents Dvorak's "New World Symphony" under the masterful direction of Mr. Joseph Charron.
"The musically talented students are able to display their various abilities by participating in the many activities of the East Longmeadow High School Band. In addition to traditional halftime performances at football games, the band included in its fall undertakings a beef barbecue and band concert to raise money for new uniforms.
"Although the band is not large, under the expert direction of Mr. Joseph Charron, it has been able to excel musically. Evidence of this fact is East Longmeadow's ample delegation in the District Band. Representing our school in the band were Andy Malloy on trombone, Nola Olmsted on flute, Valerie Jamison on clarinet, Bob Ireland on French horn, and Paul Krasnovsky on trumpet. Also, selected for the District Orchestra were Jarl Weyant playing the string bass and Laura Powers playing the oboe. Laura was also chosen to participate in the All-State Orchestra, and Paul Krasnovsky gained a position in the All-State Band.
"The professional performance of the Dance Band in Spartanum Spectaculum is another indication that a small group of talented, well-trained young musicians can produce beautiful music."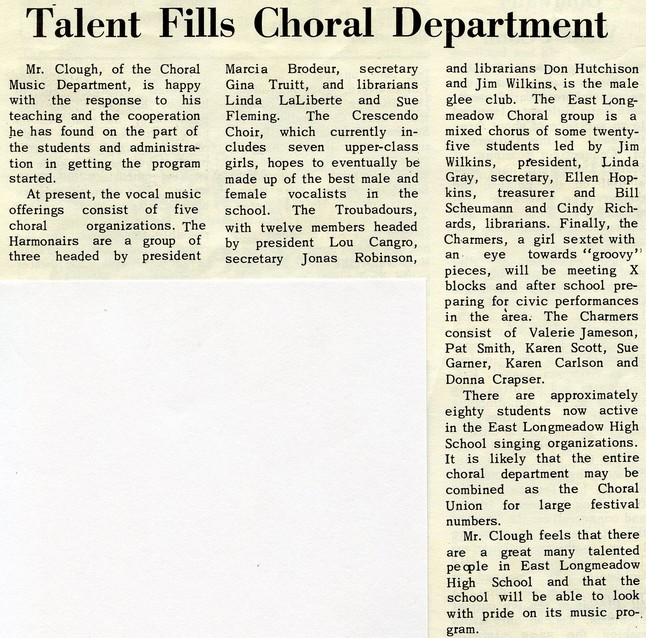 Spartan Spirit, Oct. 6, 1967.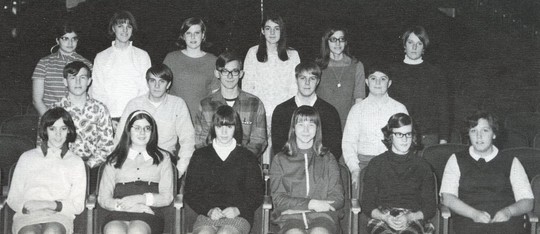 Mixed Chorus. Front row: Debra Lawson, Cynthia Robbins, Elizabeth Soffan, Debra Hamilton, Martha Heenan, Pat Donovan. Row 2: Bill Scheumann, Chuck Taylor, Larry Cooper, Jim Wilkins, John Hire. Row 3: Cindy Richards, Rosanne Reis, Charlotte Merton, Elaine Reall, Ellen Hopkins, Linda Gray. Not pictured: Sandy Brennan, Lee Mazzaferro, Gary Monson, Mr. Thomas Clough (advisor).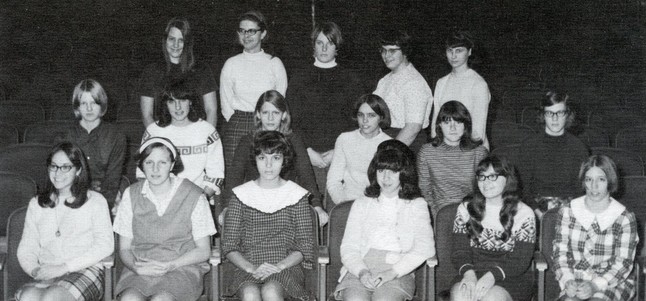 Harmonaires. Front row: Phyllis Vagts, Pat Hendrick, Irene Gauthier, Ann Giallanza, Judy Repossi, Amelia Ingram. Row 2: Pamela Murphy, Melissa McIntire, Susan Regnier, Gina Truitt, Patricia Vadnais, Martha Heenan. Row 3: Marsha Brodeur, Linda Earnshaw, Linda Gray, Janice Debour, Beverly Debour. Not pictured: Alison Cox, Susan Fleming, Lee Mazzaferro, Virginia Martin, Kathy Newton, Sandra Rosati, Jane Washburn, Dianne Hobbs.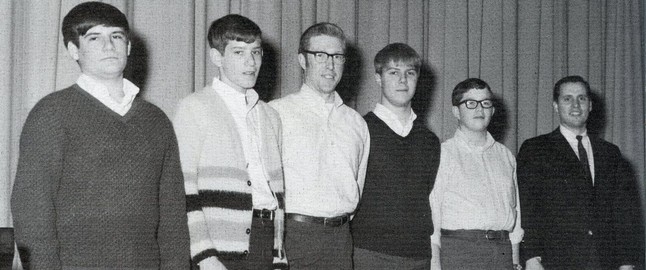 Troubadors. Ronald Rennell, Richard Clark, William Bryce, Jim Wilkins (secretary), Jim Mahyer, Mr. Thomas Clough (advisor). Not pictured: Louis Cangro (president), Dale Goddard, Donald Hutchinson (librarian), Jonas Robinson, David Taylor, Patricia Tilden, Wayne Vogel.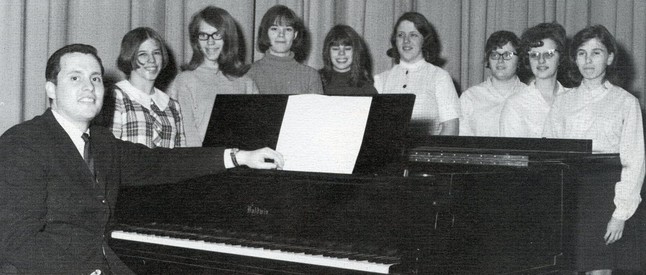 Crescendo Choir. Mr. Thomas Clough (advisor), Amelia Ingram, Susan Wolcott, Susan Garner, Karen Scott, Cynthia Torrey, Barbara Wright, Eunice Langevin, Connie Haynes.
"Broadening the choral program, the music department offers several singing clubs for the musically talented. These groups are incorporated into class time. The Crescendo Choir is unique in that it applies various languages such as French, Italian, and German to their music. The Harmonaires is an all-girl chorus. The male members of the student body are equally represented by the Troubadours. Collectively, these students comprise the East Longmeadow High School Chorale. With the medley of voices, the Chorale takes part in special Thanksgiving, Christmas, and Easter programs as well as the Spring Music Night."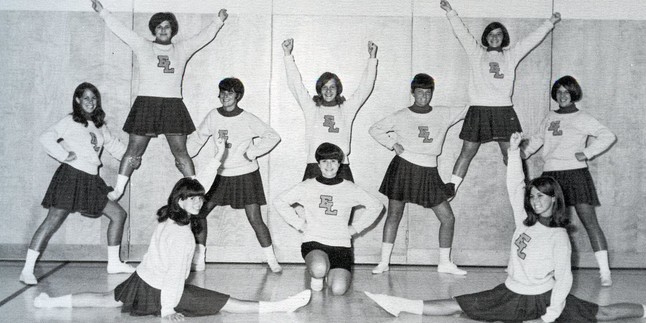 Varsity Cheerleaders. Sitting: Andrea Scott, Sally Benoit (co-captain). Kneeling: Donna Bitzer. Standing: Cynthia Burr (treasurer), Susan Mondoux (football cheerleader captain), Sue Abel, Susan Seppanen, Jean White, Kathy Siano (secretary), Sherry Flaherty. Not pictured: Kathy Bourque (co-captain), Susan White.
"The Varsity Cheerleaders continued to promote good sportsmanship and school spirit as they encouraged East Longmeadow High School teams in victory and in defeat. Tangible evidence of this encouragement transcended sports activities. These active girls aided in the arrangements for and directed the bonfire activities as the football season opened. A thousand voices followed their enthusiastic lead at pre-season basketball and football sports rallies in the gym. As the polls opened in the school on election days, voters were treated to their baked goodies, for a price, by the cheerleaders and majorettes.
"The grace and agility displayed by the girls each week comes only after tiring practice sessions twice a week, once their routines have been perfected. Under the guidance of Miss Doris Knechtel, the girls sold "Spartan Spirit" and "Spear Lancers" pins to avid Spartan fans. They also aided in the arrangements for spectator buses in order that more East Longmeadow students could cheer their teams at away games."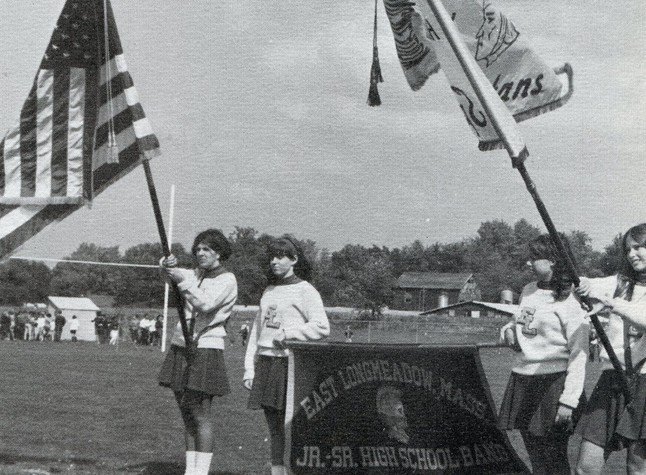 A misty moment during our national anthem in pre-game ceremonies, with cheerleaders Sherry Flaherty, Andrea Scott, Cynthia Burr, and Susan White.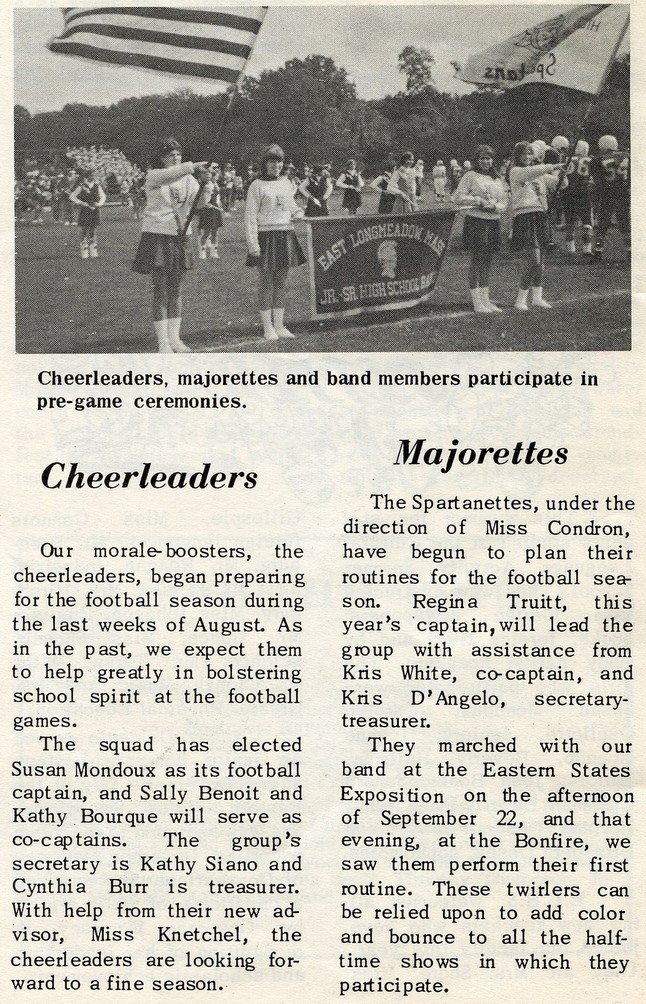 Spartan Spirit, Oct. 6, 1967. Cheerleaders, left to right: Sherry Flaherty, Andrea Scott, Cynthia Burr, and Susan White. Gina Truitt leads the majorettes, with the band in the background and football team on the right.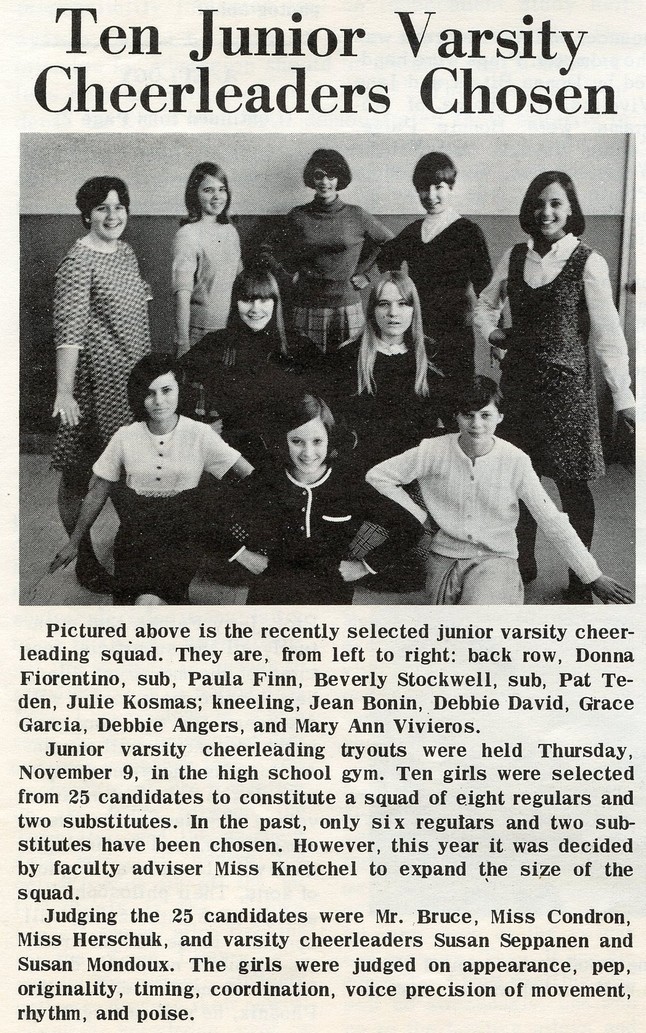 Spartan Spirit, Nov. 17, 1967.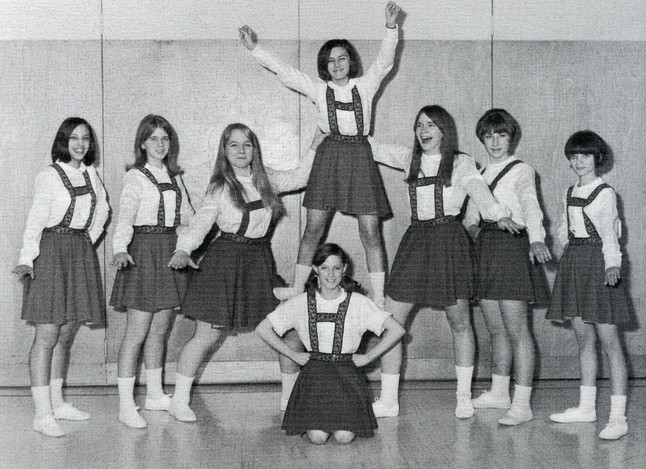 Junior Varsity Cheerleaders: Front row: Deborah Angers. Row 2: Julia Kosmas, Paula Finn (captain), Debbie David, Grace Garcia, Jean Bonin, Patricia Teden, Mary Ann Viveiros. Not pictured: Miss Doris Knechtel (advisor), sustitutes Donna Fiorentino and Beverly Stockwell.
"Talented at creating enthusiasm and boosting morale were the Junior Varsity Cheerleaders. Miss Doris Knechtel, who served as this year's advisor, decided to expand the squad from six to eight members before tryouts. Late in November, the tryouts were held and Paula Finn, Julie Kosmas, Pat Ireland, Debbie Angers, Grace Garcia, Debbie David, Jean Bonin and Mary Ann Viveiros were chosen as regular members of the squad. Selected to act as substitutes were Beverly Stockwell and Donna Fiorentino.
"Despite the fact that this year's J.V. Cheerleaders were inexperienced, they were prepared to cheer at every game, and added several new and different cheers to the traditional cheers."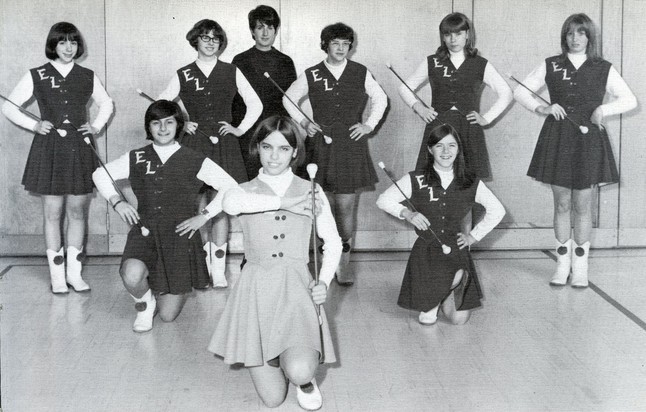 Majorettes. Front row: Gina Truitt (captain). Row 2. Mary-Elizabeth Oliveri, Sue Sullivan. Row 3: Kris D'Angelo, Kristine White, Kim Esposito, Jane Wrinkle, Maureen Whalen. Row 4: Miss Barbara Condron (advisor).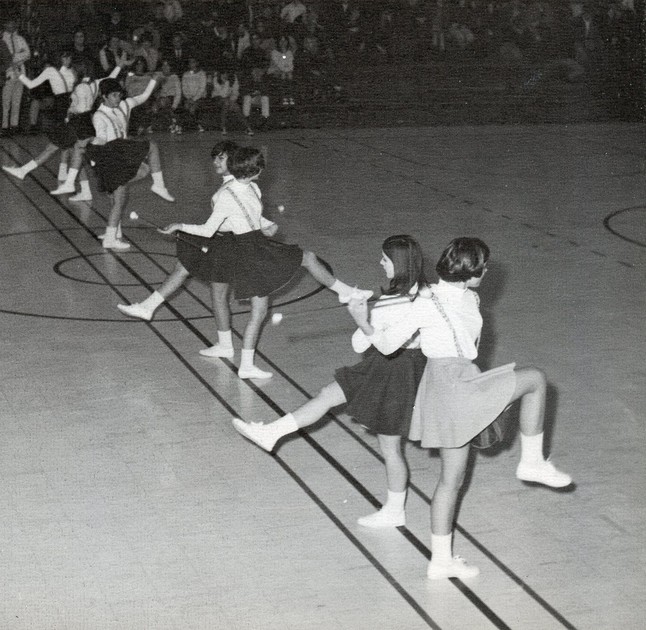 Batons twirling, the Majorettes entertain basketball fans with spirit and style in support of the Spartan Hoopsters.
"Increased appearances necessitated many hours of practice for Miss Barbara Condron and the Majorettes. Halftime at football games, Spartanum Spectaculum, and the Memorial Day town parade were only a few of the traditional performances made by the girls. Basketball fans at halftime and fairgoers to St. Marks Country Fair were given displays of twirling talent, but audiences were not limited to the young. Nursing homes and the Golden Age Club were also on the list of appearances.
"Competition, a major part of the Spartenettes' activities, included the Northeast Open Championship at Mountain Park and the New England Twirl-off at Birchland Park School."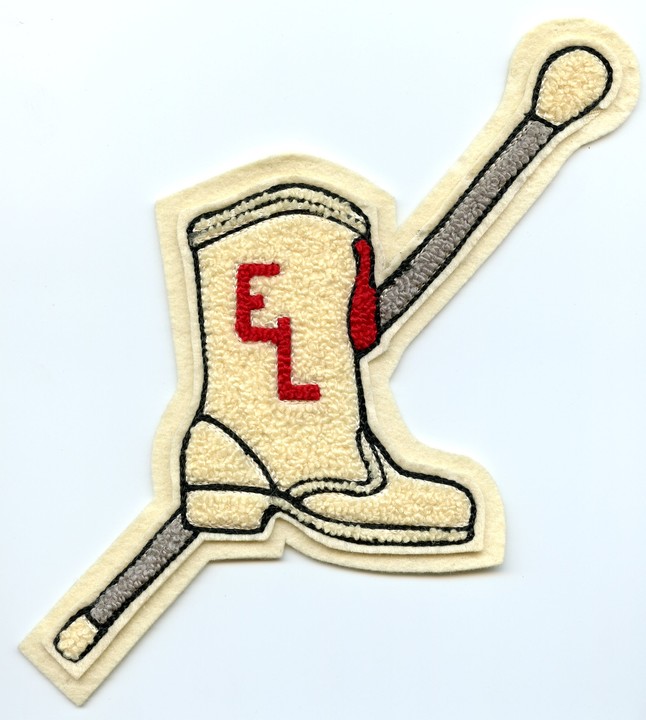 Gina Truitt was awarded this letter for being a member of the Majorettes.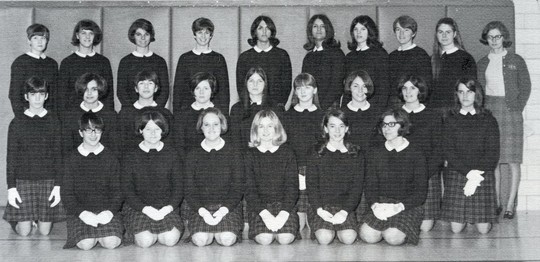 Drill Team. Front row: Nancy Gold, Cynthia Richard, Eleanor Ramey, Susan Waterman, Suzanne Dreyer, Joanne Buendo. Row 2: Nina Lodigiani, Mary Ann LaLima, Kathryn Brega, Nancy Holland, Elizabeth Lasek, Pamela Johnson, Susan Herrick, Nancy Chase, Lois Ramey. Row 3: Susan Pauly, Rosanne Reis, Gail Howe, Bette Ireland, Diane Harton, Barbara Harton, Marsha Coons, Ruth Ferguson, Susan Burger, Mrs. Pamela Grazio (advisor). Not pictured: Patricia McGill.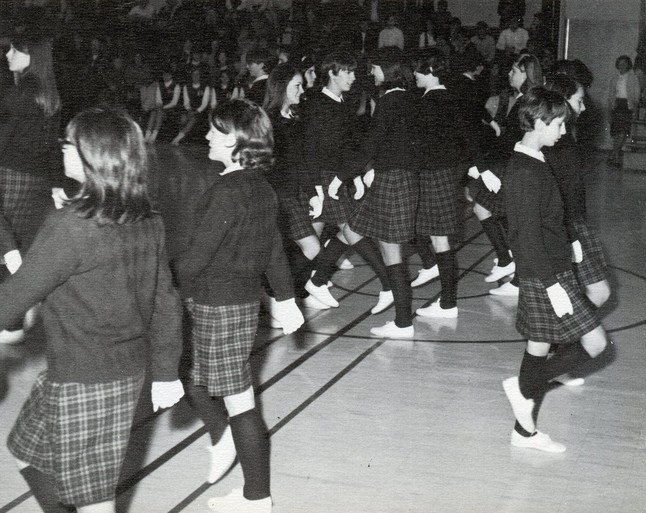 Wheeling and weaving, the members of the Drill Team concentrate on the rhythm of the music while a basketball crowd smiles its approval.
"Few people realize the enthusiasm necessary for membership in the ELHS Drill Team. Despite the inconvenience of early-morning practices, the members of the team drilled every Tuesday, Thursday, and Friday at 7:00 a.m. Under the direction of Mrs. Pamela Grazio, the group of twenty-seven girls provided precisioned entertainment during halftime at football and basketball games.
"Drill Team performances, which alternated with those of the Majorettes, were enhanced by neat, uniform appearances. The team presented routines at two football games and three basketball games and hopes to be even more active in future years. Although this group is only two years old, the exactness of their routine reflects hard practice and good organization."

Spartan Spirit, Nov. 17, 1967.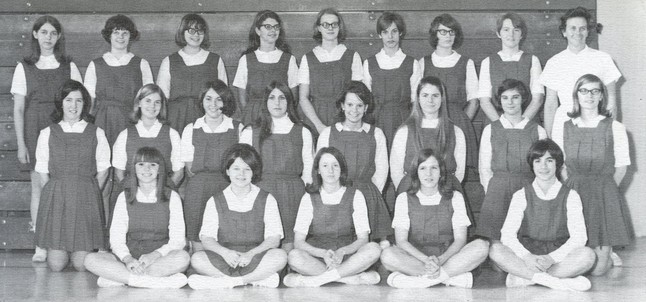 Leaders' Club. Front row: Diane Ferris, Cynthia Richard, Mary Ellen Boyd, Susan Seppanen, Nancy Steitz. Row 2: Marilyn Bean, Frances Lorent, Susan Herrick, Cynthia Rosati, Nancy Dalessio, Susan Burger, Sue Abel, Patricia Filipek. Row 3: Joan Weferling, Claudia Taylor, Deborah Sistare, Linda Earnshaw, Edna Hanson, Mardel Stranch, Pamela Nelson, Ruth Ferguson, Miss Jakie Upshaw (advisor). Not pictured: Gail Howe.
"Distinguished by their bright red gym togs, the members of the Leaders' Club aid Mrs. Pamela Grazio and Dr. Jakie Upshaw in instructing regular gym classes. Their duties include the direction of warm-up exercises and participation in class demonstrations such as exhibitions on pieces of gymnastic apparatus like the rings and balance beam. The club is open to all sophomore, junior, and senior girls who have maintained good academic averages and have been approved by the physical education instructors."
Debate Club. Front row: Steve St. Marie, Linda Bates, Dennis Plante. Row 2: Robert Holland, John Thurner, Gary Tarpinian, Charles Valliere, Mr. Charles McKinney (advisor). Row 3: Bob Ireland, Bob Price, Mark Lacedonia, Stephen Fairbanks.
"The debate team began its fourth year in the Connecticut Valley Debate League. Coached by Mr. Charles McKinney, the team was composed of a four-man varsity unit and a novice team. Varsity team members included Charles Valliere, John Thurner, Robert Holland and Gary Tarpinian, with Gary serving as club president. Mark Lacedonia, Mark Safford, Linda Bates and Stephen St. Marie were members of the novice team. Mr. Irwin Kerson served as debate judge." Note: The team ended up capturing first place in the Connecticut Valley Debate League.

Drama Club. Front row: Linda Earnshaw, Sally Benoit, Alison Cox, Valerie Jamison, Debra Butler, Pat Donovan, Cindy Page. Row 2: Jim Wilkins, Ellen Hopkins, Debbie Andwood, Nancy Wrinkle, Gail Taylor, Susan Regnier, Melissa McIntire. Row 3: Jim Douglas, Clark Swanson, Tom Ouellette, Carol Van Wagner, Marthan Heenan, Ed Lemanski, Joe Lemanski, Mr. Richard Grover (advisor).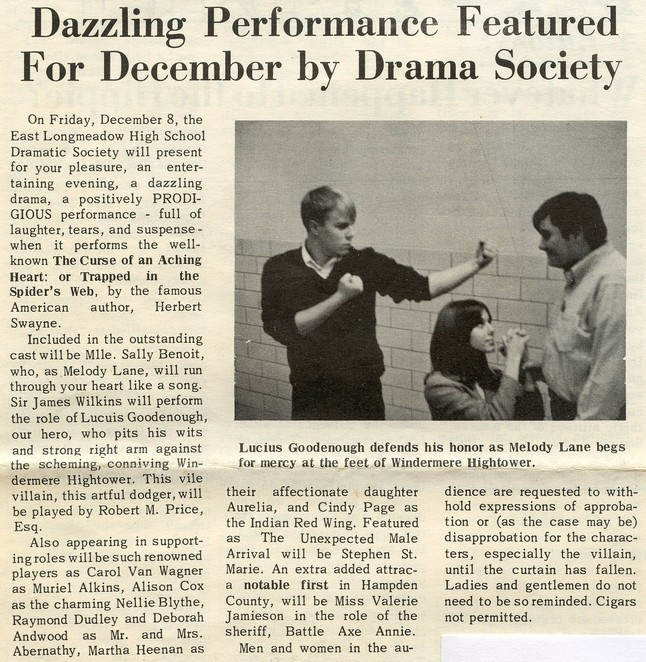 Spartan Spirit, Nov. 17, 1967.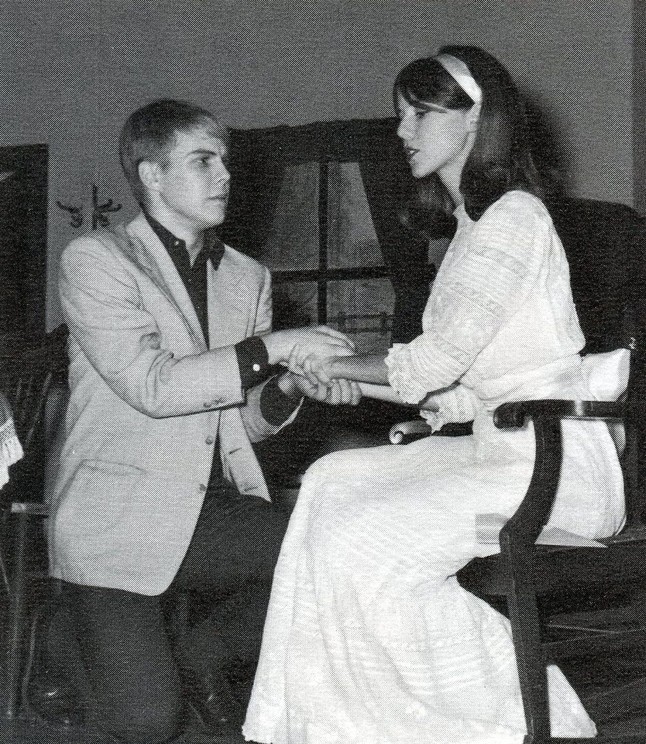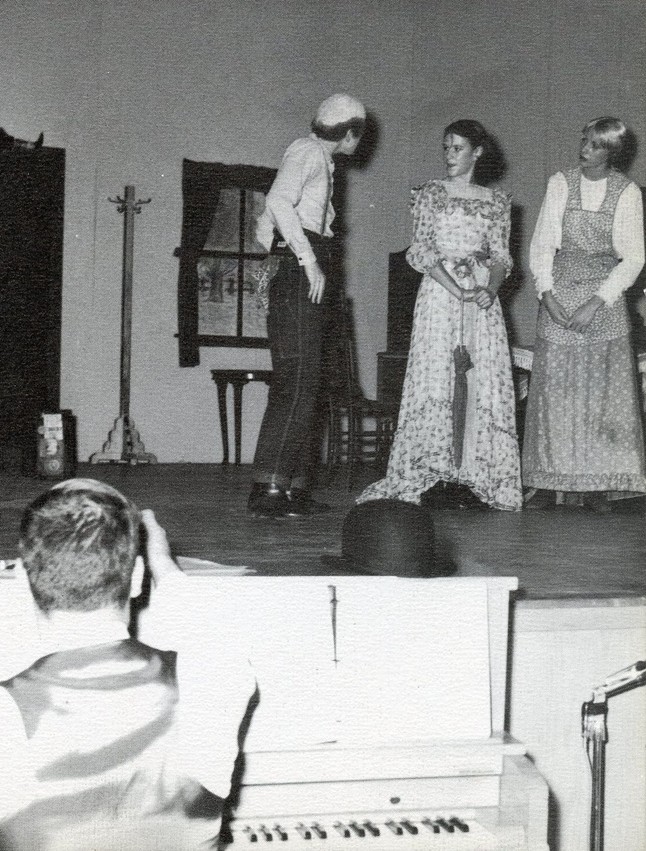 From the melodrama, "The Curse of an Aching Heart. Left: "I've always believed in you Lucius," sighs Sally Benoit to Jim Wilkins. Right: "Girls in Boston never call their fathas anything but Fatha," laments Martha Heenan to Ray Dudlley as Debbie Andwood looks on and Steve Viger plays melodramatic piano.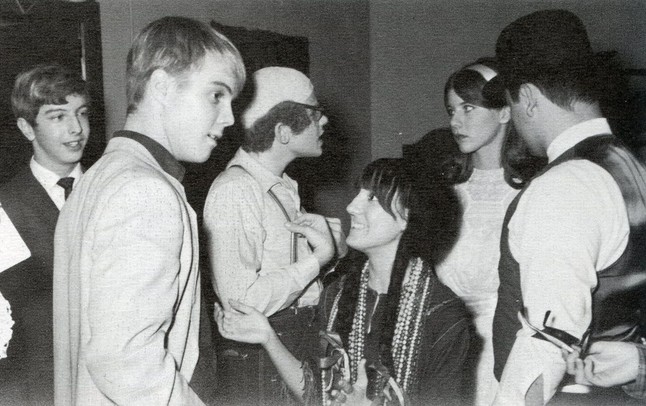 Behind the scences after a splendid performance --- Steve St. Marie, Jim Wilkins, Ray Dudley, Cindy Page, Sally Benoit, and Steve Viger.
"The East Longmeadow High School Spotlighters --- "a remarkable aggregation of illustrative actors" under the direction of Mr. Richard Grover, have experienced a very rewarding year. They began the year with a melodrama in December entitled "The Curse of an Aching Heart" or, "Trapped in the Spider's Web" with leading roles by James Wilkins and Sally Benoit. The music, which added much to the dramatic effect, was provided by Steve Viger.
"The club meets regularly to discuss upcoming plays and activities. On the the agenda for the year was a visit to Stage West and an assembly of one act plays during the spring. One very interesting project sponsored by the group was an experimental theatre. Any interested students participated in acting out original skits or monologues or parts from plays studied in classes. The purpose of this was to improve one's ability and to minimize self-consciousness by acting out parts conflicting with each student's character. This proved to be very successful and the Spotlighters look forward to many more profitable and rewarding endeavors."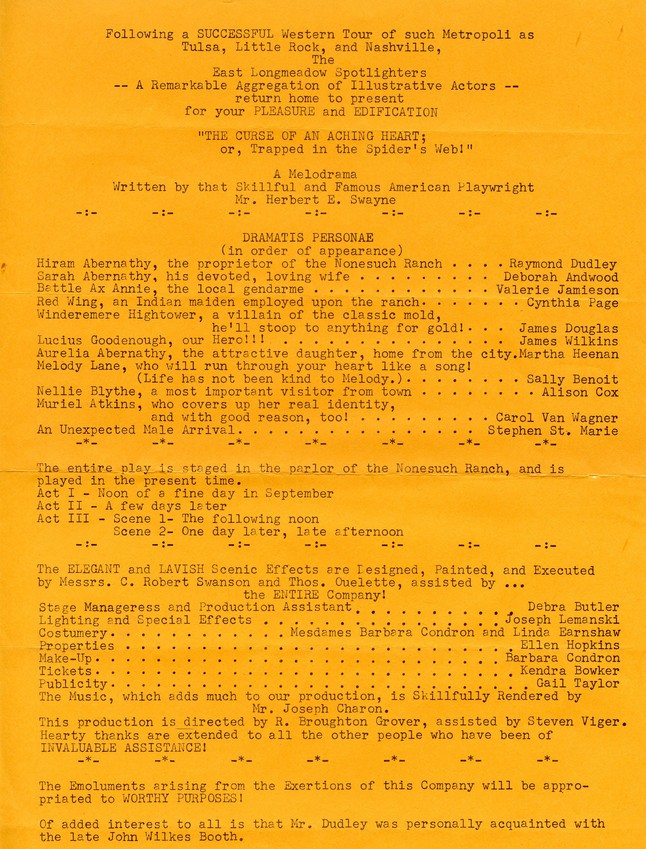 The Curse of an Aching Heart play program.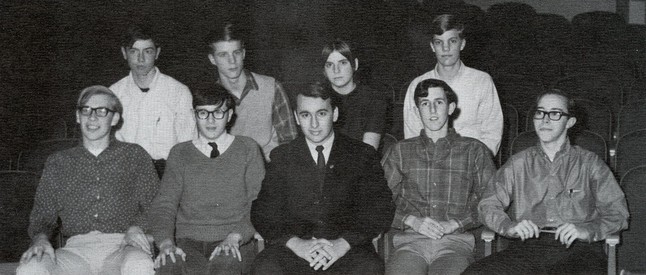 Model Congress. Front row: Eric Lindwall, Mark Safford, Gary Tarpinian, Mark Lacedonia, Charles Valliere. Row 2: Robert Holland, Scott Moore, Carol Van Wagner, David Kennedy. Not pictured: Mr. Daniel Kane (advisor).
"By giving students an opportunity to experience active participation in our national legislative process, the Model Congress Club offered a valuable insight into the workings of our government. Activities included the consideration of important and pertinent legislation, debating, voting, and lobbying. Representatives were also sent to Model Congresses at West Springfield High School, New Rochelle High School, and American International College."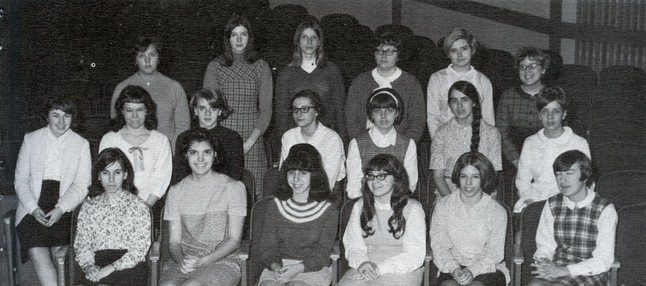 Literary Club. Front row: Connie Haynes, Cecile Gauthier, Ann Giallanza, Judy Repossi, Amelia Ingram, Miss Judith Sessler (advisor). Row 2: Beverly Hollman, Ellen Jette, Denise Ford, Helena Ellsworth, Vicky Haskell, Carol Wilson, Bonnie Paige. Row 3: Pat Donovan, Rosemary Dion, Marilyn Lasek, Barbara Wright, Mary Sambor, Karen Carlson.
"In its second year of existence, the Literary Club has proved to be a valuable asset to the school in that it seeks to gain recognition for promising writers and poets through publication of their works. One of the prime objectives of the club is to promote creativity, individuality of thought, and fine writing. The staff, numbering approximately sixteen with no officers by title, is under the supervision of Miss Judith Sessler. It meets once a week to discuss or edit works submitted by fellow students or to make preparations for the publication of Pegasus, the literary magazine.
"All work on the magazine, from typing and printing to assembling and selling, is done entirely by members of the club. An important project for the year was a literary contest with awards given for the best short story, essay and poem. The club has experienced a very successful and rewarding year and looks forward to future years of growth and progress."

Office Aides: Front row: Deborah Sistare, Nadine Allen, Noreen Dante, Barbara Harton, Diane Ferris, Bonnie Piusz, Sue McGill. Row 2: Claudia Taylor, Charlene Denver, Suzanne Dreyer, Kathy LaBerge, Frances Byron, Mary Holotka, Susan Waterman, Barbara Donovan. Row 3: Lynne Kinney, Janet Betterley, Debbie Andwood, Joan Nolan, Judith Powers, Cindy Richardson.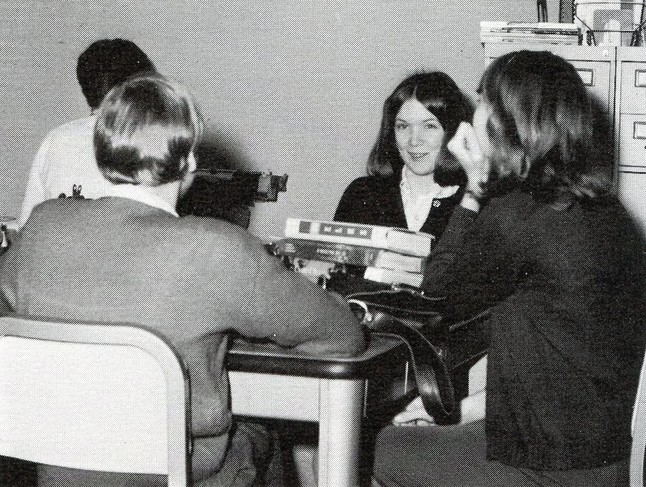 Filing and phone calls completed, Janet Betterley, Kathy LaBarge and Debbie Andwood await further duties from Mrs. Livingstone.
"Many people do not realize the tremendous amount of mail, files, reports, and papers that must be handled and processed every day by the staff for the efficient management of our school. The Office Aides, a group of thirty-five students, devote their free time to assisting the administrators, teachers, secretaries, and staff by filing reports, delivering messages, processing various papers in the school office, and performing many other important duties. Advised by Mrs. Agnes Livingstone, the office aides contribute significantly to the operations of the staff and the efficiency of the school administration."

Guidance Office Aides: Front row: Susan Langford, Donna Anderson, Nancy Smith, Marie Orlando, Mrs. Margaret McGowan (advisor). Row 2: Mrs. Patricia Haines (advisor), Donna Crapser, Bonnie Piusz, Laurie Forbes, Joanne Vedovelli.
"The Guidance Office Aides were supervised this year by Mrs. Margaret McGowan and, effective February first, Mrs. Patricia Haines. Fifteen girls were actively engaged as aides, each giving up one or more of their study periods each week. These girls were chosen because of their desire to work as receptionists to fellow students and their ability to maintain a college catagolue library of ten thousand volumes. These files consist of catalogues and supplements from schools in New England to as far away as Hawaii, Florida, and Alaska.
"The aides also maintain a career file which explains in-depth careers available upon completion of high school or college. A guidance counselor may also request a girl to deliver passes, sort papers, prepare lists, count out test materials or to do various other jobs."

Ski Club. Front Row: Lynne Kinney, Robert M. Price, Doug Best, Rosemary Dion, Carol Gurney, Cindy Richardson, Mr. Gary Bunce (advisor). Row 2: Janet Betterley, Debbie Andwood, Karen Wenning, Debbie Sawyer, Nancy Birtwell, Frances Byron, Cynthia Sabourin. Row 3: Nancy Wrinkle, Stephanie Chmielewski, Kathy LaBerge, Jane Passburg, Suzanne Dreyer, Mary Holotka, Susan Waterman, Jeanne Mercier. Not pictured: Bob Wenning.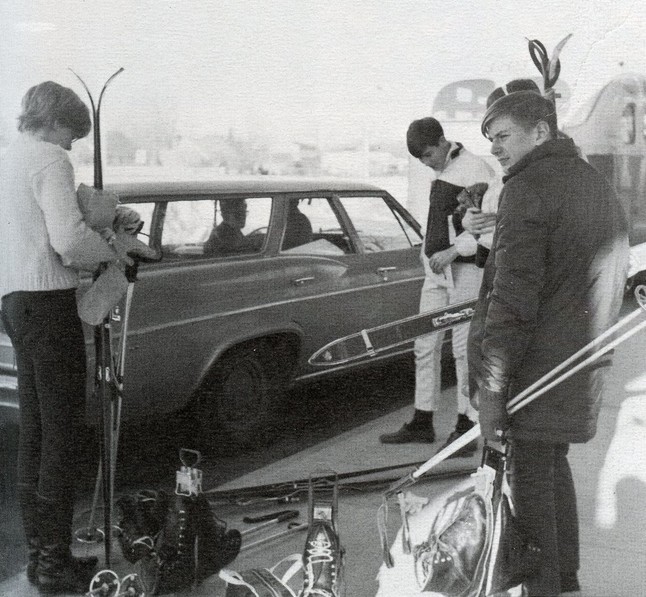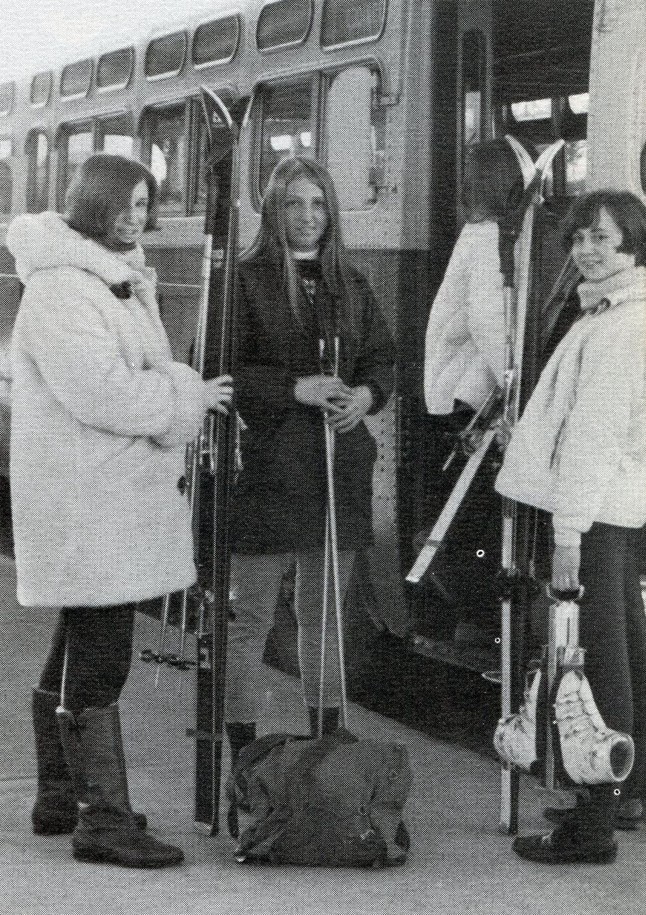 Left: Checking a maze of equipment, Ski Club members Nancy Wrinkle, Dennis Plante, and Ken Andwood prepare for an afternoon of skiing. Right: Waiting to board the bus to Mt. Tom are members Jeri Mercier, Jane Passburg, and Lynne Kinney.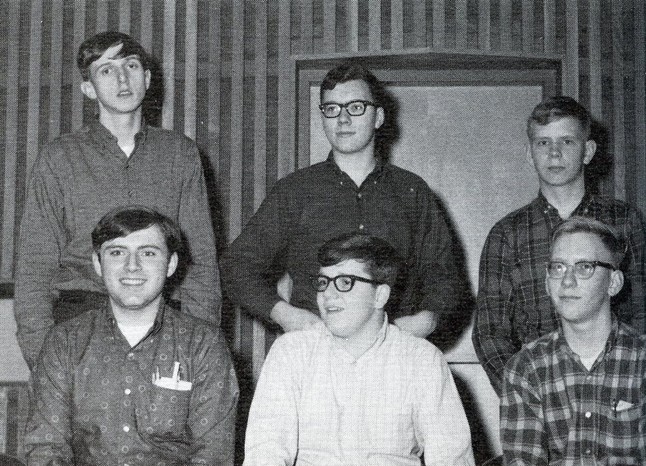 Audio Visual Club. Front row: Clyde Llewellyn, Joe Marazzi, Joe Lemanski. Row 2: Donald Burgess, Jeffrey Didas, Ed Lemanski.
"The Audio Visual Club continued this year as a service club. Advised by Mr. Lloyd Dale, the members of the club enhanced their own knowledge of audiovisual equipment while providing aid for teachers, supplementing their classes with the most modern methods of communication. Students at ELHS are all familiar with these methods as they add perspective to every course. WIth the cooperation of Mrs. Lois Lopes, the high school maintains an up-to-date and ever-growing library of films, filmstrips, and records available for use by all the town schools."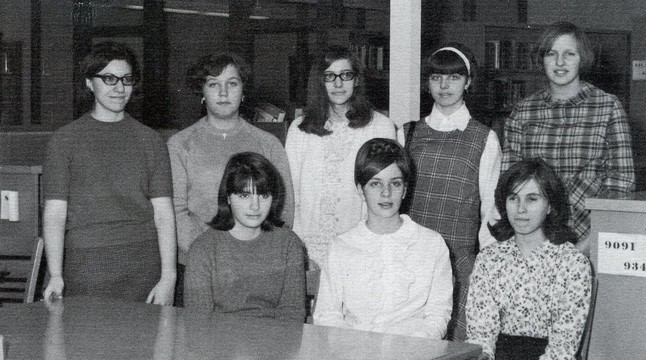 Library Aides. Front row: Paula Seligman, Bonnie Paige, Connie Haynes. Row 2: Joanne Buendo, Pat Donovan, Ellen Hopkins, Vicky Haskell, Pat Hendrick. Not pictured: Mrs. Lois Lopes (advisor).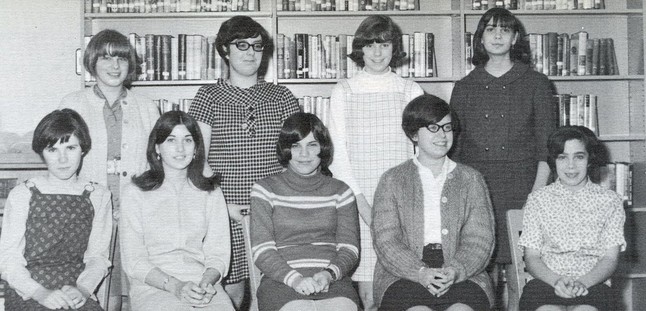 Library Aides (continued). Front row: Linda Williams, Elaine Shea, Brenda Misitano, Valerie Jamison, Janice Ouellette. Row 2: Sandra Haskell, Marie Roy, Kerry McRae. Not pictured: Steve Corey, Susan Newkirk, Beverly Hollman, Gerard Tremblay, Roberta Niznik, W. Poto.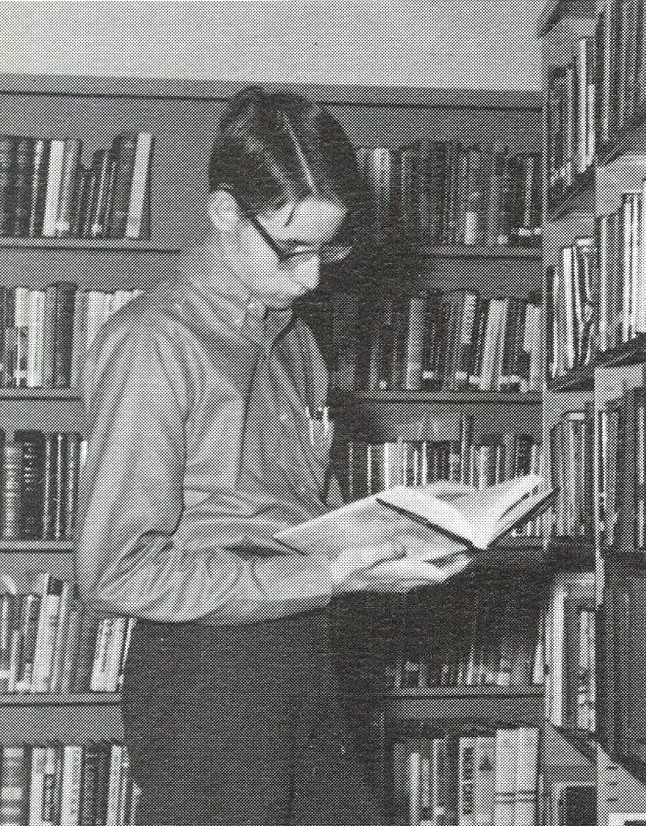 A transient momet of peace among the stacks, as library aide Steve Corey awaits the coming onrush of students.
"The East Longmeadow High School library provides many services for the teachers and students. These could not be offered without the help of the Library Aides, who give hours of willing service. Each aide works one to three hours a week as a library assistant. Their jobs include helping to prepare new books and materials, running the charging desk, shelving books, caring for magazines and mail, and offering reference assistance to students.
"The twenty-seven library aides had a Christmas Party in December and a June gathering of Senior Library Aides.
"Although they do not elect officers, the library assistants meet several times a year to discuss changes in the system. Mrs. Lopes, library aide advisor, hopes to select a library aide from ELHS who may attend the Student Library Assistance Summer Workshop at the University of New Hampshire in August of 1968."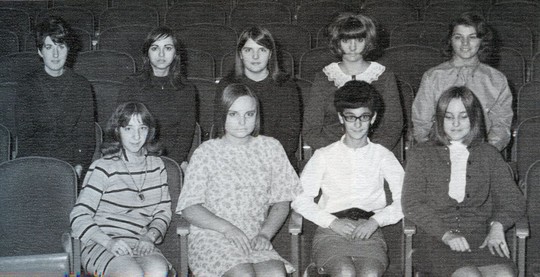 Red Cross Club. Front row: Sandra Orr, Melinda Wheeler, Joanne Russo, Diane Wheeler. Row 2: Miss Barbara Condron (advisor), Susan Lyman, Nancy Jenne, Jo Ann Resta, Maria Siano. Not pictured: Priscilla Perusse, Dennis Ostrander, Jean White.
"The Red Cross Club this year was highly active in its role as a service organization. Under the supervision of Miss Barbara Condron, the club made and distributed Chrismas favors to the elderly in nursing homes in the area. Decorations, entertainment, and refreshments were discussed as parties were planned for Veterans Administration hospitals and Westover AIr Force Base.
"President Priscilla Perusse, vice president Dennis Ostrander, secretary Nancy Jenne, and treasurer Jean White provided the student leadership this year. They made certain that the underprivileged of the world were not overlooked. The club worked on friendship chests and kits for children overseas, especially those in Viet Nam. Locally, parties were planned for children at the South End Community Center and Dunbar Community Center in Springfield.
"All members of the Red Cross Club are to be commended for their humanitarian efforts."

French Club (Le Cercle Francais). Front row: Mrs. Alma Richards (advisor), Christine Kosmas (secretary), Christine Boucher (vice president), Jim Douglas (president), Claudia Taylor, Susan Waterman, Mary Holotka. Row 2: Susan Pauly, Lois Hutchinson, Beverly Hollman, Bonnie Paige, Connie Haynes, Ann Giallanza, Cecile Gauthier. Row 3: Debbi Gray, Bev Dion, Jane Viveiros, Gail Taylor, Nancy Driscoll, Nancy Burritt, Deborah Hanson. Not pictured: Cynthia Burr (treasurer).

French Club (continued). Front row: Joanne Buendo, Michelle Meunier, Suzanne Chapdelaine, Karen Carlson, Jane Laliberte, Janice Ouellette, Bette Ireland. Row 2: Kathy LaBerge, Jane Passburg, Suzanne Dreyer, Joanne Vedovelli, Laurie Forbes, Julianne Sambor, Nina Lodigiani.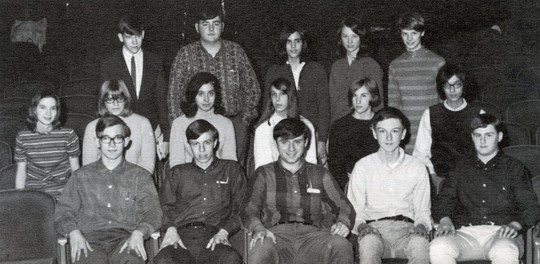 French Club (continued). Front row: Larry Cooper, Paul Lamarche, Clyde Llewellyn, Fred Doersam, Rick Grimaldi. Row 2: Susan Henry, Nancy Kulik, Dianna LaBonte, Margaret Giallanza, Jeanne Mercieri, Barbara Gorman. Row 3: Dennis Plante, Bob Price, Debbie Campanella, Sandra Cushman, Janet Betterley. Not pictured: Sue Abel.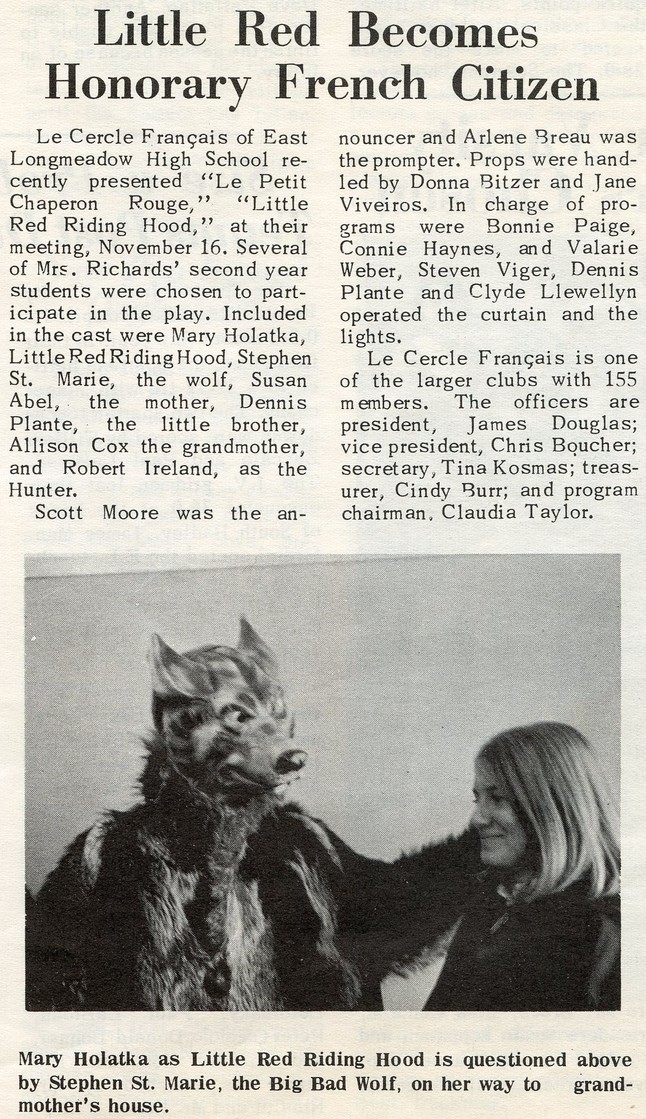 Spartan Spirit, Nov. 17, 1967.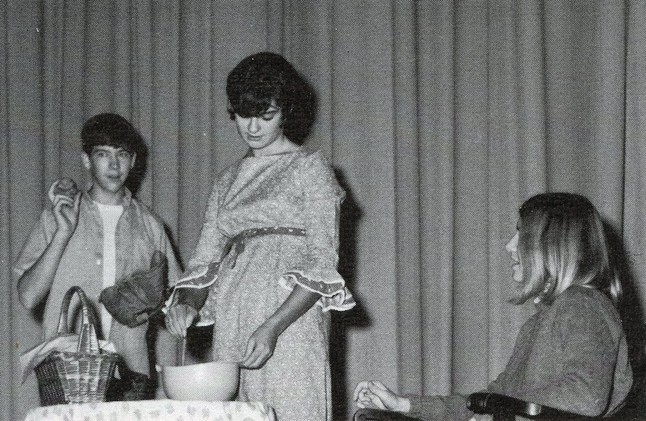 Adding the French touch to Little Red Riding Hood, Dennis Plante, Susan Abel, and Mary Holotka display their talents in the play, "Le Petit Chaperon Rouge."
"Le Cercle Francais endeavors, through monthly meetings, to learn more about the culture and customs of the French people and to encourage the speaking of French through pen pals, games, films, and plays. This very large club is under the direction of Mrs. Alma Richards.
"The club sponsored many events during this past year including slides of Expo '67 and Canada, movies of France, a play, "Le Petit Chaperon Rouge," and other dramatic skits by club members. The year's big project was a delightful International Night banquet, held February 15, in which other language groups also participated. The French Club will certainly remember this year as a most rewarding and satisfying one."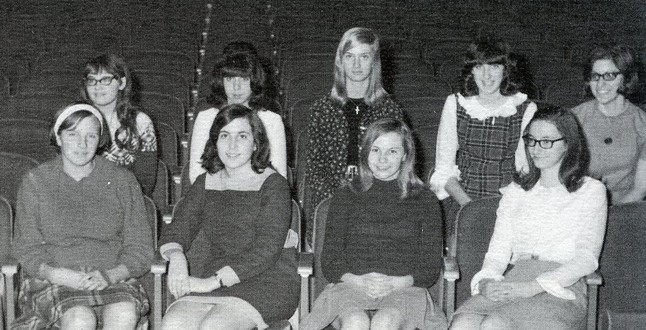 Spanish Club. Front row: Pat Hendrick (president), Debra Butler, Andrea Hastings (secretary-treasurer), Helena Ellsworth. Row 2: Judy Repossi, Ann Giallanza, Linda Mottle, Melissa McIntire, Joanne Buendo, Miss Shirley Pottern (advisor).
"Continuing with the ambitious tradition of past years, the Spanish Club once again provided a full program of activities for its members. It was the goal of the club to sponsor a special event once a month and to work toward the event each week. International Night consumed a great deal of time and effort. A trip to New York climaxed a very successful and exciting year under the leadership of advisors Miss Shirley Pottern and Mrs. Fredlee Shore."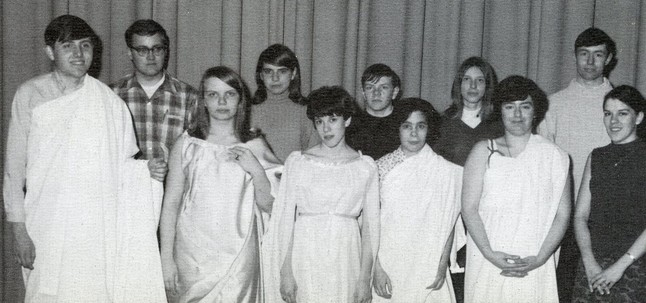 Latin Club (Gens Togata). Front row: Raymond DeAngelo, Marcia Lynch, Ann Dominic, Janice Ouellette, Marie Roy, Mrs. Patricia Bevington (advisor). Row 2: Jim Douglas, Carol Van Wagner, Tim Lynch, Marilyn Lasek, Robert Hafey.
"More Romanorum Majorem," always in the manner of our Roman ancestors, the motto of the Gens Togata is incorporated in every function of this active club. Through regularly scheduled meetings, this group, under the supervision of Mrs. Patricia Bevington, has undertaken many interesting projects. Early in the year, members of the "Togad Race" attended a "church crawl" in Hartford where various types of church architecture were discussed. The hightlight of the year was the club's participation in the International Language Night banquet held in February.
"To increase our cultural background and to recreate Roman customs and traditions is the purpose of the Latin Club promoted by officers Raymond DeAngelo, consul; Ann Dominic, tribunal; Marsha Lynch, aedile; and Tim Lynch, quaestor."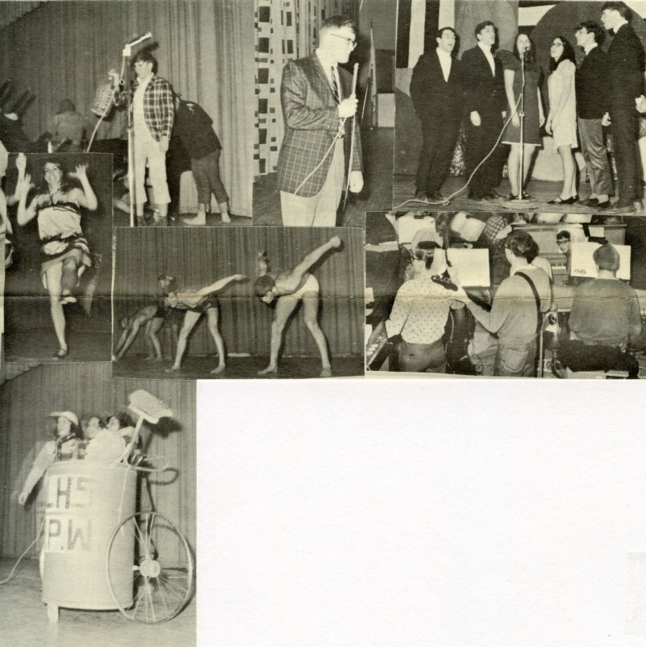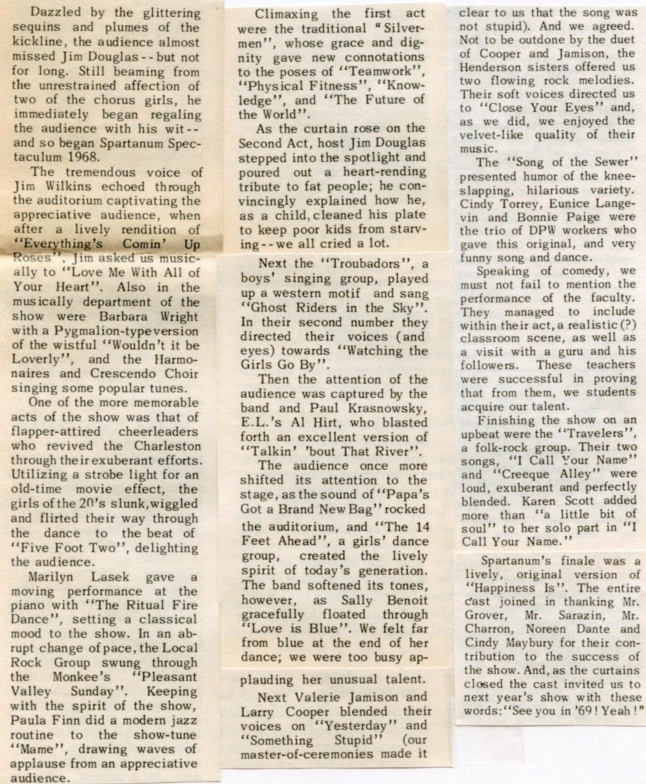 Spartan Spirit, Apr. 12, 1968.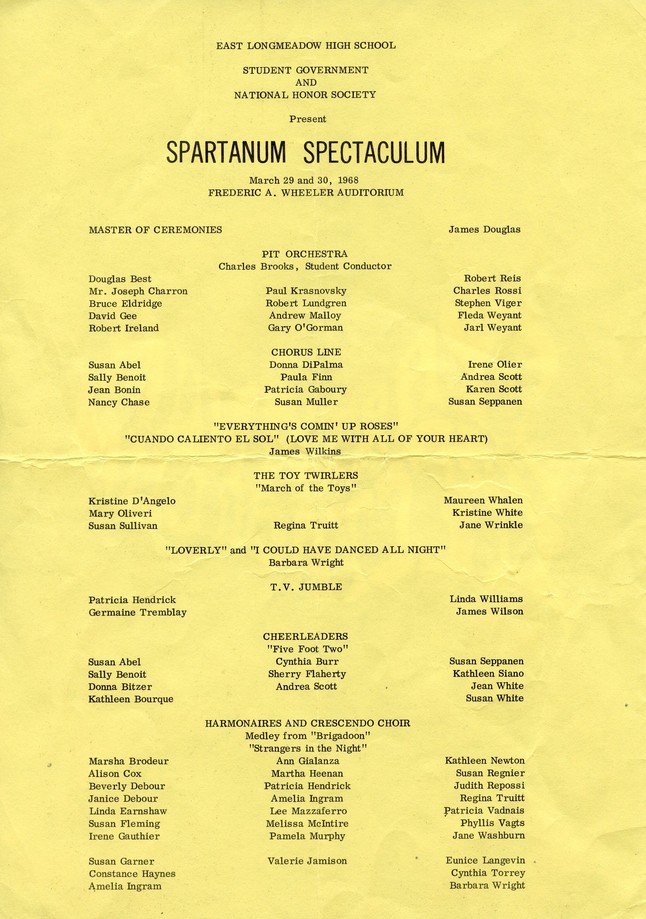 1968 Spartanum Spectaculum program.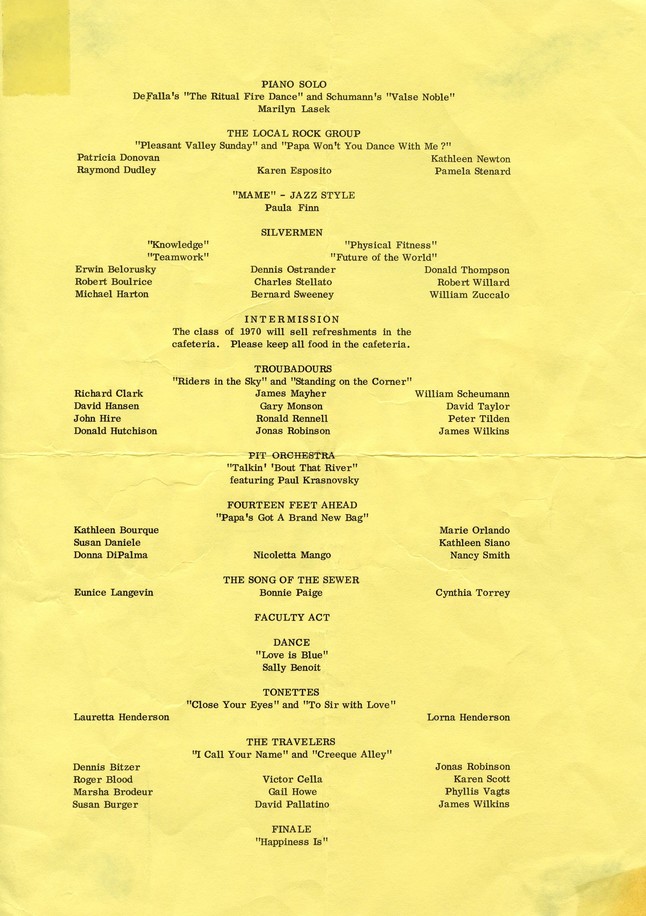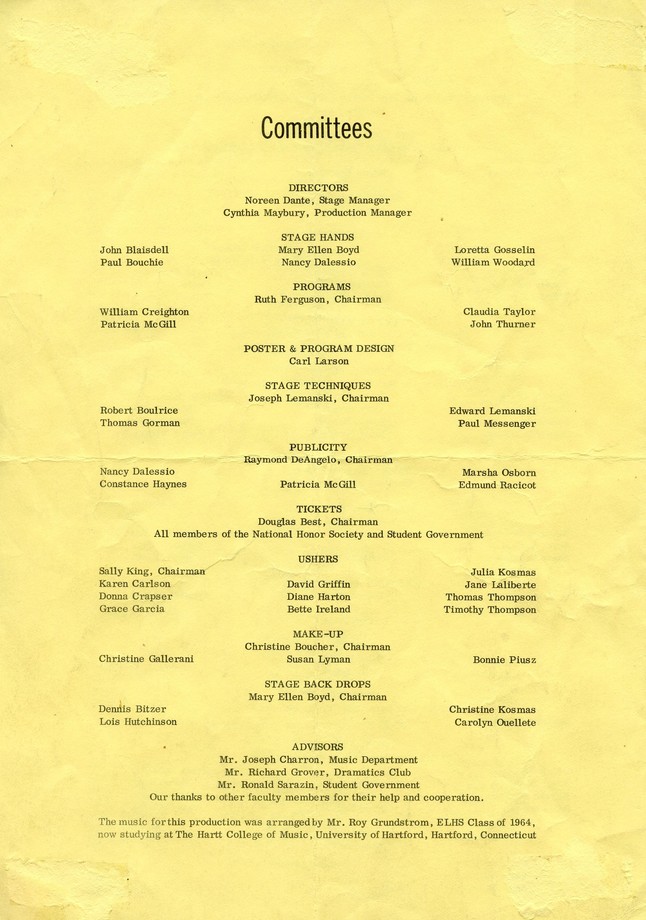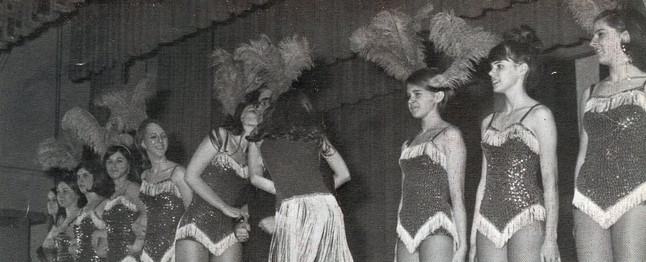 Receiving an affectionate kiss from the chorus line is blushing emcee Jim Douglas.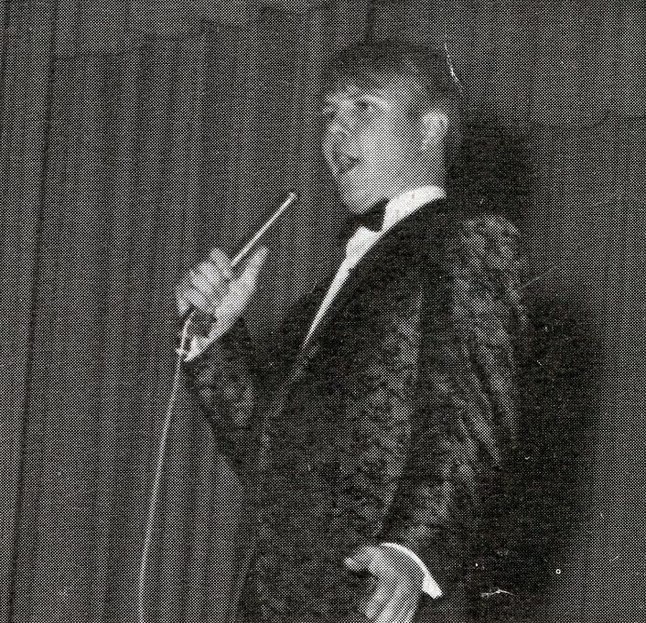 A musical plea by Jim Wilkins to "Love Me with All Your Heart."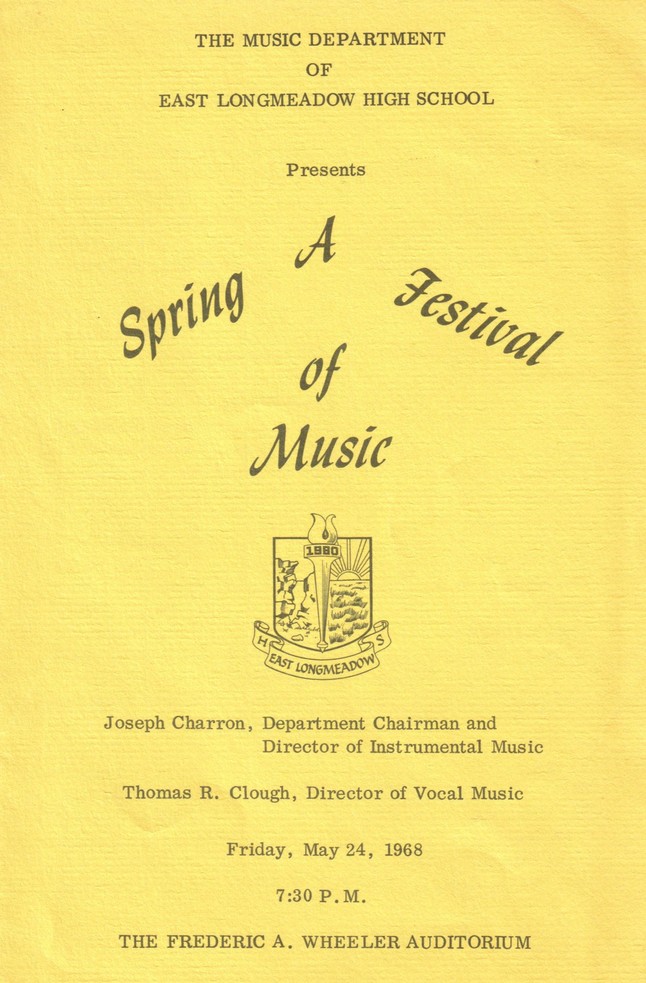 Program for A Spring Festival of Music, May 24, 1968.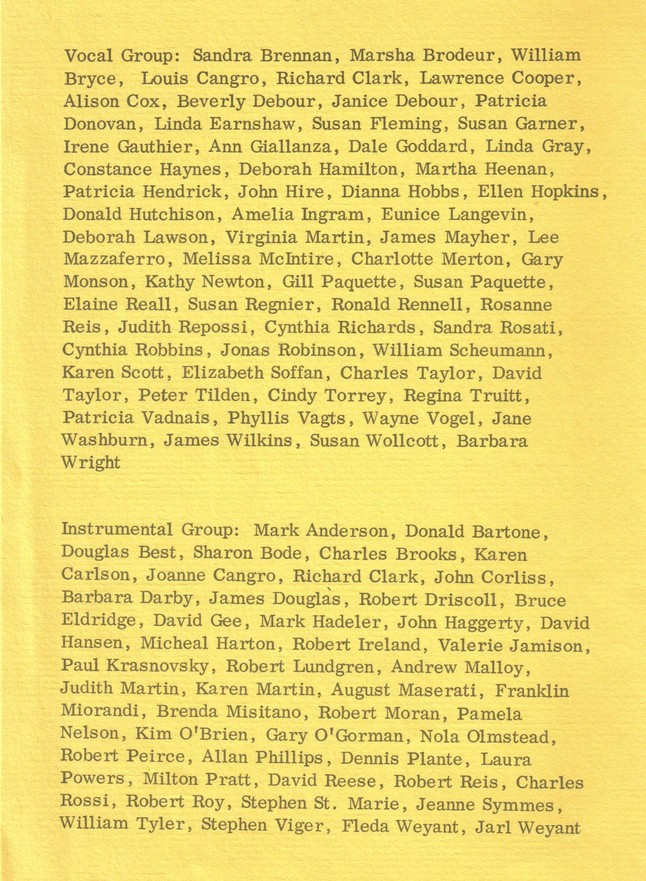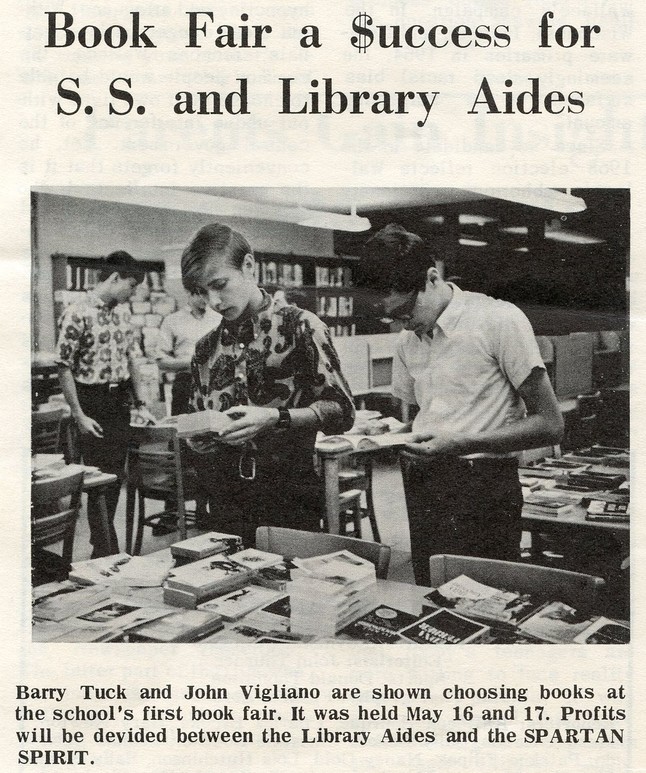 Spartan Spirit, May 24, 1968.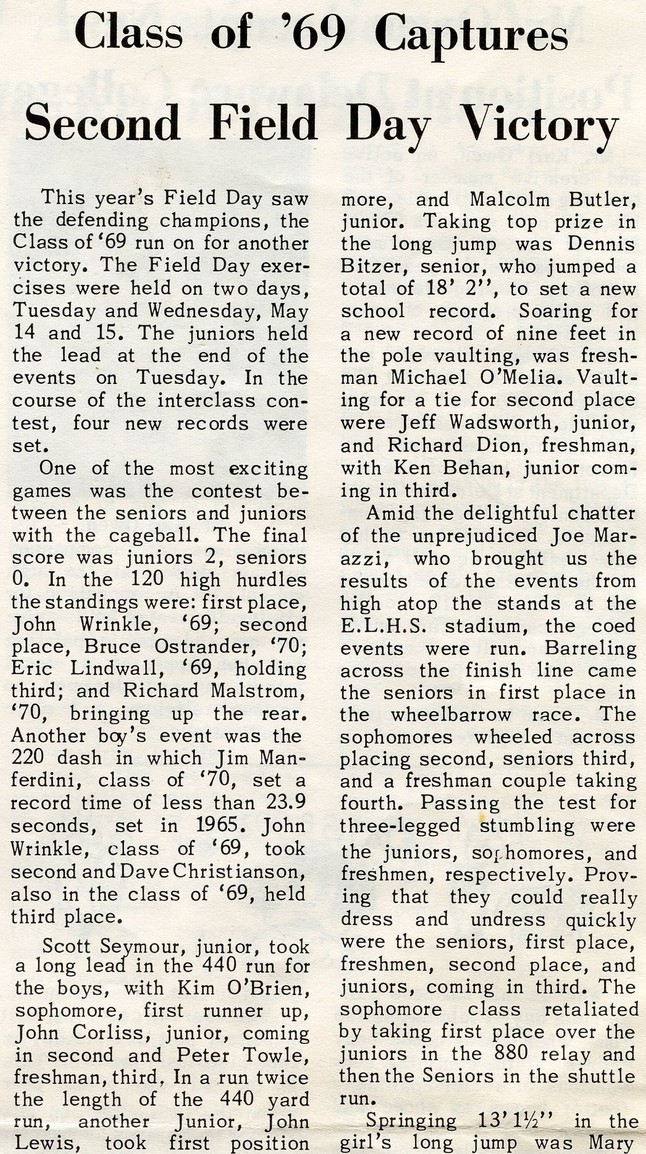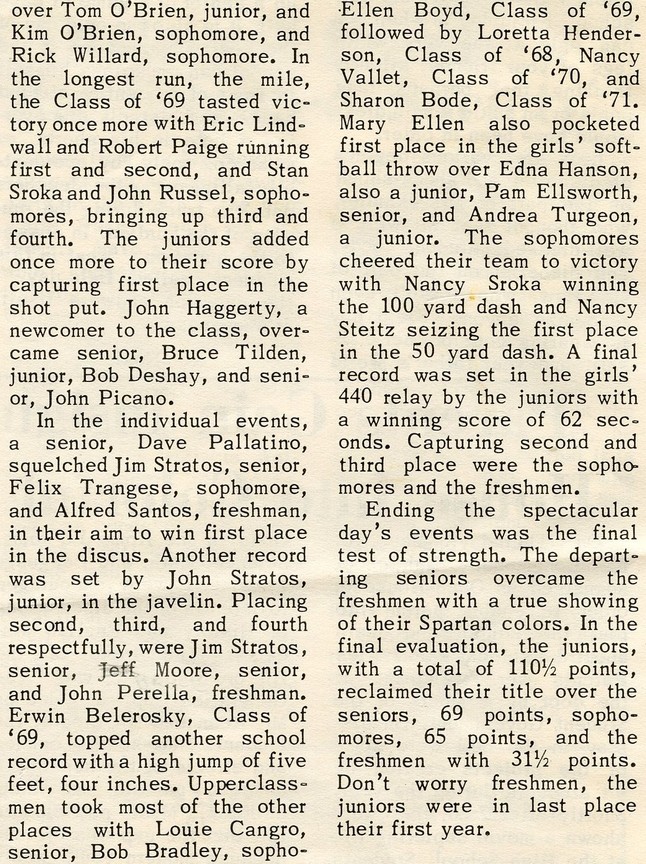 Spartan Spirit, May 24, 1968.
Miscellaneous Candids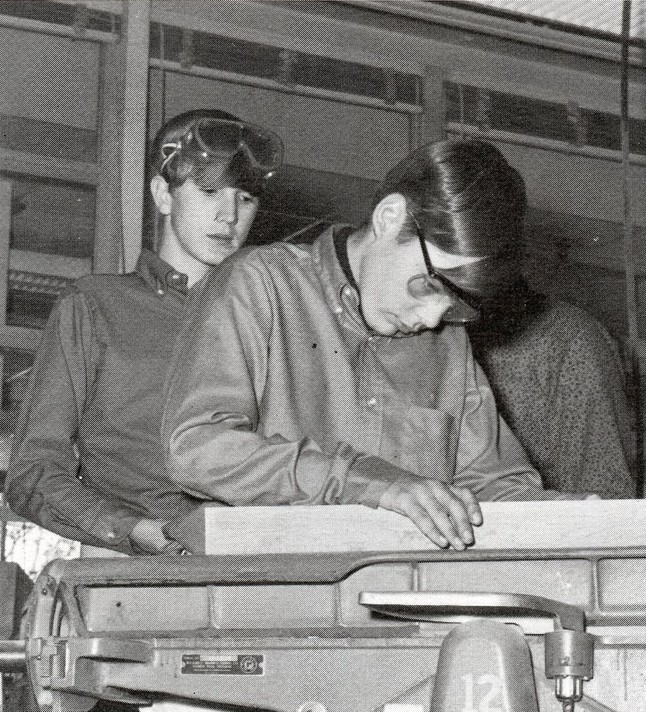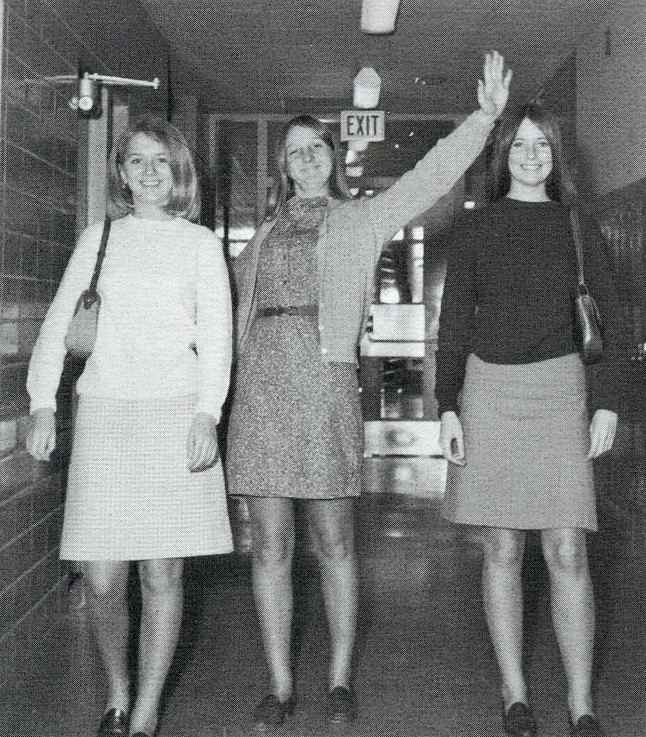 Left: Newly acquired skills will lead to prideful products for John Evans and Joe Roy. Right: Howdy! --- A hearty welcome from Jane Passburg as Mary Holotka and Susan White smile their greetings enroute to lunch.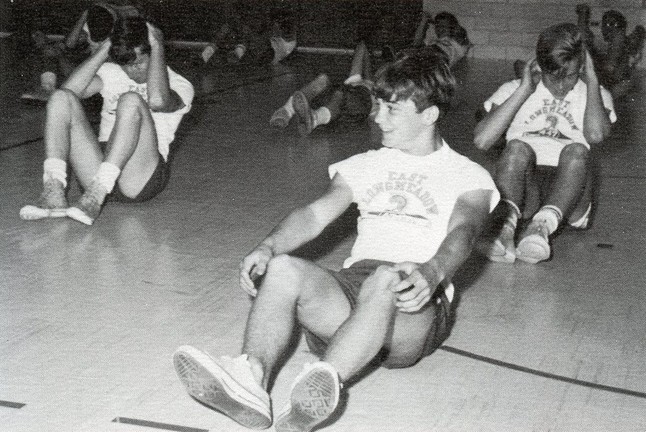 Note the class coordination as Bob Dunn, Charles Ackerman, and Eric Lindwall strain to touch elbows to knees.
Sports

Varsity and Junior Varsity Football Team. Front row: Mr. Robert Vespaziani (coach), Joe Marazzi, Ken Behan, Rick Willard, Rich Mondoux, Bill Zuccalo, Jerry Sawyer, Todd Cormier, Kurt Whitney, Mr. Daniel Kane (coach). Row 2: Bruce Ostrander, Bill Creighton, Felix Tranghese, Bob Fois, Roger Blood, Jim Manferdini, Wayne Scully, Paul LaBroad, Bill Snow. Row 3: Warren Kenyon, Peter Ouellette, Dave Gallerani, Tim Thompson, Tom Mineo, Greg Naylor, Donald Bonner, Bill Anderson, Peter Garafalo. Row 4: Jim Stratos, Mike Boucher, Erwin Belorusky, Howie Belliveau, Steve Gonyea, Dennis Ostrander, Jeff Crary, Mark Hadeler. Row 5: Bruce Tilden, Chris Colman, Bob Willard, Don Thompson, Mike Harton. Not pictured: Kim Hagopian.
Varsity
"The E.L. gridmen see-sawed to a 2-6 record this year as surprising strength and disheartening injuries tipped the scales from week to week.
"Hopes soared after the Spartans stunned Minnechaug 28-0, giving E.L. its first victory over the Falcons. Senior Bob Fois romped to tally fourteen points with classmates Don Thompson and Kim Hagopian toting the pigskin for the remaining points. The next week the tables turned, however, as South Hadley, Suburban League champs, slid past the home team 19-6 with every point hard-earned. The gridmen also proved ineffective against a mediocre Ludlow squad as a last period touchdown gave the Lions a 6-0 victory. Defeat again was seen by E.L. as powerhouse Enfield took advantage of Spartan mistakes and claimed a 30-14 decision.
"Persistence finally paid off as Commerce bowed to an amazingly strong offensive drive, giving the Spartans a 26-12 vistory, the second of the season. The next week, however, the Spartans were back in the loss column where they stayed for the remainder of the season. Palmer blanked E.L. 29-0 as E.L. was forced to limp along without the services of Fois and Willard. Classical handed the red and grey a 28-12 defeat in an afternoon contest. In this game E.L. displayed a sensational comeback and scored all their points in the last quarter. That comeback was missing the following week as the rival Longmeadow team dumped the gridmen 26-0, a disappointing ending to a varied season.
"Outstanding gridmen were seniors Kim Hagopian, Bob Fois, Mike Harton, and Don Thompson; juniors Bob Willard, Chris Colman, Erwin Bekorusky, Tim Thompson, and Howard Belliveau; and sophomores Bill Creighton, Jim Manferdini, and Jeff Crary. With so many underclassmen returning next year Coach Vespaziani can look forward to a better season with a seasoned squad."
Junior Varsity
"The J.V. gridmen ended a dismal season with an 0-3-2 record after coping with problems of size and injury.
"Ties were with Minnechaug, 12-12, and Ludlow 8-8. Bill Anderson's spectacular 30 yard run accounted for one touchdown in the Minnechaug game. The Crary-Manferdini combo clicked against the Ludlow gridmen and gained much yardage. Unfortunately, Crary was injured later in the season.
"The Spartans lost to South Hadley 30-0, Enfield 28-6, and Longmeadow 14-0. In the South Hadley contest a new defense was tried. It was ineffective in the first half and allowed twenty-four points. E.L. tightened up and allowed only one touchdown in the second half. Bill Zuccalo did a fine job calling plays in the Enfield game after replacing quarterback Jeff Crary, who was injured in varsity play. Bill Anderson again romped for yardage, this time thirty-five yards before being brought down. Enfield, however, surged on to victory. The Longmeadow Lancers plowed by E.L.'s gridmen in the last game of the season despite E.L.'s fine efforts. Again, injuries plagued the Spartans as Wayne Scully was forced to leave the game with a broken ankle.
"Coaces Rinaldi and Kane will send most of their gridmen on to win varsity honors next year and will again begin the hard task of training unseasoned gridmen, an admittedly difficult job which they have done extremely well in the past."

Spartan Spirit, Nov. 17, 1967.

Varsity Soccer Team. Front row: Victor Petrone, Mike Allen, John Corliss, Peter Benton, Jack Blaisdell, Dan Thomas, Mr. Ralph Cooley (coach). Row 2: Bob Bradley, Gary Moore, Ernest Miner, Frank Mitchell, Bob Goodrich, Paul Lieberwirth, Christopher Hopkins (manager). Row 3: David Weferling, Scott Seymour, Dan Pixley, Brad Towle, Robert Kjoller, Barry Rufenacht.
Junior Varsity Soccer Team. Front row: Bill Kenyon, Robert Moran, Mark Willis, Thomas Kurowski, Andy Byrne, Gary LaFave. Row 2: Mr. Robert Troutman (coach), Dave Carpenter, Ken Kurowski, Ed Kopec, Jonas Robinson, David Thodal, Paul Gasperini. Row 3: Andy Farquharson, Larry Cooper, Frank Miorandi, John Penstock, Gary Lieberwirth, Alan Hubbard.

Scattering forces of Bill Kenyon (far left), Ken Kurowski, and Dave Carpenter move into position to steal a Chicopee ball.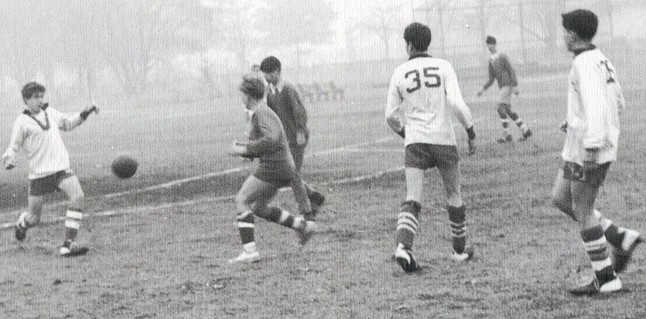 Hesitant only for a moment, Frank Miorandi (far left) boots a quick shot to teammates Ken Kurowski (35) and Dave Carpenter (far right).
"Offering no excuses for their season record, the members of this junior varsity soccer team played tenaciously in every game. Team spirit alone proved inadequate against the often larger, more experienced teams. Meager fan attendance at games made some difference, but who can forget Rich Malmstrom in the goal yelling encouragement to his hard-playing comrades? --- a one man cheering section. This lanky and colorful goalkeeper was supported by the capable efforts of fullback Al Hubbard and star goal scorer Andy Farquharson. Andy's specialty was extraordinarily accurate corner kicks.
"Noteworthy contests included two ties with the Minnechaug team, both stingy scoring 1-1 frustrators. Another knotted-score game came on the last day of the season in an encounter with Chicopee Comphrehensive. The weather was a harbinger of winter sports season with just above freezing temperatures accompanied by a misty drizzle, but the boys hardly noticed the weather in the heat of battle.
"The crowning glory for this team was attained in a double overtime battle with Chicopee with the Spartans coming out on top with a heart-thumping 2-1 victory."

Spartan Spirit, Nov. 17, 1967.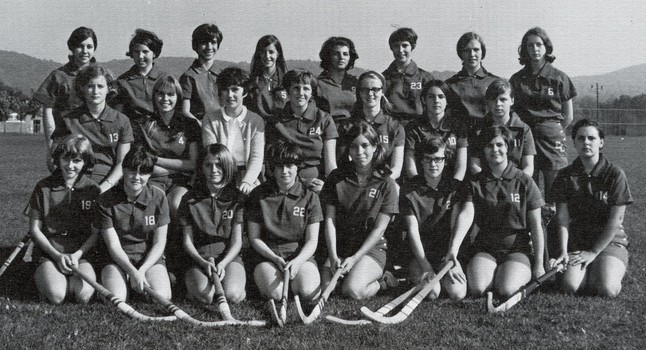 Girls' Field HockeyTeam. Front row: Gail Ernsting, Patricia Vadnais, Mary Holotka, Bernadette Downie, Christine Boucher (co-captain), Martha Heenan, Susan Moundoux, Sue Jasinski. Row 2: Alison Cox, Nancy Vallett, Karen Moodie, Pat Hendrick, Edna Hanson, Elaine Reall, Sandra Haskell. Row 3: Mary Boudrias, Genevieve McDyer, Nancy Steitz (co-captain), Susan Circosta, Maria Siano, Susan Seppanen, Mary Ellen Boyd.
"Teamwork was the key to a fairly successful season for the the girls' field hockey team. Pitted against such teams as West Springfield, Minnechaug, Southwick, Longeadow, and Westfield, the girls compiled a 3-2-1 record, losing only to Minnechaug in one sided efforts of 6-0 and 7-0. The tie came in the game against West Springfield, with a final score of 3-3. Foes Westfield and Longmeadow went down in defeat in the home team's finest efforts of the season. Westfield and Longmeadow were both on the short end of 4-1 and 5-1 scores, respectively. However, all games were hard-fought by a team which was composed of girls from all four classes."

Spartan Spirit, Nov. 17, 1967.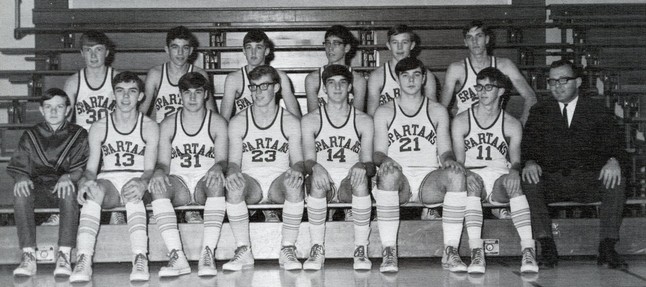 Varsity Basketball Team. Front row: Tim Lynch (manager), Tim Thompson, Jack Blaisdell, Don Thompson, Jim Latourelle, Bernie Sweeney, John Corliss, Mr. William Reagan (coach). Row 2: Bob Lundgren, Dave Gallerani, Carl Larson, Paul Lieberwirth, Greg Naylor, Scott Seymour.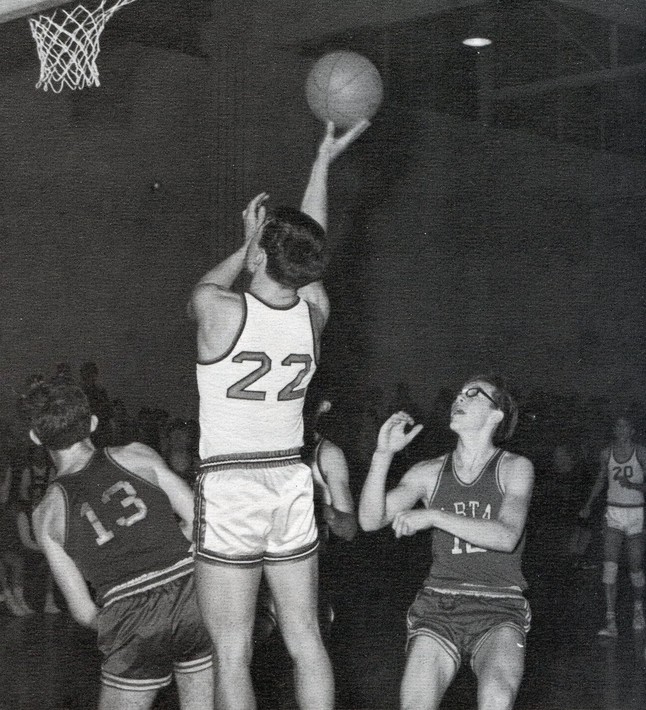 A competitive nudge by Tim Thompson (13) ruins an Agawam shot as Greg Naylor moves in for the rebound.
"The basketball team highlighted its dreary season with two convincing victories. The first of these victories came in the clash with Stafford Springs. Outstanding performances were the rule, with seven players hitting for double figures. Leading these scorers was Jim Latourelle with 22 points. The final 98-63 tally shattered the school record. The Spartans finished their season masterfully as they broke their 12 game losing streat, defeating the Minnechaug Falcons 71-53. Leading by a margin of six points at the half, the Reagan men were then galvanized into action by the hot-handed Jim Latourelle, who hooped 38 points. Playmaker John Corliss netted 12 markers that night.
"The cagers from ELHS also specialized in providing thrilling moments for their fans. Down by several points at half-time in the first Longmeadow game, the Spartans rallied to within three points, before succumbing to the Lancer power 49-43. Another crowd-pleaser was the second Easthampton encounter. At one point, the fans cheered hoarsely as the Spartans closed the gap to three points. But the late rally fizzled, and the team was handed a 55-47 defeat. The point grabbing trio of Latourelle, Corliss, and Tim Thompson once again displayed their virtuosity on the court.
Snatching most of the season's rebounds was junior Bernie Sweeney, while Don Thompson proved to be the spark plug on defense. Able substitutes included senior Jack Blaisdell, juniors Scott Seymour and Bob Lundgren, and sophomores Greg Naylor and Carl Larson."

Junior Varsity Basketball Team. Front row: Channing Orr (manager), Scott Moore, Steve Newell, Kurt Whitney, Malcolm White, Paul Lieberwirth, Mr. Walter Porowski (coach). Row 2: Dave Gallerani, Don Eddy, Jeff Crary, Jim Manferdini, Andy Farquharson, Peter Garafalo, Rich Malmstrom.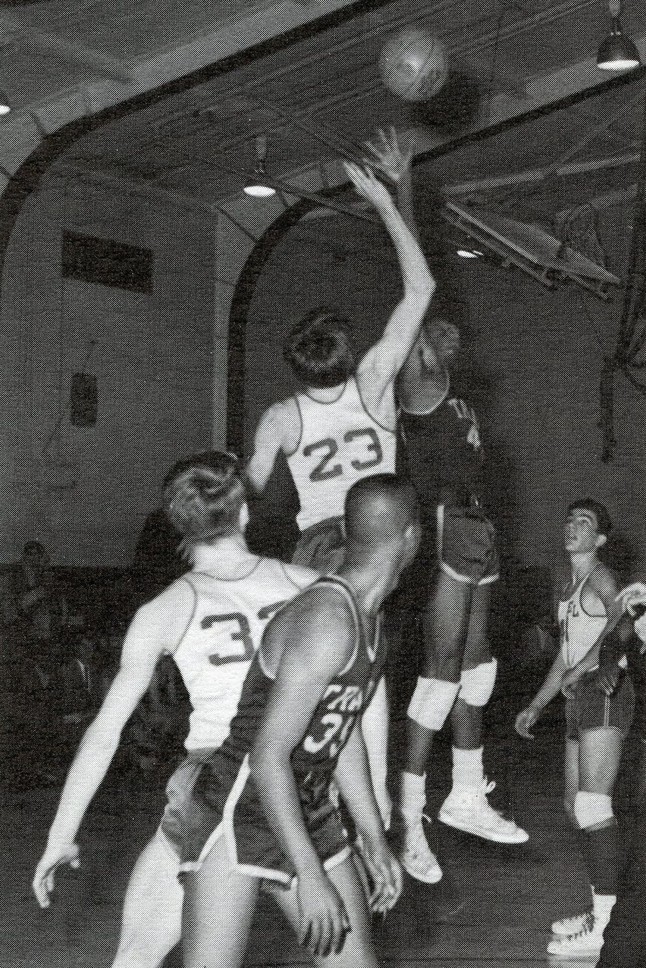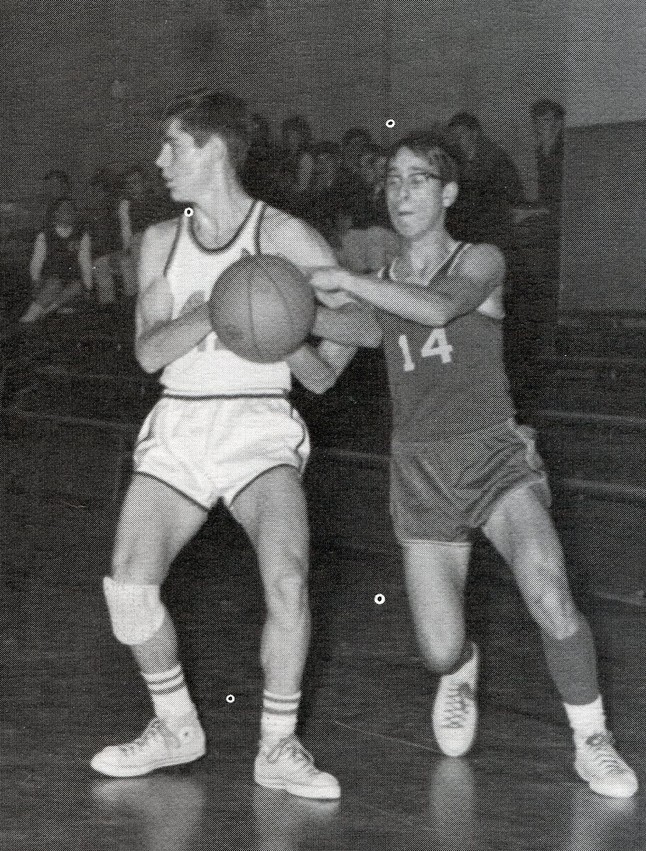 Left: Giants in flight --- Jeff Crary (23) goes up against the Trade center as Scott Moore (32) and Dave Gallerani prowl. Right: Ball hawking --- an Agawam oponent is about to lose his cool, and the ball to Paul Lieberwirth (14).

A bounce pass, twixt two enemies, to Jim Manferdini by Steve Newell (30) will set up a two pointer by Dave Gallerani.
"Under the coaching of Mr. Walter Porowski, the J.V. basketball team began a new season. Their first success, the Stafford Springs game, was a dramatic contest ending with a score of 54-51. Leading scorers were Paul Lieberwirth and Jeff Crary with 16 and 13 points, respectively.
"The team captured its second victory when it overpowered Trade in a 53-48 conflict. Behind in the third quarter, a surprising spurt in the fourth quarter made their triumph possible. Colorful performers were Paul Lieberwirth with 20 points and Steve Newell with 13 points.
"One of the season's highlights was the Easthampton game. Though the scoreboard showed a 58-51 win for Easthampton, it failed to show the enthusiasm of the crowd and the spirit of the players. In the fourth quarter, an inspired E.L. team fought from behind to tie the score, causing the game to go into overtime. Thrilling moments, like those in the Easthampton game, brightened a losing season."

Girls' Basketball Team. Row 1: Sharon Bode, Genevieve McDyer, Joanne Rinaldi, Kathy Price, Mary Ellen Boyd. Row 2: Miss Jakie Upshaw (coach), Nora Brayley, Nancy Wrinkle, Patricia Filipek, Lois Hutchinson, Frances Lorent. Row 3: Pat Hendrick, Susan Seppanen, Margaret Cauley, Diane LaFave, Edna Hanson, Susan Herrick, Pamela Ellsworth. Not pictured: Nancy Steitz (co-captain).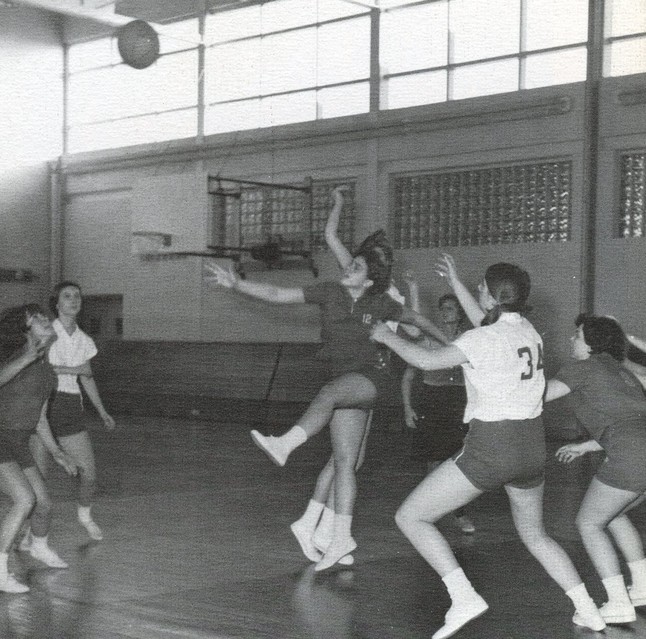 An afternoon's pursuit of happiness --- Nancy Steitz (far left), Diane LaFave (12), and Nora Brayley (far right), ballet against Westfield.
"The girls' basketball team had a succesful season this year, winning six of their ten games. Two of the four games that they lost were very close contests; the two losses to Westfield, however, were crushing defeats for East Longmeadow with the scores of 31 to 10 and 32 to 11. The outstanding victories were the swamping of Somers 31 to 10 and Westside 32 to 11.
"The most prolific scorers of the '68 season were Margaret Cauley, Nancy Steitz, and Sue Seppanen, with Margaret Cauley nearly setting a new school record for high scoring in a single game by hooping 21 points in the first Longmeadow game. Supporting the high scorers were the other members of the team, notably Mary Ellen Boyd, with excellent defensive and offensive plays. The best example of good supporting play was the February 2nd game against Somers where Nancy Steitz hit for 14 points due to the excellent support of her teammates.
"The capability of veterans Nancy Steitz and Sue Seppanen was demonstrated at the Longmeadow game where Nancy poured in 19 and Sue scored 12 of the total 41 points. Good teamwork on the part of the other players was again shown."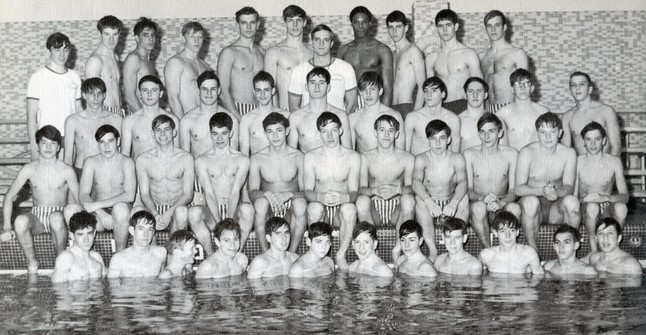 Varsity Swim Team. Front row: Thomas McQuillan, John Dempsey, Brian Smith, David Taylor, David Radebaugh, Steve Geoffrion, Bruce Lindwall, John Ouellette, Dennis Plante, David Sand, Daniel Lawson, Bill Snow. Row 2: Dale Goddard, Paul McNamara, Westcott Clarke, Mark Goddard, Stan Sroka, Bob Dunn, John Haetinger, Dave Owen, Robert Paige, Geoffrey Weigand, William Tyler. Row 3: Gus Maserati, Jim Bourque, Richard Dion, Keith David, John Lewis, Robert Storey, Roy Esposito, Paul LaBroad, John Beck, Phil Towle. Row 4: Stephen House (manager), Mark Hadeler, Peter Ouellette, Bob Willard, Erwin Belorusky, Brad Smith, Mr. Richard Bolles (coach), Lew Thaxton, Paul Oswald, Bob Ireland, Malcolm Butler. Not pictured: Mr. Ronald Sarazin (coach).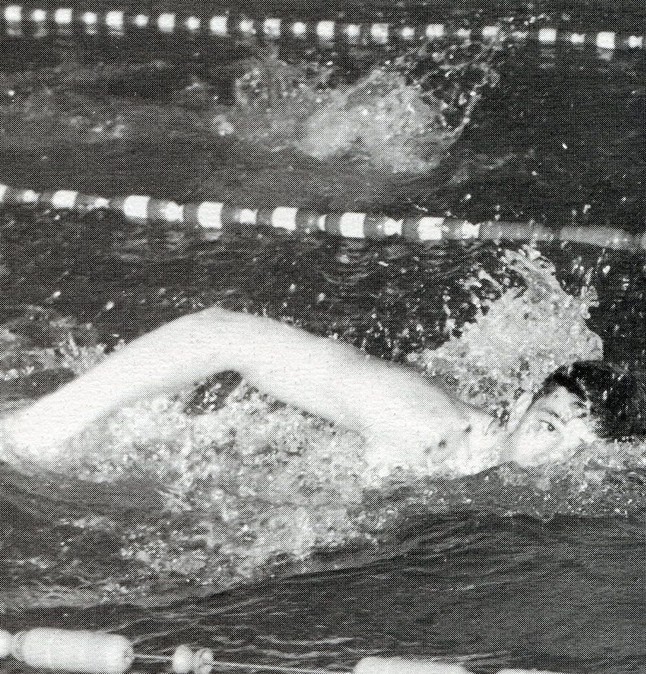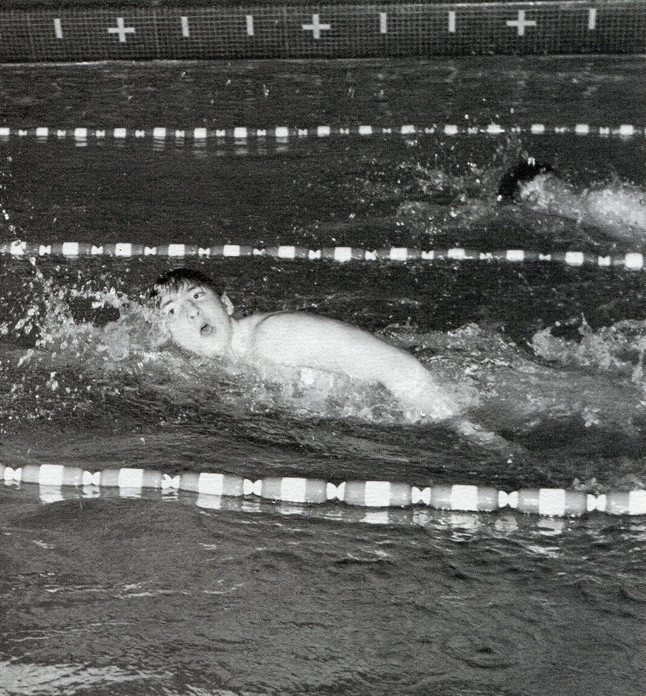 Left: Taking a first and a record (2:10.4) in the 200 yard freestyle is Stan Sroka. Right: Merman Paul LaBroad one stroke ahead in the 400 yard freestyle relay.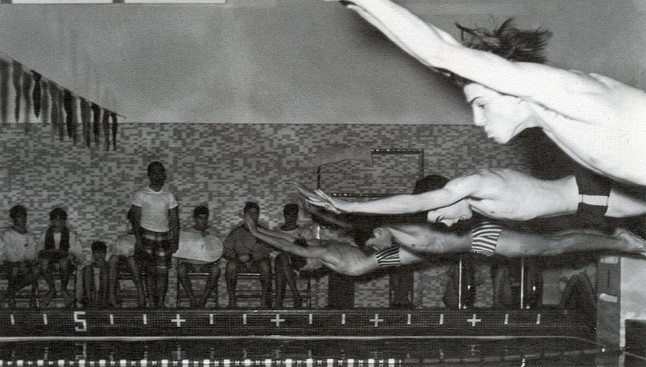 Flying high and straight in the takeoff for the 200 yard Individual Medley relay are Stan Sroka and Bob Dunn (third and fourth from foreground, respectively).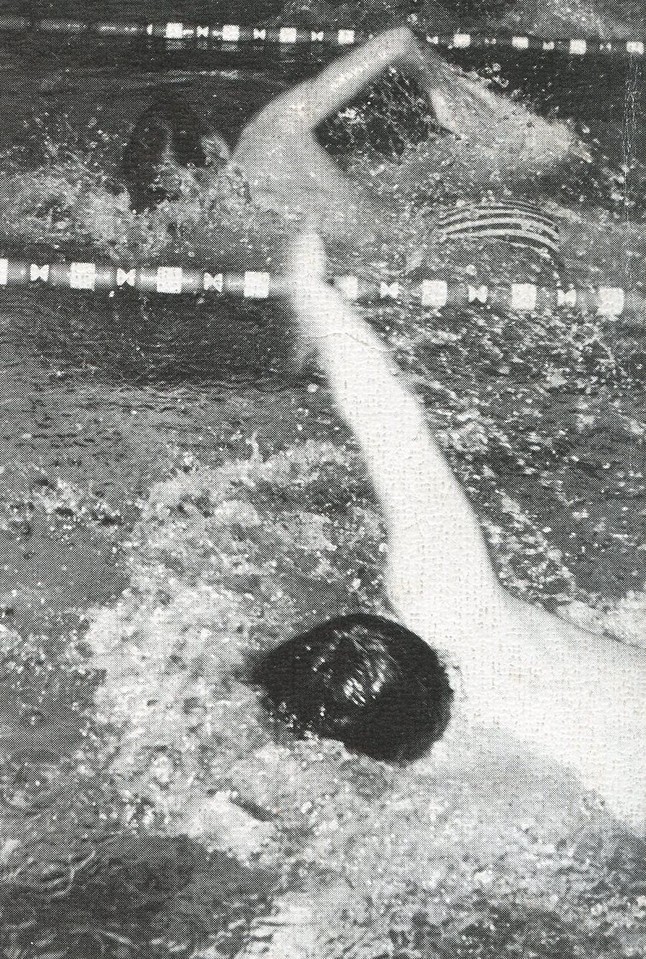 Ahead by a head, Peter Ouellete leads in the final leg of the New England Meet relay.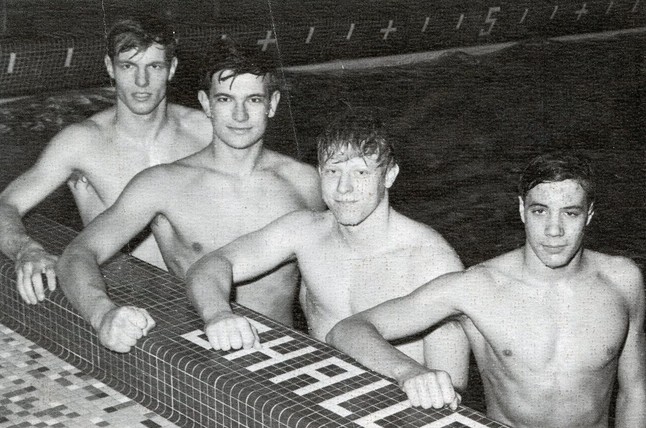 These mighty mermen found victory at the New England Meet while breaking the state record with a 1:48.5 time: Brad Smith, Erwin Belorusky, Robert Willard, and Peter Ouellette.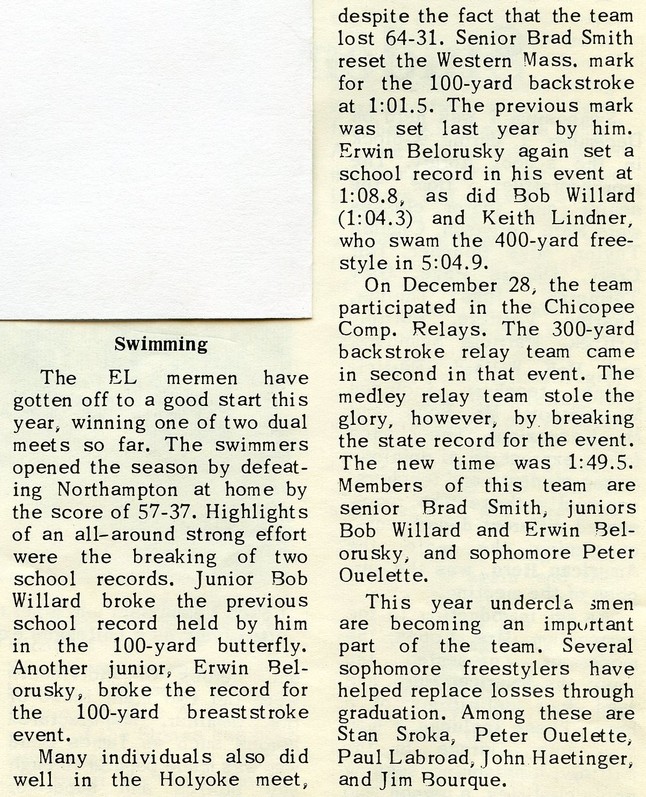 Spartan Spirit, Jan. 19, 1968.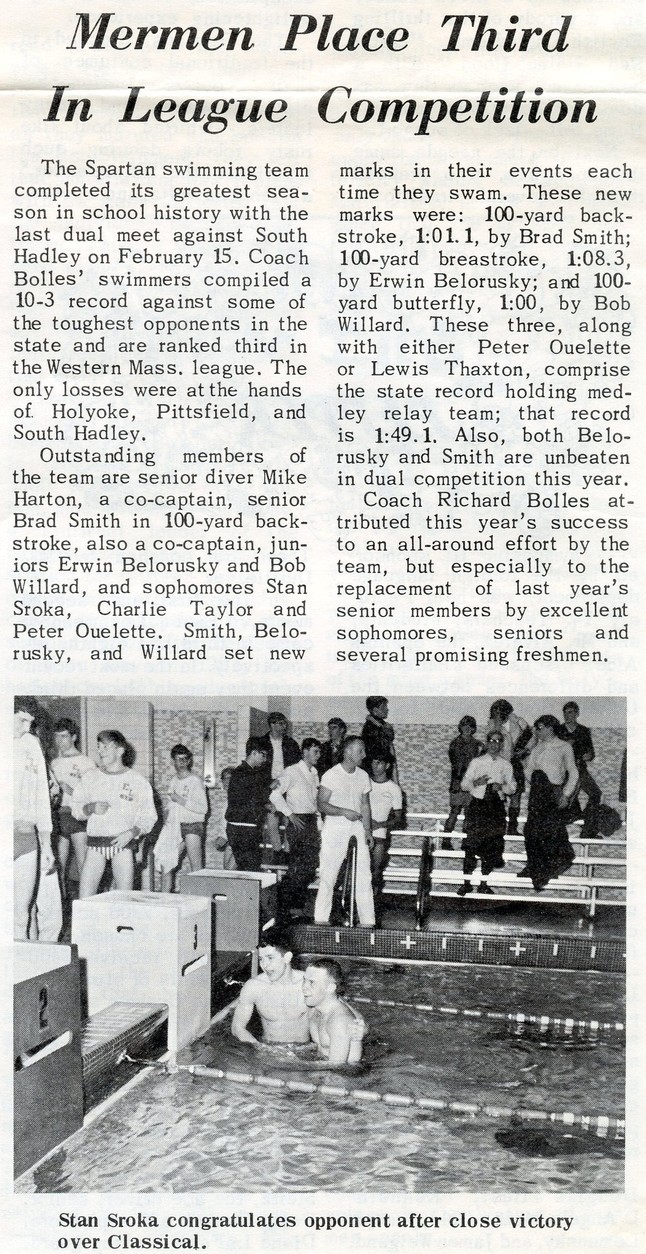 Spartan Spirit, Mar. 1, 1968.
"Honors for the most remarkable team must go this year to the Spartan mermen who, in their second year of league competition, placed third in the league, third in the Western Mass. Interscholastic Swimming Meet and second in the state behind swimming power Holyoke High. The medley relay composed of butterflyer Bob Willard, backstroker Brad Smith, breaststroker Erwin Belorusky, and freestyler Peter Ouellette repeatedly smashed the state record, setting low times of 1:49:00 at the Western Mass. meet and 1:49.2 at the state meet. Brad Smith clipped seconds off his own Western Mass. record to bring the mark to 1:00.7. New pool records were established as each boy on the team lowered his own times.
"The Spartans were beaten only three times in dual meet league competition, by Holyoke, Pittsfield, and South Hadley. The last was an upset. Even when beaten, however, the mermen made a good showing. Pitted against Holyoke in early season competition, Erwin Belorusky, Bob Willard, and Keith Lindner set school records in the 100 yard breaststroke, the 100 yard butterfly, and the 400 yard freestyle, respectively. Brad Smith chalked up a new Western Mass. backstroke record which he bettered later in the season.
"Although some meets, such as those with Chicopee Comp. and West Springfield, were decided by an arm's length in the last event, some only served as practice meets. No spirit of keen competition was inspired when E.L. swam against Trade as the Spartans used less experienced boys and were dunked only in one event. The final score was a lopsided 76-18.
"In post-season competition, the medley relay team, Brad Smith and Erwin Belorusky brought home first place medals from the Western Mass. meet. Placing in other events were Stanley Sroka, sixth in the 200 freestyle; Keith Lindner, fifth in the 400 yard freestyle; Mike Harton, tied for sixth in diving; and Bob Willard, fourth in the 100 yard butterfly.
"The surprise of the season came, however, at the state meet as ELHS placed an amazing second. Brad Smith and the medley relay team cornered firsts while Erwin Belorusky was touched out in his specialty. Bob Willard brought home a fifth place ribbon in his event.
"A good deal of the credit for this excellent season must go to coaches Mr. Richard Bolles and Mr. Ronald Sarazin. They have done a fine job in shaping a young team. Although the team will feel the loss of Brad Smith and Mike Harton, the E.L. mermen are sure to achieve much next year."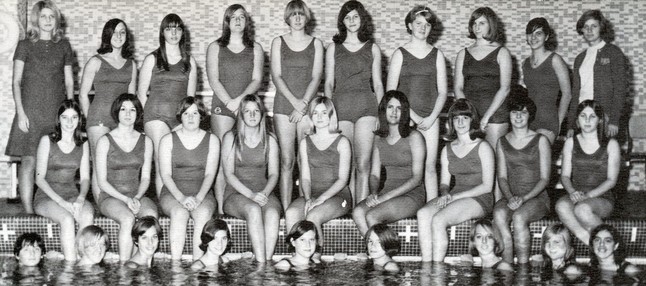 Girls' Swim Team. Front row: Peg Izzo, Nancy Muller, Mardel Stranch, Kerry McRae, Charlotte Merton, Sally King, Susan Muller, Nancy Blaisdell, Diane LaFave. Row 2: Beth Davidson, Kathy Barry, Frances Byron, Jane Passburg, Susan Waterman, Barbara Harton, Cynthia Sabourin, Sue Abel, Debbie Sawyer. Row 3: Cindy Richardson (manager and diving assistant), Sandy Albano, Vicky Haskell, Jane Mertz, Lynne Wallace, Nancy Burritt, Nancy Cauley, Jeri Ellen Mercier, Diane Belliveau, Mrs. Pamela Grazio (coach).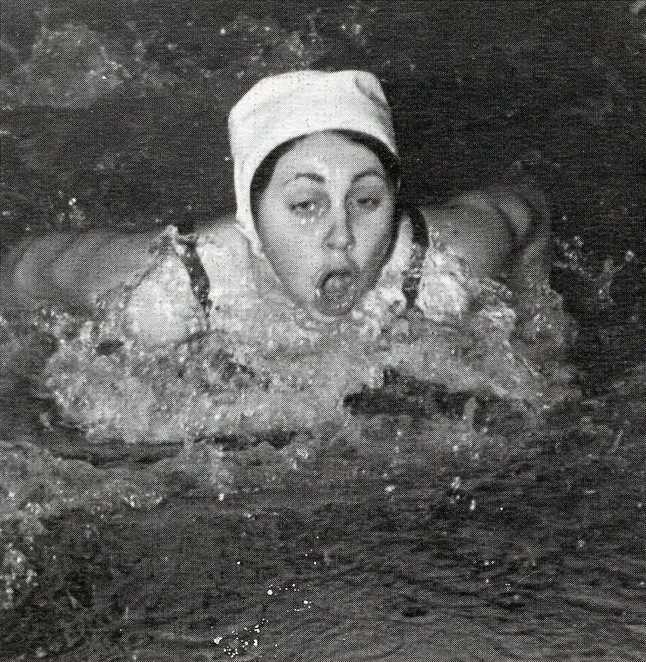 A breath away, Debbie Sawyer fights for the finish line.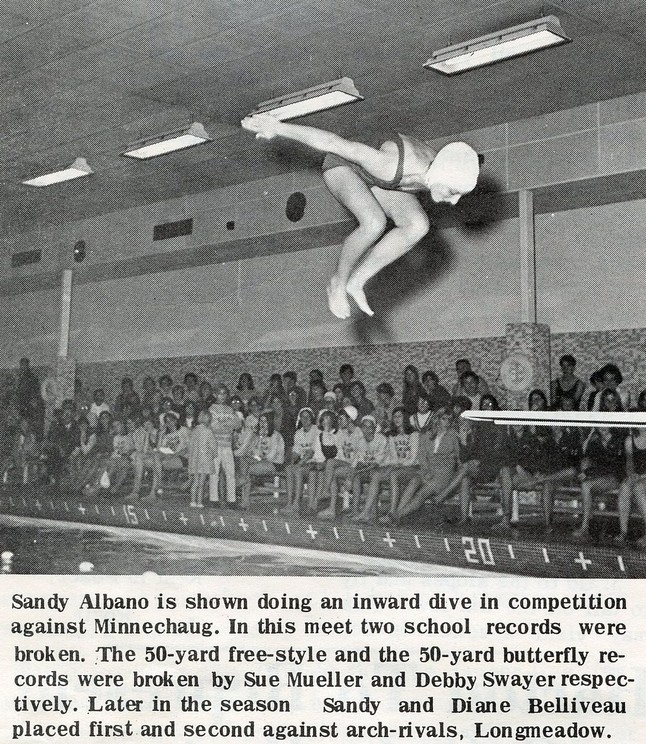 Article in Jan. 19, 1968 issue of the Spartan Spirit.
"The girls' swim team faced a discouraging 0-6 season this year in the newly-formed Pioneer Valley Girls Swim League. Pitted against seasoned teams, ELHS placed fourth in the posteason league championships.
"The second West Springfield meet was undoubtedly the best of the season, although it was not the closest. The opponents earned 46 points, while East Longmeadow's mermaids grabbed 31. E.L.'s four firsts were garnered by Sue Abel in the 100 yard individual medley, Sue Muller in the 50 yard freestyle, Debbie Sawyer in the 50 yard butterfly, and the relay team. Sue Muller churned to a new school record of 29.7 in her specialty.
"The following meet against Longmeadow was also an exciting one, although the Lancer girls succeeded in dunking our aquagirls, 44-33. Sue Abel, Sue Muller, and the relay team again took firsts, as did Sandy Albano in diving.
"Mrs. Pamela Grazio, in her first year as coach, did an admirable job with a very young team. With so many girls coming back next year, she can look forward to an improved and seasoned squad."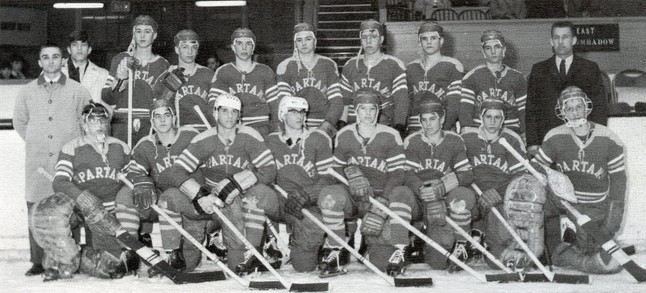 Varsity Hockey Team. Front row: Matt D'Amato, David Griffin, Rich Mondoux, Danny Thomas, Rick Willard, Todd Cormier, David MacDonald, Jon Birtwell. Row 2: Mr. Paul Tarsa (coach), Brad Towle (manager), Bob Bradley, Bill Creighton, Russ Morton, Barry Ruffenacht, Howie Belliveau, Bob Barney, Bill Zuccalo, Mr. William Whiles (assistant coach). Not pictured: Donald Bonner.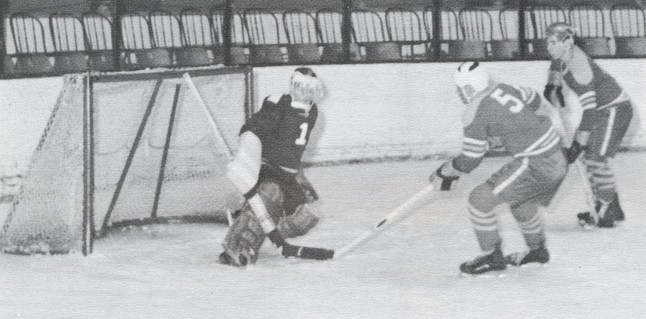 Sticks slap and Rich Mondoux (5) is stopped short as the puck thunks against Trade padding but . . .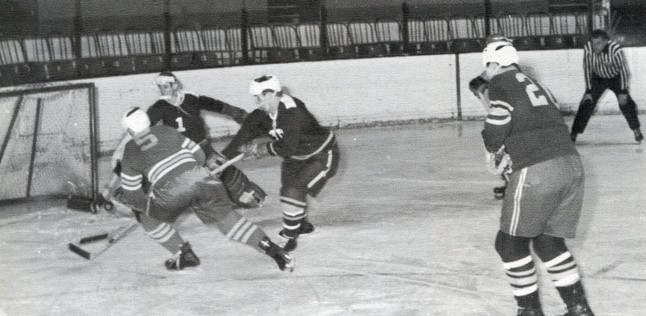 . . . this sophomore speedster blinks the light seconds later to provide the margin of victory.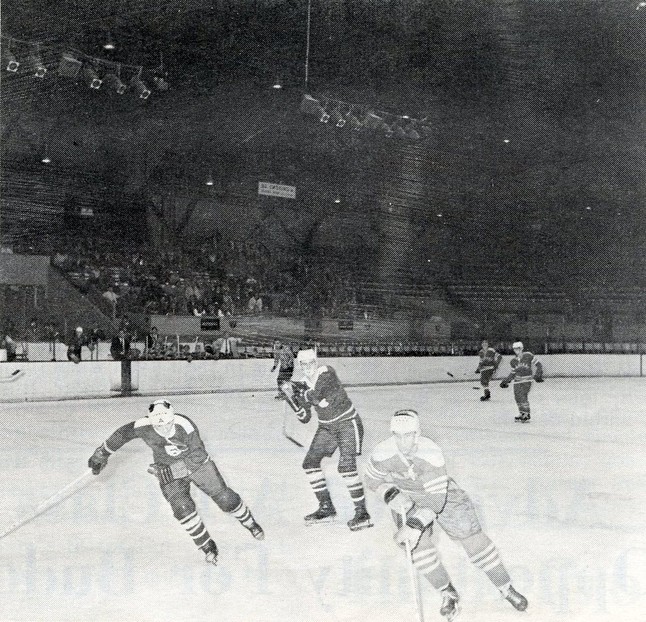 Rich Mondoux maneuvers into striking distance of the goal. Spartan Spirit, Mar. 1, 1968.
"The ELHS hockey team finally wrapped up its season with a 4-12 record. Although the record in itself is not satisfying, some consolation may be found in the team's improvement during the last half of the season. After a slow start, in which the Spartans were handed eight consecutive defeats, they came on strong by winning 50% of their last eight games. Among the successful encounters were two victories over archrival Longmeadow by scores of 6-3 and 4-0. Also, they defeated the Trade sextet twice, first in a close 3-2 win, and then in a crushing 6-1 victory. There were also those contests which were hard-fought battles down to the last second. Especially spirit-stirring were the first Longmeadow and Trade games when the Spartans were shaded in the final seconds after both times holding comfortable leads of 4-2 and 4-1, respectively.
"Doing most of the scoring was the team's "power line" consisting of Rich Mondoux, Danny Thomas and Russ Morton. All of the members of this trio consistently placed among the league's top ten scorers. Morton and Mondoux were second year veterans, but Thomas donned skates for the first time, and he proved to be surprisingly valuable. The team's "most improved line" was that of Todd Cormier, Dave MacDonald and Dave Griffin. Although they did not contribute greatly to the scoring, they showed signs of great improvement, and will be experienced assets to next year's squad.
"On defense, Coach Tarsa alternated Bob Barney, Barry Rufenacht, Bob Bradley, and Don Bonner. Doing a truly magnificent job in the goal for E.L. was Matty D'Amato. He was a major contributing factor to the team's comeback in the latter part of the season, Also, since Matty was only a freshman, we can expect to see more action from him in the next three years.
"Very important to a growing team are its backup men. These players included Bill Zuccalo, Bruce Duncan, Jon Birtwell, Steve McHugh, and Rick Willard. Mr. Tarsa and Mr. Whiles are very proud of their team which has come a long way from last year's squad of inexperienced sophomores, and their hopes for a strong team next year seem more than justified when it is considered that the entire team will be returning."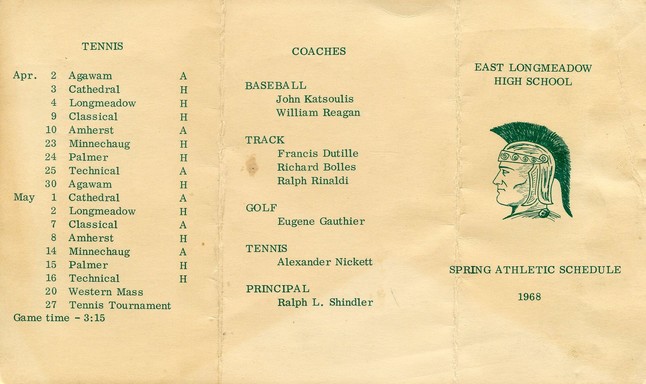 Spring Athletic Schedule. Courtesy of Kim O'Brien.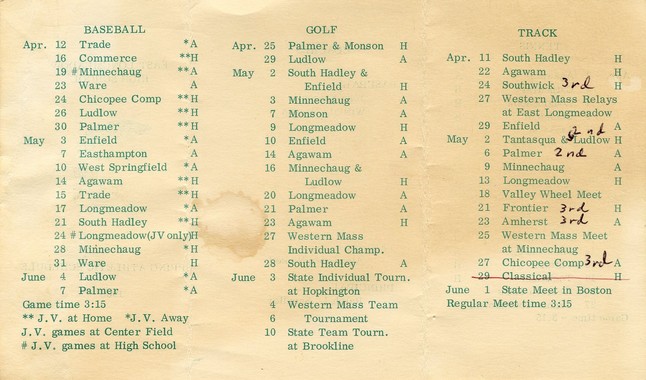 Varsity Baseball Team. Front row: Tim Lynch (manager), Jim Latourelle (co-captain), John Corliss, Jerry Sawyer. Row 2: Ralph Donohue, Steve Newell, Don Eddy, Bob Barney, Ed LeBlanc, Paul Lieberwirth. Row 3: Mr. Gary Gibbons, Scott Seymour, Michael Beaulieu, Dan Thomas, Bob Houghton, Mr. John Katsoulis (coach). Not pictured: Donald Bonner, Steven Swayger.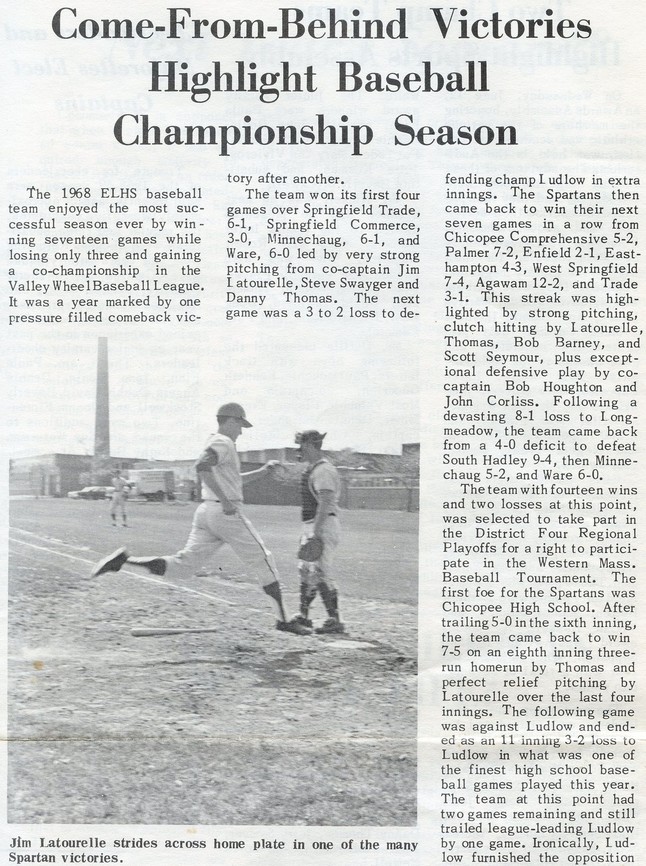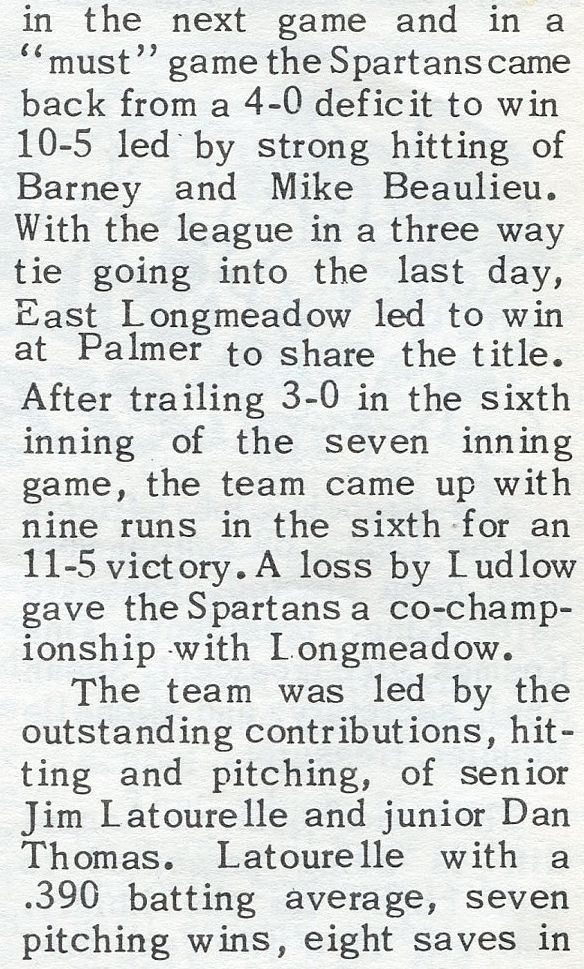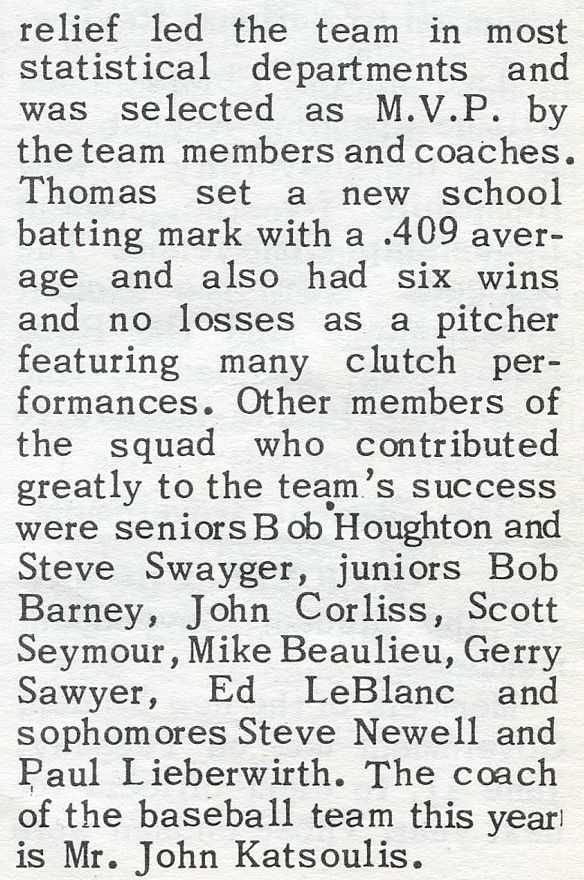 Spartan Spirit, Jun. 19, 1968.

Junior Varsity Baseball Team. Front row: Channing Orr (manager), Wayne Scully, Kurt Whitney, Charles Maurer, Andy Byrne, Mr. William Reagan (coach). Row 2: Mac White, Ed Kopec, Frank Miorandi, Dave Correale, Paul Sistare, Steve Fairbanks. Row 3: Pete Garafalo, Tom Mineo, Dave Weferling, Scott Grabowski, Dave Gallerani.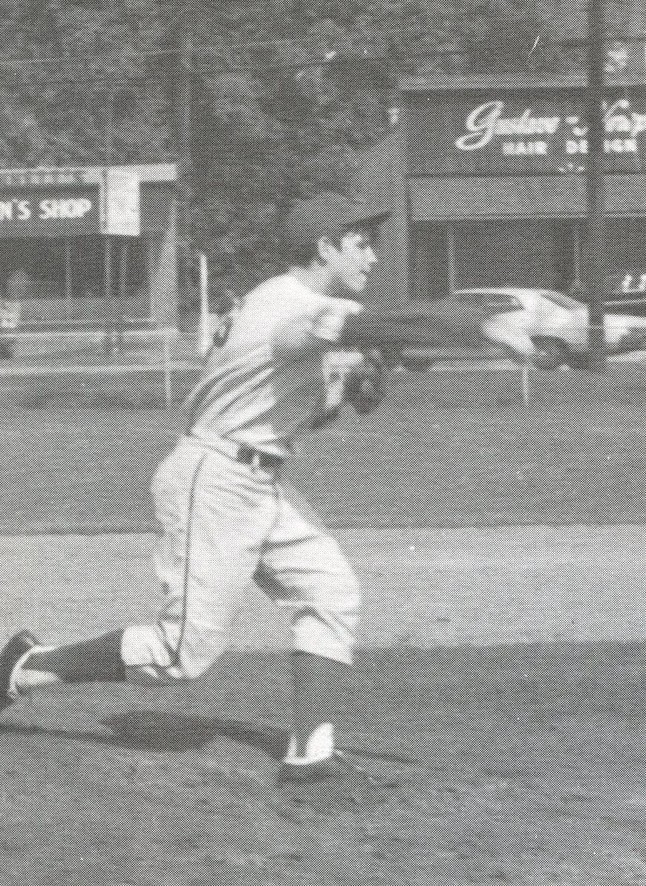 Whipping the horsehide toward the plate is Kurt Whitney.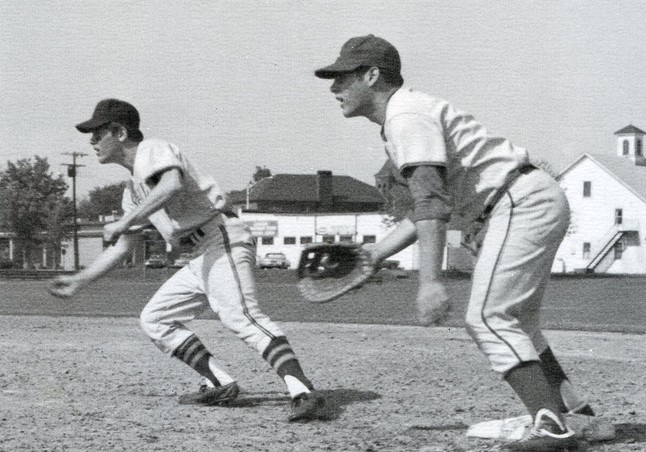 Guarding the sack against a flitting Agawam opponent is Tom Mineo.
"Energy and potential marked the ELHS junior varsity baseball team as it concluded an 8-7-1 season. In one of the earlier games, E.L. beat South Hadley 7-1 behind the pitching of Kurt Whitney. Wayne Scully starred both at bat and in the field; his most successful effort of the day was his amazing one-handed catch in center field which prevented two runs from crossing the plate. In the same game, Tom Mineo smashed a triple, while Dave Gallerani and Scott Grabowski each belted doubles.
"Another crowd-pleasing contest was the Trade game, in which Kurt Whitney again showed his hurling skill with a three-hitter. Tom Mineo went 2 for 3, including a triple; Steve Newell was 3 for 5, with a double and a triple; and Scott Grabowski duplicated Steve's fine showing. E.L. again proved its strength in the Palmer game as Kurt Whitney paced the Spartans to a tight 8-7 victory.
"The JV team had a successful season and proved to be a squad which demonstrated determination and spirit in all its games, winning and losing."

Girls' Softball Team: Front row: Margaret Bean, Nancy Cauley, Nora Brayley, Margaret Cauley, Edna Hanson, Jeanne Mercier, Pat Hendrick, Miss Jakie Upshaw (coach). Row 2: Nina Nascembeni, Judith Douglas, Bonnie Duley, Vicky Haskell, Patricia Vadnais, Barbara Foote, Joan Bartone.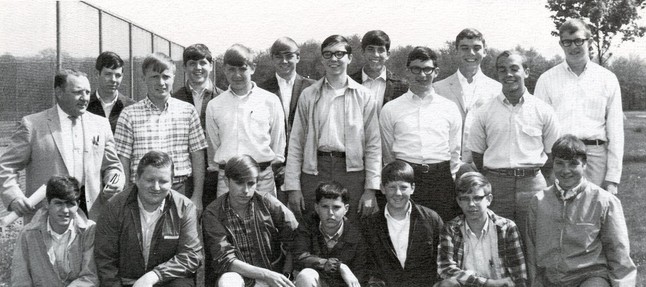 Varsity Golf Team: Front row: John DeAngelo, Brian Falk, Barry Tuck, Dave Carpenter, Jeff Boulrice, Mark Willis, Mark Simone. Row 2: Mr. Eugene Gauther (coach), Bob Lundgren, Donald Hutchison, William Meehan, Bob Boulrice, Mark Allen. Row 3: John Dempsey, Joe DeAngelo, Barry Rufenacht, Brad Towle, Tim Thompson, Greg Naylor. Not pictured: Skip Clevenshire.
"Beginning practice late in March on soggy high school fields and the Indian Orchard course, the '68 golf team performed season-long in a style that coach Gene Gauthier termed "excellent"; for the first time in ELHS history the golf squad captured first place in the Valley Wheel League with a 13-3 record.
"The season began with a dual match victory over Monson and Palmer in which Skip Clevenshire was low man with a respectable 80. Following this first encounter was a tri-meet victory over Enfield and South Hadley in which Mike Allen's 75 nearly eclipsed the school record.
"Three victories over Minnechaug, Ludlow and Agawan were interspered with losses dealt to our linksmen by Ludlow, South Hadley, and Longmeadow. However, in this last duel, Bob Storey turned in a brilliant record-tying 73, thus salvaging Spartan honor.
"The rotating lineup was comprised of Bob Storey, Mike Allen, Skip Clevenshire, Jack Blaisdell, Bob Boulrice, Brad Towle, Barry Rufenacht, Tim Thompson, and Bob Lundgren, with the first three boys representing ELHS in the Western Mass. Individuals' Tournament in May at Dalton. Although the trio turned in rounds in the low 80s, none of the boys qualified for the State Tournament. However, Mike Allen was chosen to compete in the Springfield Republican's Tournament in July and lost one up in a 22 hole match.
"Terminating the season was the spring awards assembly, during which Mike was presented the MVP award."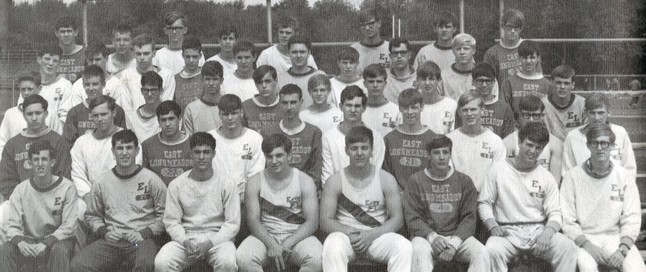 Varsity Track Team: Front row: Mark Lacedonia, Roger Blood, Jim Manferdini, Felix Tranghese, Tom McCabe, Rick Willard, Bill Creighton, Jeff Crary. Row 2: Paul LaBroad, Steve Gonyea, Alfred Santos, Ken Goodrich, Ernie Miner, John Lewis, John Wrinkle, Ken Behan, Tom O'Brien, Dennis Paige. Row 3: Richard Hammond, John Moore, Mark Pozzi, Bruce Ostrander, Larry Bradley, Clark Swanson, Victor Linden, Mark O'Melia, Dennis Ostrander. Row 4: Tom Thompson, Richard Dion, David Bowe, Keith David, Stan Sroka, David Pallatino, Paul Bouchie, Charlie Stellato, Bob Willard, John Ouellette. Row 5: Bob Ireland, Bruce Moore, Larry Cooper, Brian Lavertue, Bill Anderson, Erwin Belorusky, Chris Colman, Frank Mitchell. Not pictured: Coaches Mr. Frank Dutille, Mr. Ralph Rinaldi, Mr. Richard Bolles.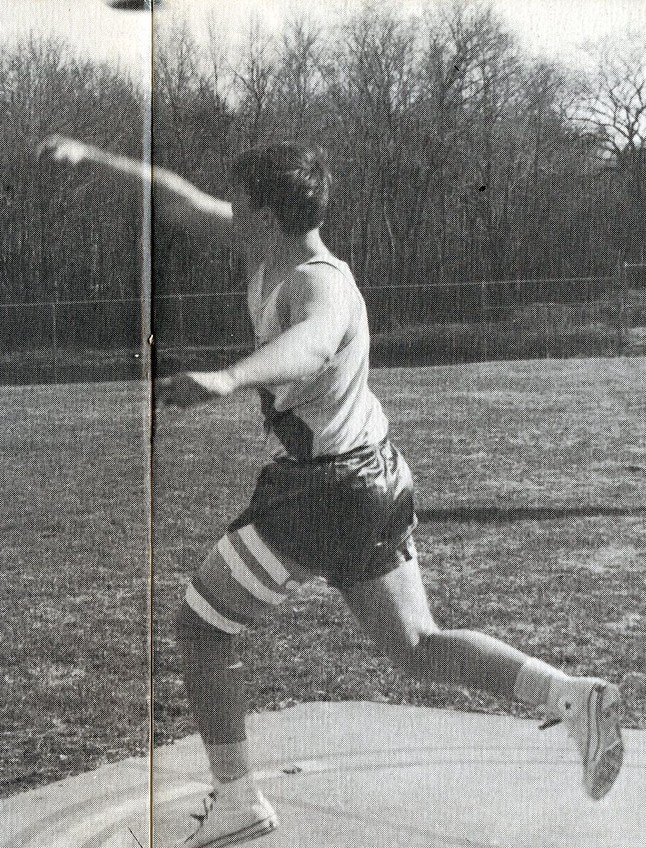 Toe-tip balance as the discuss floats pondward from the hand of Felix Tranghese.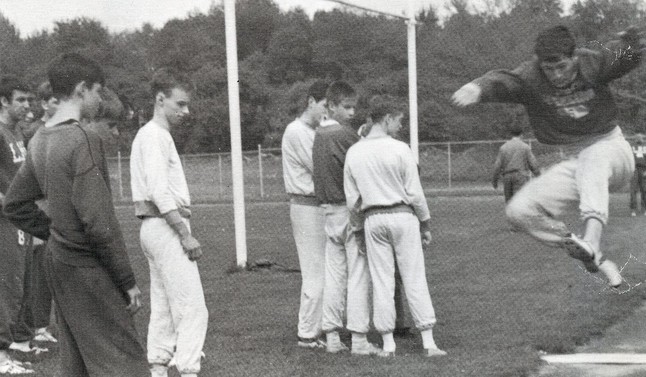 Feet pedaling to pound the dirt, Bob Ireland in the long jump against Longmeadow.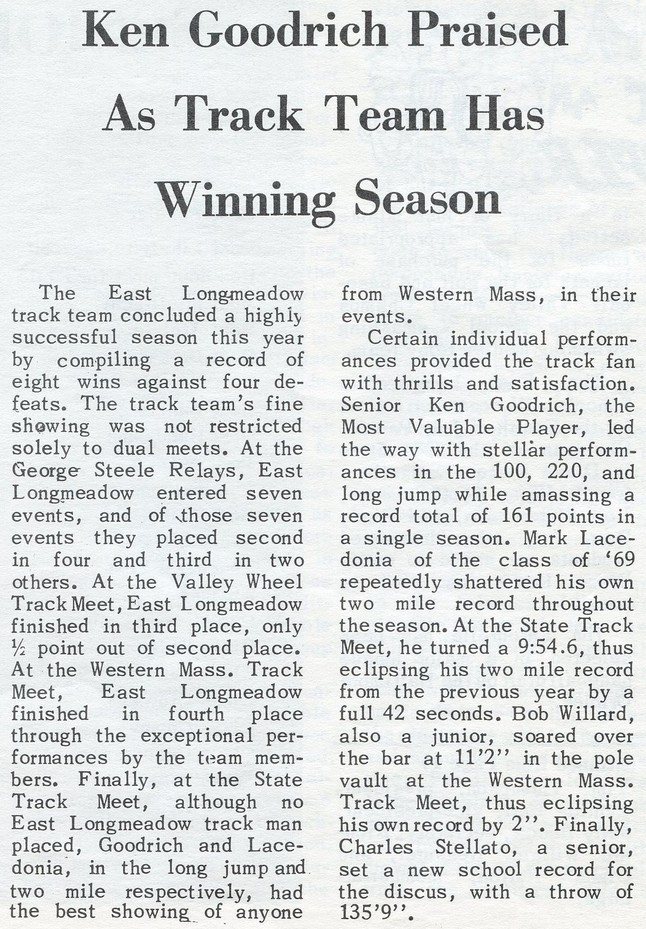 Spartan Spirit, Jun. 19, 1968.
"Track coach Frank Dutille said before the season began that he would be satisfied with a winning club. Not only did the East Longmeadow track team finish a successful 9-4 season, but five school records fell before the onslaught of the squad's talent. In scheduled play and various league and state championship meets, seniors Ken Goodrich and Charles Stellato, and juniors Bob Willard and Mark Lacedonia set new records for total points, discus, pole vault and two mile run, respectively.
"At the George C. Steele Relays held at East Longmeadow in April, Stellato whipped the discus 135'9", breaking the previous mark by five feet. Also at the Relays, E.L. placed second in the pole vault, one mile run, and discus, and third in the low hurdles and 880 relay.
"In the Valley Wheel Championship Meet at Enfield, stellar performances were turned in by Bob Willard, who won the pole vault event with a record-shattering 11'2"; Mark Lacedonia, who won the two mile race, and Dennis Ostrander, 880 yard run; Charlie Stellato, discus; Ken Goodrich, long jump, and Jeff Crary, low hurdles. Also the 880 relay team paced E.L. to third place, behind Enfield and Longmeadow.
"At the Western Mass. Championships, the quintet of Goodrich, Willard, Lacedonia, Mitchell, and Crary led the team to fourth place, only 1 1/2 points behind the two second place teams. Because of their performances at this meet, Goodrich, Willard, Lacedonia, and Crary were chosen to journey to Boston for the State Meet in which Mark shattered his previous two mile record with an amazing 9:54.6 minutes time.
"The high point of the regular season play came at the Southwick meet, with the Spartans setting a new scoring record by winning 107 out of a possible 131 points.
"Senior Ken Goodrich won the team's MVP award by setting a school record of 161 points during the season, earned in the 100, 220, and long jump. This year was certainly one of the track team's most successful, but it is hoped that more records will fall next year to the returning tracksters."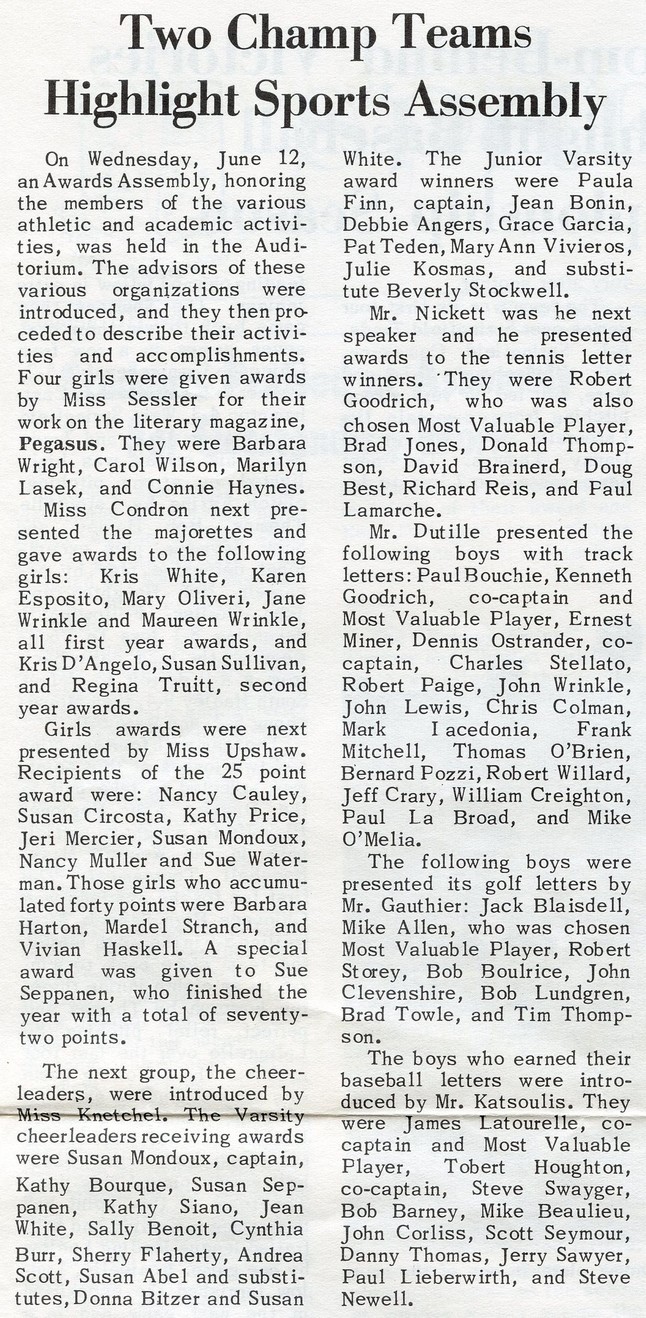 Spartan Spirit, Jun. 19, 1968.

Spartan Spirit, Jun. 19, 1968.
* * *
We love adding memorabilia to this page. Please contact us if you have a photo or item of interest you'd like to share.