East Longmeadow High School
Class of 1970
Our Classmates
Connie Garvey (Marr)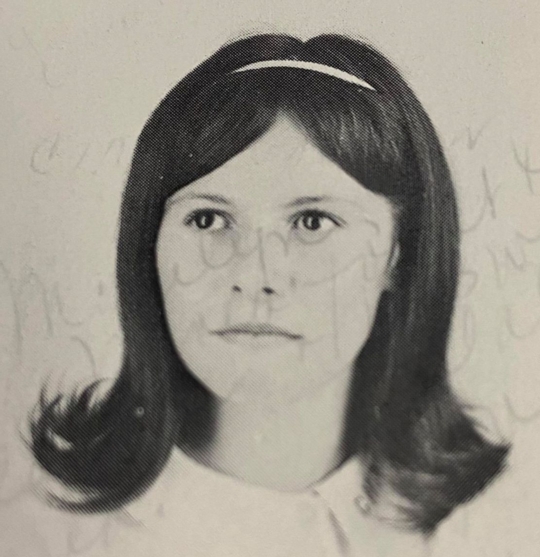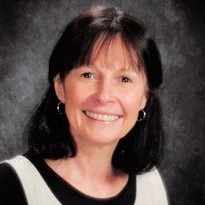 Connie in 1970 (senior portrait in the Cathedral High School yearbook) and later in life.
Our dear classmate Constance "Connie" Garvey Marr, who we knew as Connie Garvey, passed away on Aug. 10, 2020. She was in our class from first through eighth grades before attending Cathedral High School, from which she graduated in 1970. Here are excerpts from her obituary which appeared on the website of the Miles Funeral Home, Holden MA:

Constance M. (Garvey) Marr, 68, passed away peacefully on Monday, Aug. 10, 2020 with her devoted husband by her side.

She leaves her loving husband of 41 years, Peter J. Marr; her daughters, Katherine E. Doherty and her husband Matthew of Berwick, ME; Emily E. Marr and her fiancé, Nader Nader of Haverhill; and Jennifer N. Morehouse and her husband, Adam of Vernon, CT; her sisters, Kathryn Groffman of Hampden and Patricia Kennedy of Marblehead; her four grandchildren, and several nieces and nephews.
Connie was born in Springfield, the daughter of the late John and Margaret (McGrath) Garvey, and raised in East Longmeadow.

She earned her bachelor's degree from Trinity College in Washington, D.C. and her master's degree in Library and Information Science from Simmons College in Boston.
She was the library media specialist at Paxton Center School for 12 years before dedicating the next chapter of her life to raising her three daughters, who were the pride and joy of her life. In 2000, she returned to work as the librarian at Davis Hill Elementary School in Holden, and then at Webster Middle School and Bartlett High School for eight years before retiring in 2014. Connie loved her school libraries and took much pride in making them beautiful, welcoming places for reading and learning.
Connie was an active member of the community in Holden, where she and her husband resided for 34 years. She belonged to St. Mary's Church in Jefferson, where she taught religious education for many years. She was also a founding member and treasurer of the Wachusett Food Pantry, and was elected to the Gale Free Library board of trustees, where she served for 18 years.
Connie enjoyed skiing, playing golf and tennis, and taking long walks with her husband. She was an avid prayer of the Rosary, and always had an immense faith in God that undoubtedly carried her straight to heaven.
Connie's family would like to extend their heartfelt appreciation for the care and compassion provided by the wonderful staff of the Oasis at Dodge Park in Worcester.

In lieu of flowers, memorial contributions may be made to Be Like Brit, 66 Pullman St., Worcester MA 01606 (support@belikebrit.org).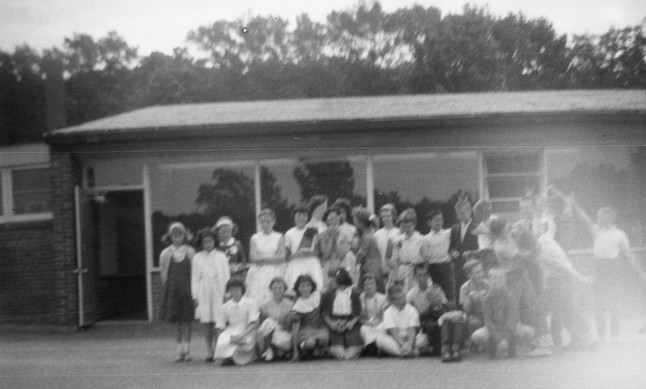 In this photo of Mrs. Winton's fifth grade class at Mapleshade School, Connie is seen in the front row on the far left. To see the class roster and caption, please

click here

and scroll down to Mrs. Winton's class. Give the page some time to load, as there's a lot of info on the page. Photo courtesy of Arlene Breau Wolfe.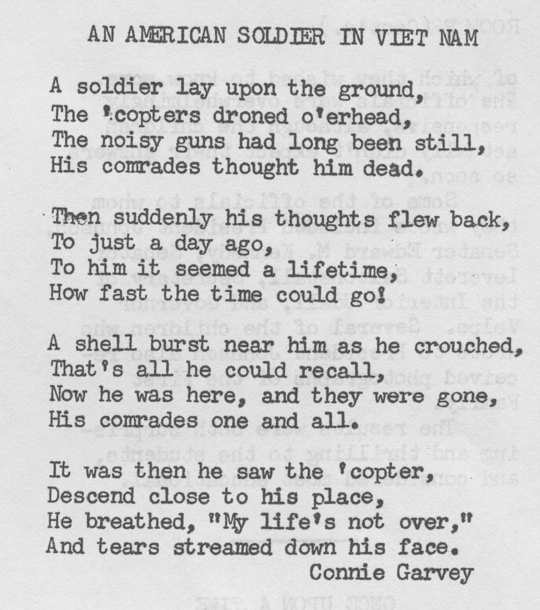 In 1966, near the end of eighth grade at Birchland Park Junior High School, Connie penned this poignant poem which appeared in the school newspaper, the Birchland Banner. Her sister, Patricia Garvey Kennedy says Connie was deeply affected by the death of her neighbor, Lance Corporal Gerald Letendre, U.S. Marine Corps, the first casualty from East Longmeadow in the Vietnam War. Gerald was killed in combat on Mar. 26, 1966. Patricia says, "Maybe this poem was what she (Connie) wished had happened."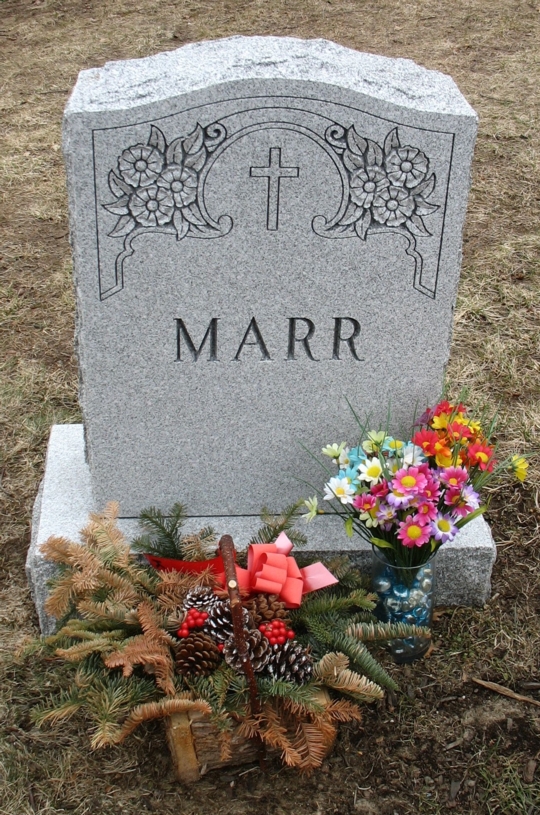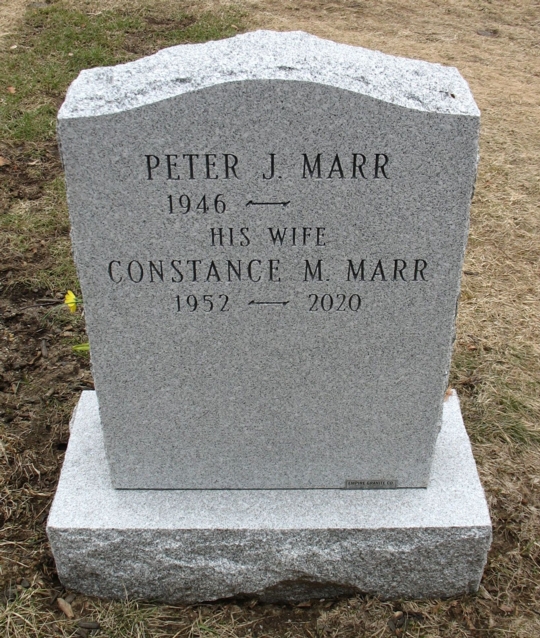 Connie's headstone in Grove Cemetery, Holden, MA.
To see other tributes, click on the "Life Tributes" link to the left and then on the page of interest.