East Longmeadow High School
Class of 1970
Our Classmates
Mary Piechota
Our dear classmate Mary Piechota, who was in our class for ninth grade only, passed away peacefully at her home in Igo, CA on Thursday, Feb. 15, 2018.
Mary had been employed as a registered nurse, a
ccording to a close friend with whom we spoke.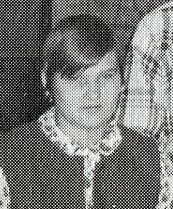 Close-up of Mary in photo below.

Homeroom photo in Mary's freshman year. Front row:

Mary Piechota

, Eleanor Ramey, Deborah Sawyer, Susan Regnier, Pamela Sakakeeny, Linda Redin, Kathleen Price, Debra Peterson, Mr. Richard Grover. Row 2: William Scheumann, David Sand, David Radebaugh, John Quinn, Michael Rafferty, Joanne Rinaldi, Cynthia Richards, Patricia Ryan, Susan Petronino. Row 3: Robert Reis, Dennis Plante, Stephen St. Marie, Robert M. Price, Richard Pesto, Joseph Roy, Albert Raimondi, Robert A. Price, Carl Porcelli. Not pictured: Jeanne Ricciardi, Michele Roy.
To see other tributes, click on the "Life Tributes" link to the left and then on the page of interest.