East Longmeadow High School
Class of 1970
Our Classmates
Dennis Lariviere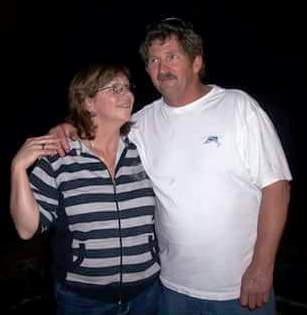 Dennis with his wife, Virginia in 2016.
Our dear classmate Dennis Lariviere, who was in our class during eighth and ninth grades, passed away from the effects of esophageal cancer on Sep. 9, 2017.
Following his time in our class, Dennis joined the class of 1971.
Before graduating, he left school to join the United States Navy.
Prior to his passing, he was self-employed in the carpentry industry.
Dennis was predeceased by his brothers David, Raymond, and Gerald. He is survived by his wife, Virginia; daughter, Catherine Lingamurthy; sisters Peggy Herman and Louise Grady; and two grandsons.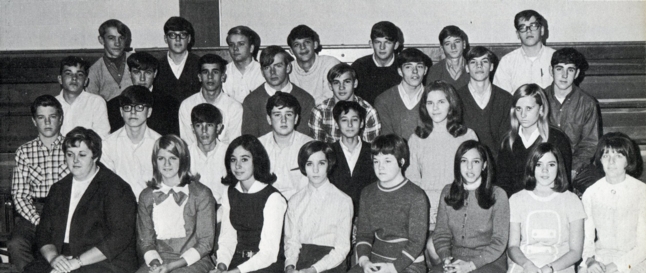 Homeroom photo in Dennis' junior year (Class of 1971). Front row: Miss Sandra Johnson, Nancy Kulik, Dianna LaBonte, Nina Lodigiani, Therese Malone, Julie Kosmas, Debra Lawson, Deborah Laflamme. Row 2: Dennis LeDuc, Kenneth Langdon, Gary LaFave, Richard Kronenberg, Curtis Kim, Patricia Kulis, Suzanne Johnston. Row 3: Thomas Lamoureux, Amos Jette, Brian Lavertue, Michael Keane, Craig Johnson, Daniel Kennedy, William Legree. Row 4: Martin LeBlanc, Albert Keinath, John Keane, David Lariviere,

Dennis Lariviere

, Thomas Kurowski, Donald Jacobson. Not pictured: Daniel Lawson.
Note: Dennis' younger brother, David, ELHS 1971, who was in our class in seventh grade, passed away in 2014. Please

click here

for his tribute.
To see other tributes, click on the "Life Tributes" link to the left and then on the page of interest.