East Longmeadow High School
Class of 1970
Our Classmates
Dolores Finch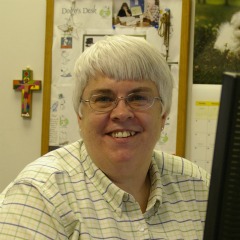 An undated photo of Dolores, but likely around 2011.
Our dear classmate Dolores Finch, who we knew as "Dody," was in our class during fourth and fifth grades at Mapleshade School.
Here are excerpts from her obituary, which appeared in the Chicago Tribune newspaper, Chicago, IL:
Dolores "Dody" Finch, 64, passed on Jan. 10, 2017 in Chicago, IL.
Dody was born on Dec. 4, 1952 in Springfield, MA.
She is a graduate of Moody Bible Institute with a degree in psychology. She had recently retired after many years working with the Seminary Consortium for Urban Pastoral Education (SCUPE).
Dody was a loving and generous person who spent her free time helping others. She had a love of all things Peanuts and is well know for petitioning her apartment complex for permission to have a dog.
She is survived by her mother, Jeanne and her husband, Bill Sullivan of Florida; her brother, David; sister, Sandra Marsh; sister-in-law, Teri; and niece, Hannah Finch of Round Lake Beach, IL. She is preceded in death by her father, Harold Finch.
In lieu of flowers, please donate to the Charles Schulz Museum or the Humane Society.
Note: SCUPE, for whom Dody worked for many years, published the following tribute to her on Jan. 11, 2017:
We are saddended to announce that Dolores "Dody" Finch died, unexpectedly but peacefully in her sleep, on Jan. 10, 2017. She served as Registrar of SCUPE from 1999 until August 2016.
Dody was happiest when classes were in session where she provided students and faculty with information and hospitality to make their experience a positive and fulfilling one.
Dody loved her work as registrar, interacting with students, faculty, and other seminary registrars and staff members. She was always the first to arrive at the office, beginning her work at 7 a.m. so she would be available for early calls from students and member seminaries in the Eastern Time Zone.
Dody's working relationship with SCUPE dates back to 1976 as one of SCUPE's first volunteers. In 1980, she joined the staff for nearly five years. She assisted with records, development, and financial operations.
Dody had talked about some of her plans for 2017 as she officially moved into retirement. She loved caring for dogs, going to movies, helping neighbors and friends, and had planned to move to Florida this year to be close to her mother.
She will be truly missed.
To see other tributes, click on the "Life Tributes" link to the left and then on the page of interest.