East Longmeadow High School
Class of 1970
Our Classmates
David Vennell
Our dear classmate David Vennell, who was in our class at Center School during second grade, passed away on Nov. 19, 1995.
Here is his obituary, which appeared in the Tampa Tribune newspaper, Tampa, FL:
David Brian Vennell, 43, of Zephyrhills, FL died Sunday Nov. 19, 1995 at home of natural causes.
A native of Sanford, Maine he moved to this area a year ago from Saco, Maine.
He was a computer technician, a veteran of the U.S. Army, and a member of the Richland Baptist Church.
He is survived by his wife, Rita; a son, David, Jr.; and two daughters, Aurora and Sarah, all of Zephyrhills.
Here is the class roster for the second grade class at Center School taught by Miss Clough and Miss Batchelder:
Monica Barry, Nancy Birtwell, Kendra Bowker, Peter Blyth, Nancy Cauley, Robert Clark, David Crane, Donald Eddy, Christine Flore, Dale Goddard, Debra Gordon, Deborah Hanson, Heidi Hiller, Suzanne Johnston, Paul LaBroad, Mary Jo Lynch, Janet McCarthy, Paul McNamara, Scott Moore, Kim O'Brien, Thomas Ouellette, Richard Pesto, David Radebaugh, Cynthia Richards, Paula Seligman, Raymond Sheldon, JoAnna Sturtevant, David Turnberg, Regina Truitt, Gail Vagts,

David Vennell

, Jarl Weyant, Kurt Whitney, Nancy Yacovone.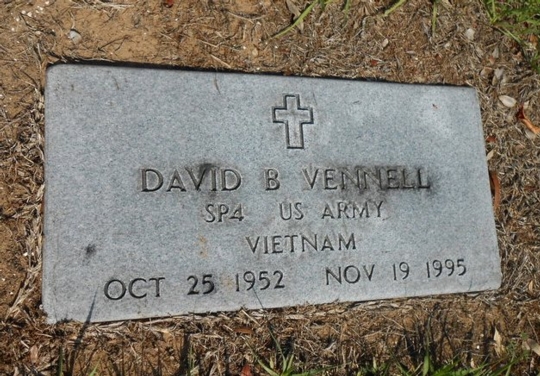 David's headstone in Richland Baptist Cemetery, Richland, FL. He held the rank of Specialist 4 (SP4) in the United States Army.
To see other tributes, click on the "Life Tributes" link to the left and then on the page of interest.