East Longmeadow High School
Class of 1970
Our Classmates
Thomas Pratte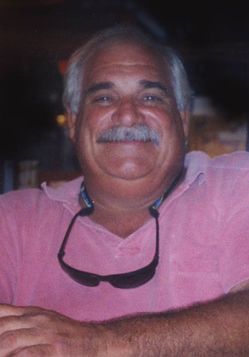 Our dear classmate Thomas Pratte, who was in our class from first through third grades at Pleasant View and Mapleshade Schools, passed away on Mar. 10, 2013.
Here are excerpts from his obituary, which appeared in the Wilmington Star-News, Wilmington, NC newspaper:
Thomas Pratte, 60, of Wilmington, NC passed away peacefully at Lower Cape Fear Hospice and LifeCare Center on Mar. 10, 2013, after a long, courageous fight with cancer.
Tom was an expert commercial roofer. Most recently, he was a co-owner of Metalcon, Inc. of Wilmington, NC.
He was a devoted father to Alex, who was Tom's pride and joy. They especially loved their time together enjoying the ocean at the north end of Carolina Beach.
Tom was born in Springfield, MA on March 14, 1952, the oldest of Richard and Janet Pratte. He worked very hard and lived a very full, varied, and humble life.
He is survived by his cherished son, Alex; his loving parents; his sister, Lorraine Lewis (Jacob); sister, Diane Patterson (Bob); brother, Gil Pratte (Janet); nieces Emma, Liana and Elyssa; nephews, Kyle and Benjamin; and his beloved aunt, Barbara Romansky of Agawam, MA. Tom and Barbara were a perfect pair of matching soulmates.
The Pratte family wishes to express heartfelt gratitude to Dr. Andrew Schreiber and Dr. Michael Nichols and to all the wonderful staff at the Zimmer Cancer Center, as well as to Mary Clark, Cindy, Scott, Diane Miller, Marty Hernandez and all the staff at the Lower Cape Fear Hospice for care and devotion given to the family.
In lieu of flowers, donations may be made in Tom's memory to the Zimmer Cancer Center or the Lower Cape Fear Hospice.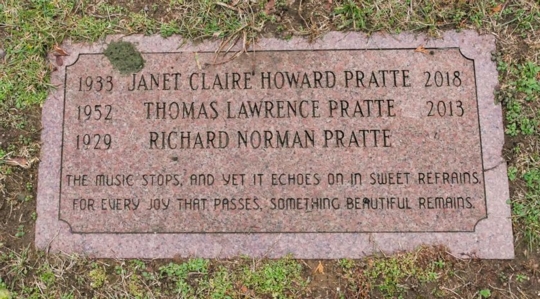 Thomas' marker in Hillcrest Park Cemtery, Springfield, MA.
To see other tributes, click on the "Life Tributes" link to the left and then on the page of interest.