East Longmeadow High School
Class of 1970
Our Classmates
Steven Wescott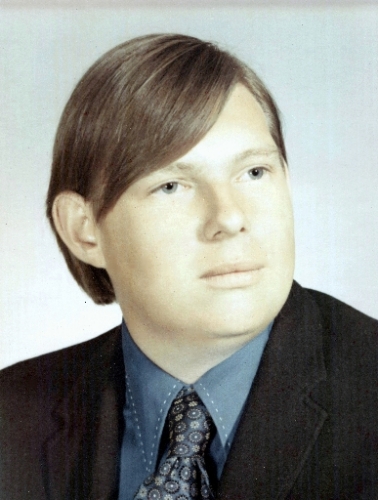 Steven in 1970 during his sophomore year and in 1972 (senior portrait).
Our dear classmate Steven Westcott, who was in our class during first and second grades at Center School, passed away on Aug. 13, 2014 following a courageous battle with cancer. He graduated from ELHS in 1972.
Here are excerpts from his obituary, which appeared in The Republican newspaper:
Steven A. Wescott, 62, ascended into the Journey of Everlasting Life on Wednesday, Aug. 13, 2014. He is now reunited with his mom and dad, Barbara A. (Stone) Wescott and George W. Wescott.
Steven was born in Springfield but was a lifelong resident of East Longmeadow. He was a graduate of East Longmeadow High School.
Steven spent many years at American Bosch as a machinist until the company's closing. More recently, he enjoyed being a crossing guard for small children in the center of East Longmeadow. Steven was a very enthusiastic outdoors sportsman and spent his time with activities such as hunting and fishing. Steven was very talented with wood carving and flint knapping, and expressed a keen interest in Native American history.
He leaves to forever cherish his memory a sister, Cathy Flynn and her husband, Thomas; and a niece, Keriann Flynn, all of East Longmeadow.
In lieu of flowers, memorial contributions may be made to a charity of your choice.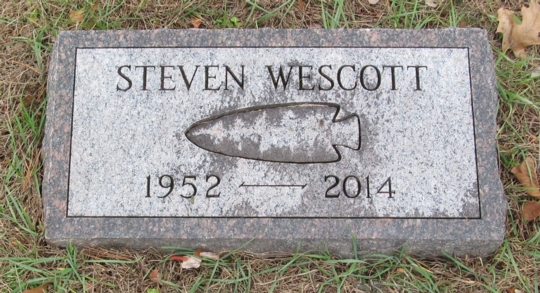 Steve's gravestone in Greenlawn Cemetery, East Longmeadow. Photo courtesy of Bruce Moore.
To see other tributes, click on the "Life Tributes" link to the left and then on the page of interest.