East Longmeadow High School
Class of 1970
Our Classmates
Teresa Bagnall (Pierce)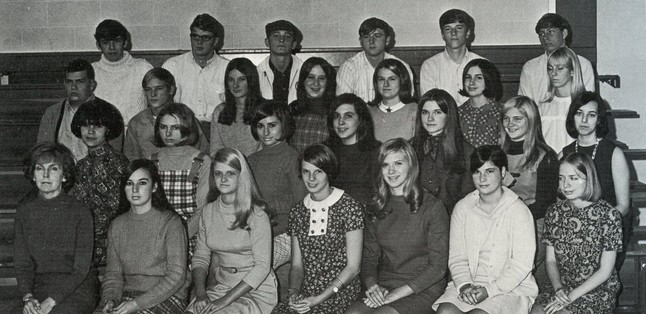 Homeroom photo in Teresa's junior year. Front row: Mrs. Kathy Payne (homeroom teacher), Laura Bradley, Leslie Bergeron, Janet Betterley, Donna Anderson, Arlene Breau, Kendra Bowker. Row 2: Patricia Berard, Teresa Bagnall, Donna Bitzer, Debra Butler, Jean Bonin, Nancy Blaisdell, Christine Bortle. Row 3: Paul Battige, Larry Bradley, Janice Breen, Lynn Belliveau, Andrea Burger, Nancy Bryson, Sandra Andrews. Row 4: Lenny Beaulieu, Bill Anderson, Charlie Ackerman, Jim Bourque, David Sabourin, John Beery. Photo courtesy of our yearbook.
Our dear classmate Teresa Bagnall (Pierce), who joined our class in February 1968, in the middle of her sophomore year and remained in our class until the end of her junior year, passed away on Mar. 20, 2000.
Here are excerpts from her obituary, which appeared in the Hartford Courant newspaper:
Teresa M. Bagnall Pierce, 48, of Ridge Rd, Winsted, CT entered into rest on Monday, Mar. 20, 2000, at her home.
She was the wife of Lawrence Pierce.
Born Dec. 12, 1952, in Springfield, MA, she was the daughter of Rita Dunn and the late Vincent Bagnall.
In addition to her husband and mother, Mrs. Pierce is survived by a son, Damon Pierce; three daughters, Melisa Pierce, Jennifer Tamminen, and Teirza Pierce; two brothers, Vincent Bagnall and Brian Bagnall; a sister, Marie Lowe; and a grandson, Richard Tramuta.
"Love knows no limit to its endurance, no fading of its hope; it can outlast anything. It is, in fact, the one thing that still stands when all else has fallen."
Memorial donations may be made to the Center for Cancer Care, c/o Charlotte Hungerford Hospital, 540 Litchfield St., Torrington, CT 06790.
To see other tributes, click on the "Life Tributes" link to the left and then on the page of interest.