East Longmeadow High School
Class of 1970
Our Classmates
Bob Boisseau
Our dear classmate, Bob Boisseau, born in 1949, joined our class during our freshman year. Following that year, he then withdrew from school. In January 1968, he enlisted in the U.S. Army. Nine months later, on Sep. 7, 1968, while home on leave, he was fatally injured by a car as he and classmate Chris Edwards were walking on Allen Street in East Longmeadow.
Here are excerpts from Bob's obituary, which appeared in the Springfield Union newspaper:
Private First Class (PFC) Robert E. Boisseau, Jr., of 9 Pioneer Circle, East Longmeadow, home on leave from duties as a clerk-typist with Company C, 1st Battalion, Combat Support Training Brigade, U.S. Army, died Saturday night, Sep. 7, 1968 in Wesson Memorial Hospital after being hit by a car in Allen Street.
Christopher Edwards, 17, of 33 Rose Terrace, East Longmeadow, was injured in the same accident and was treated and released by the hospital.
PFC Boisseau was stationed at Fort Huachuca, Arizona.
He was born in this city, March 30, 1949, son of Robert E. and Marie H. (Janulevicia) Boisseau, Sr., and had been a resident of East Longmeadow until entering the Army last January 3.
Besides his parents, he leaves a sister, Mrs. Robert E. Wing of East Longmeadow and his maternal grandmother, Mrs. Bronislawa Kostanopoulas, of this city. A military funeral will be held. Byron's Funeral Home is in charge of arrangements.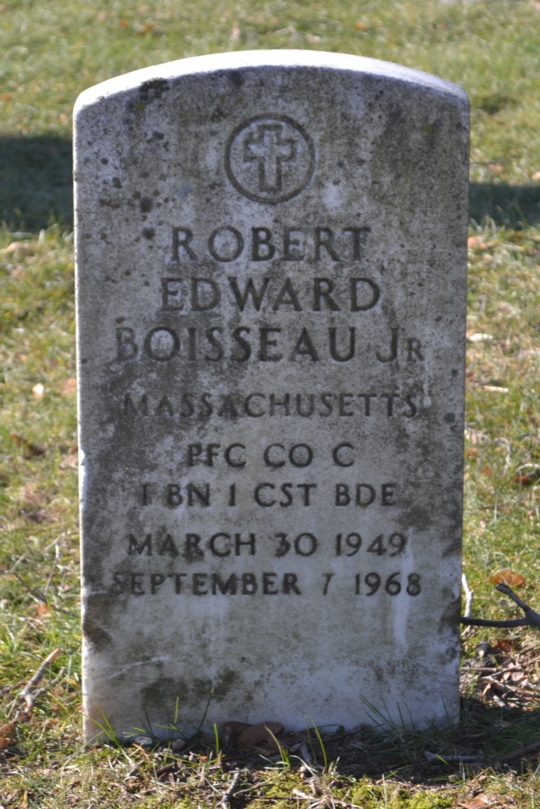 Bob's headstone in St. Michael's Cemetery, Springfield, MA. PFC CO C = Private First Class, Company C. FBN 1 CST BDE = 1st Battalion, 1st Combat Support Training Brigade. Photo courtesy of Mark Wing.
To see other tributes,click on the "Life Tributes" link to the left and then on the page of interest.