East Longmeadow High School
Class of 1970
Our Classmates
Bruce Carriere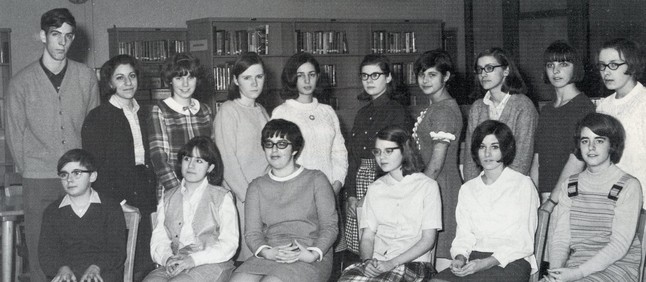 Library aides in Bruce's junior year. Front row: John Gilmartin, Lynette Chavez, Marie Roy, Lori Roberts, Elaine Shea, Beth Lacey. Row 2: Bruce Carriere, Joanne Buendo, Kerry McRae, Linda Williams, Collette Chavez, Gail Van Valkenburg, Elaine Stewart, Ellen Hopkins, Vicky Haskell, Geraldine Spaulding.
We have learned from one of his relatives that our dear classmate Bruce Carriere passed away in March 2014. At this time, we have no additional information regarding his passing.
He joined our class in 1968 at the beginning of his junior year. Although he did not have a senior candid photo taken, we have this photo of him as a library aide.
To see other tributes, click on the "Life Tributes" link to the left and then on the page of interest.