East Longmeadow High School
Class of 1970
Our Classmates
Valarie Weber (Revels)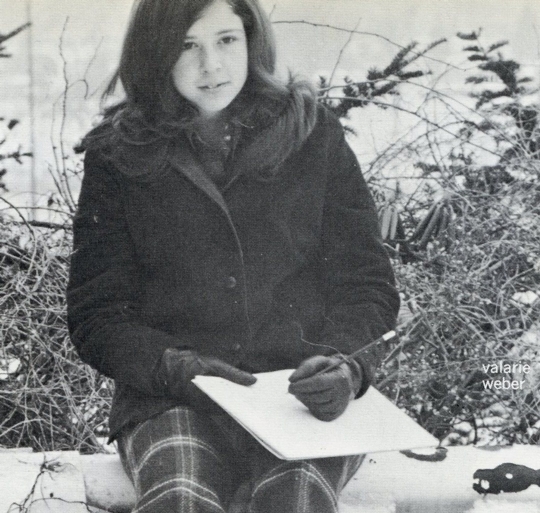 Valarie's senior candid photo.
Our dear classmate Valarie Weber Revels passed away on Dec. 28, 2020. She resided in Tucson, AZ. She is survived by her husband, Ronald Revels and her sister, Margaret Solitario, ELHS 1979. At this time, we have no further details regarding her life or passing.
Valarie joined our class in eighth grade. During her time at ELHS, she was a member of the Aegis yearbook staff, French Club, Red Cross Club, and Ski Club, and participated in Spartanum Spectaculum and intramurals.

Homeroom photo in Valarie's freshman year. Front row: Susan White, Susan Waterman, Susan Wicks, Susan Wolcott, Gail Vagts, Nancy Vallett, Melinda Wheeler, Teresa Villamaino, Mr. James Lawrence. Row 2:

Valarie Weber

, Nancy Wrinkle, Jarl Weyant, John Vigliano, Malcom White, Richard Willard, Kurt Whitney, Edward Warren. Row 3: Stephen Viger, Mark Whyte, Anthony Zampiceni, James Wilkins, Robert Wenning, David Turnberg, Everett Twining. Not pictured: Jane Viveiros, David Wieland.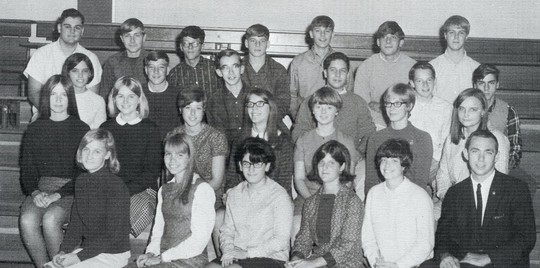 Homeroom photo in Valarie's sophomore year. Front row: Susan Wicks, Nancy Vallett, Teresa Villamaino, Nancy Yacovone, Gail Vagts, Mr. Gary Bunce. Row 2: Susan White, Susan Waterman,

Valarie Weber

, Susan Wolcott, Jane Viveiros, Nancy Wrinkle, Melinda Wheeler. Row 3: Regina Truitt, Richard Willard, Jarl Weyant, Anthony Zampiceni, Malcolm White, David Turnberg. Row 4: Stephen Viger, Barry Tuck, John Vigliano, Kurt Whitney, Robert Wenning, Mark Whyte, James Wilkins.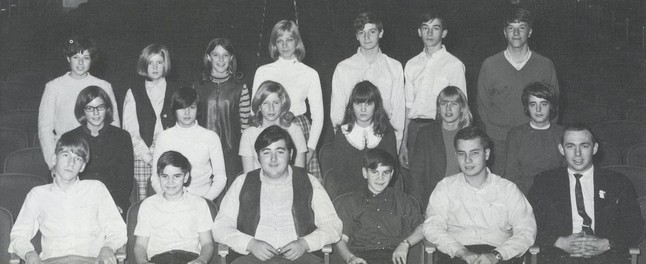 A portion of the Ski Club during Valarie's junior year. Front row: Rick Pesto, Paul Kinney, Bob Price, Paul Munzert, Mr. Gary Bunce (advisor). Row 2: Fleda Weyant, Susan Quimby, Joanne Bergamini, Katherine Evans, Jane Stolecki, Beth Lacey. Row 3:

Valarie Weber

, Mary Mitchell, Deborah Angers, Nancy Wrinkle, J. Glenn Reardon, Timothy Redin, David Sabourin.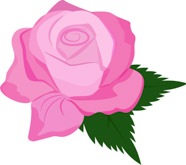 Valarie's remains will be interred in Greenlawn Cemetery, East Longmeadow, MA.
To see other tributes, click on the "Life Tributes" link to the left and then on the page of interest.