East Longmeadow High School
Class of 1970
Our Classmates
Linda Redin (Blair) VIEW PROFILE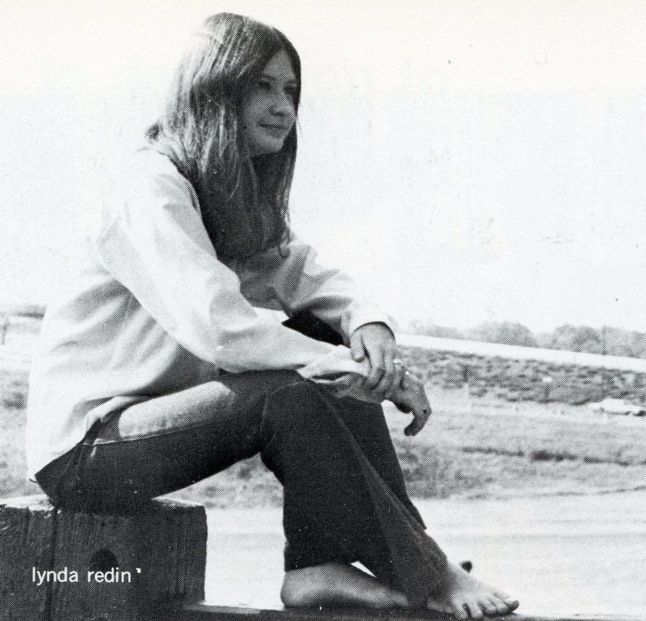 Linda's senior candid photo.
Our dear classmate Linda Redin Blair, in our class since first grade, passed away on Friday, Jul. 5, 2019 at home in Delray Beach, FL.
Here are excerpts from Linda's obituary, which appeared in the South Florida Sun Sentinel newspaper, Deerfield Beach, FL:
Linda S. (Redin) Blair, 67, passed away suddenly on Friday, Jul. 5, 2019 at her home in Delray Beach, FL.
Linda was born in Springfield, MA on Sep. 4, 1951 and grew up in East Longmeadow, MA.
She was predeceased by her father, Edward Redin, and survived by her mother, Claire Redin, who currently resides in Boca Raton, Fl. She is also survived by her only sister, Kimberly Redin, who currently resides in Saugus, MA. Linda also leaves behind her eldest son, Shawn Blair, 43, and his new wife, Rosalynda, and her two cherished grandchildren, Keira, 5, and Colin, 2, and her youngest son, Brett Blair, 40, and his wife, Stephanie. Both sons are currently police officers in South Florida. She was also predeceased by her former husband, Michael Blair, the father of her children. Michael resided in Springfield, MA until his passing.
Linda graduated from East Longmeadow High School with the class of 1970 and went on to a lifetime career that started right after graduation with Bell Telephone Systems (Ma Bell) in Springfield, MA. She later transferred and moved to Florida with BellSouth, which eventually became part of AT&T. Linda retired from the AT&T office in Sunrise, FL in the early 2000s.

Linda participated on the Aegis yearbook staff during her senior year at East Longmeadow High School and in the Drama and Ski clubs during her freshman year. She loved art and was an amateur artist, and was an avid fan of old black and white movies.

If you would like to make a donation in honor of Linda, the family is confident she would have loved any donation made in her name to the American Diabetes Association, PO Box 15829, Arlington, VA 22215, or online at
www.diabetes.org/donate

.
Note: In a touching tribute, Linda's son Brett wrote this on his Facebook page:
"On behalf of my entire family, we are deeply saddened to announce that our mother, Linda Blair, has passed away. We are comforted to know that she has moved on to a better place and we hope that she has found the peace that she so greatly deserves. She is now with her father, who she missed so deeply. We are grateful to know that her last days were spent with family in Jamaica for her eldest son's wedding. We will always cherish those last days with her and are so thankful to have those memories and many more. She will forever live in our hearts. We love you mom and I miss you already."

Homeroom photo in Linda's freshman year. Front row: Mary Piechota, Eleanor Ramey, Deborah Sawyer, Susan Regnier, Pamela Sakakeeny,

Linda Redin

, Kathleen Price, Debra Peterson, Mr. Richard Grover. Row 2: William Scheumann, David Sand, David Radebaugh, John Quinn, Michael Rafferty, Joanne Rinaldi, Cynthia Richards, Patricia Ryan, Susan Petronino. Row 3: Robert Reis, Dennis Plante, Stephen St. Marie, Robert M. Price, Richard Pesto, Albert Raimondi, Robert A. Price, Carl Porcelli. Not pictured: Jeanne Ricciardi, Michele Roy.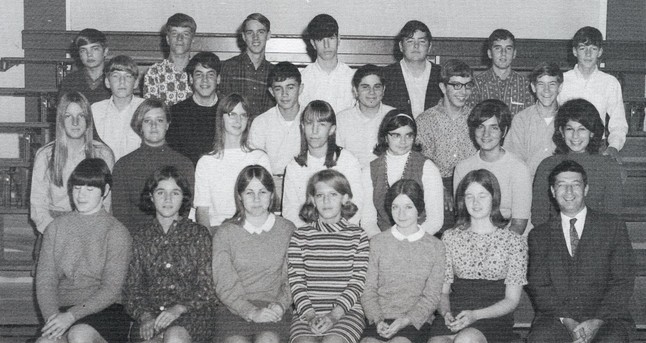 Homeroom photo in Linda's sophomore year. Front row: Joanne Rinaldi, Kathleen Price, Deborah Sawyer, Susan Regnier,

Linda Redin

, Debra Peterson, Mr. Raymond Simonds. Row 2: Jane Passburg, Eleanor Ramey, Priscilla Perusse, Patricia Ryan, Cynthia Richards, Susan Petronino, Pamela Sakakeeny. Row 3: Richard Pesto, John Quinn, Robert A. Price, Carl Porcelli, Stephen St. Marie, Dennis Plante. Row 4: Joseph Roy, David Sabourin, Robert Reis, Albert Raimondi, Robert M. Price, David Radebaugh, David Sand. Not pictured: Cynthia Page.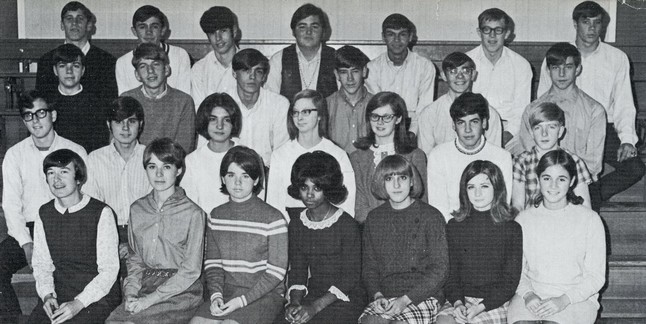 Homeroom photo in Linda's junior year. Front row: Miss Judith Sessler, Nola Olmsted, Patricia Olier, Adrienne Myers, Cynthia Page, Linda Redin, Kathleen Price. Row 2: David Radebaugh, Carl Porcelli, Susan Petronino, Priscilla Perusse, Debra Peterson, John Quinn, Channing Orr. Row 3: John Ouellette, Richard Pesto, Bruce Ostrander, Dennis Plante, Gil Paquette, David Owen. Row 4: Stephen Newell, Robert A. Price, Albert Raimondi, Robert M. Price, Enrico Oliveri, Gregory Naylor, Peter Ouellette. Not pictured: Kim O'Brien, Ross Overlock.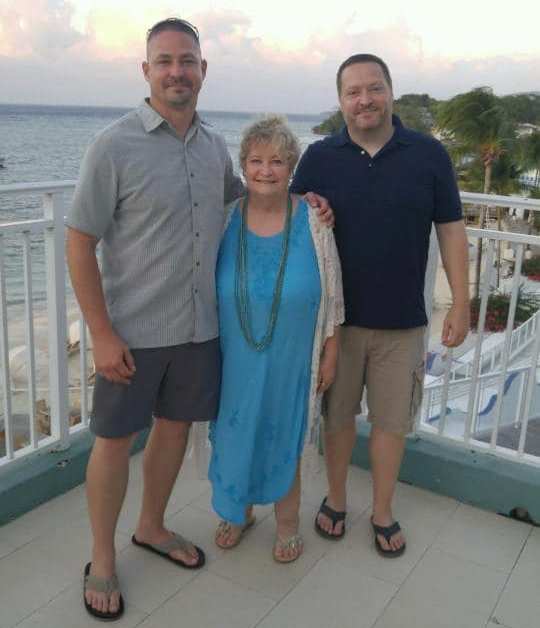 Linda with her sons Brett, left and Shawn a few days before her passing.
To see other tributes, click on the "Life Tributes" link to the left and then on the page of interest.
Click here to see Linda's last Profile entry.