East Longmeadow High School
Class of 1970
Our Classmates
Bob "Albert" Price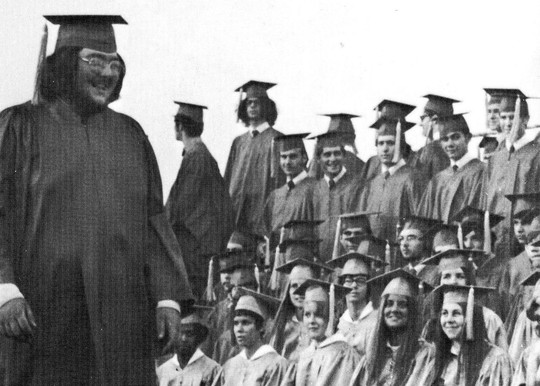 Bob's senior candid photo, taken as he received his diploma on June 9, 1970.
Our dear classmate Bob Price, affectionately known as "Albert," passed away following an accident in which he was hit while riding his motorcycle.
He joined our class in sixth grade and was one of two in our class named Bob Price, the other being Robert A. Price.
He was in the Debate Club and French Club during his sophomore year and in the Ski Club during his sophomore and junior years.
Here are excerpts from Bob's obituary, which appeared in the Springfield Union-News newspaper:
Robert M. Price, II, 49, of Oakwood Drive, SW, Supply, N.C., died Wednesday, May 2, 2001 in Brunswick Community Hospital.
Born in Springfield, Mass. on March 9, 1952, he was the son of Marguerite "Peggy" Price of Mass., and the late Robert M. Price Sr.
Mr. Price was employed with Nabor Dodge in sales. He was preceded in death by his father and a brother, Richard Price.
Survivors in addition to his mother are his wife, Mary K. Price; a daughter, Caitlin "Katy" Price, at home; three brothers, Michael Price and his wife, Maureen, and Greg Price, all of Massachusetts; and Jonathon Price of California; a sister, Cheryl Rich and her husband, Michael of Vermont; and several nieces and nephews.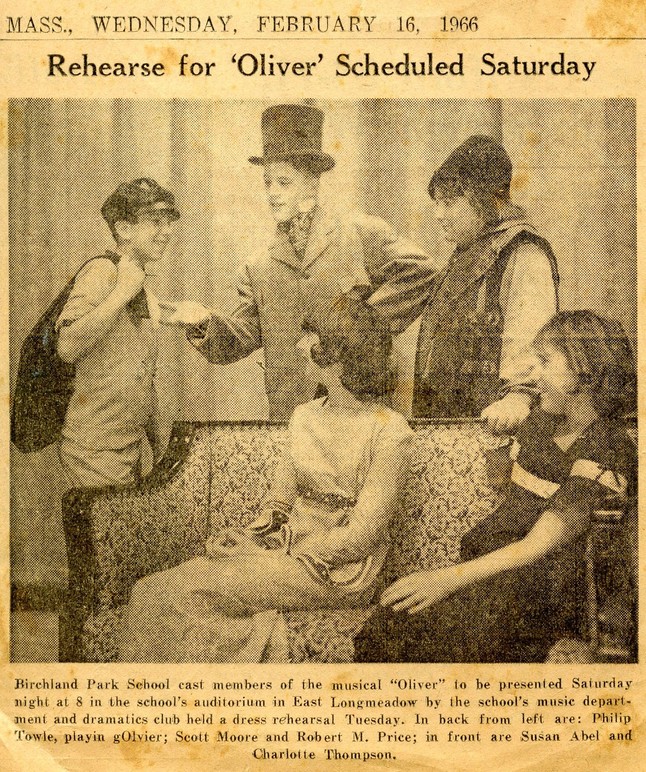 In eighth grade, Bob (back row, right) played the role of Fagin in the musical "Oliver" at Birchland Park Junior High School. Courtesy of the Springfield Union newspaper.

Homeroom photo in Bob's freshman year. Front row: Mary Piechota, Eleanor Ramey, Debbie Sawyer, Susan Regnier, Pam Sakakeeny, Linda Redin, Kathy Price, Debbie Peterson, Mr. Richard Grover (homeroom teacher). Row 2: Bill Scheumann, David Sand, David Radebaugh, John Quinn, Mike Rafferty, Joanne Rinaldi, Cynthia Richards, Pat Ryan, Sue Petronino. Row 3: Bob Reis, Dennis Plante, Steve St. Marie, Bob Price, Rick Pesto, Joe Roy, Al Raimondi, Bob Price, Carl Porcelli. Not pictured: Jeanne Ricciardi, Michele Roy.
Debate Club during Bob's sophomore year. Front row: Steve St. Marie, Linda Bates, Dennis Plante. Row 2: Robert Holland, John Thurner, Gary Tarpinian, Charles Valliere, Mr. Charles McKinney (advisor). Row 3: Bob Ireland, Bob Price, Mark Lacedonia, Stephen Fairbanks.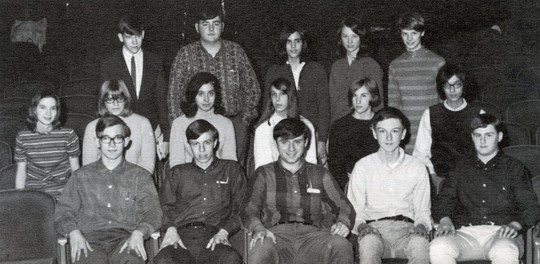 Le Cercle Francais (French Club) during Bob's sophomore year. Front row: Larry Cooper, Paul Lamarche, Clyde Llewellyn, Fred Doersam, Rick Grimaldi. Row 2: Susan Henry, Nancy Kulik, Dianna LaBonte, Margaret Giallanza, Jeanne Mercieri, Barbara Gorman. Row 3: Dennis Plante, Bob Price, Debbie Campanella, Sandra Cushman, Janet Betterley.

Ski Club during Bob's sophomore year. Front Row: Lynne Kinney, Bob Price, Doug Best, Rosemary Dion, Carol Gurney, Cindy Richardson, Mr. Gary Bunce (advisor). Row 2: Janet Betterley, Deborah Andwood, Karen Wenning, Debbie Sawyer, Nancy Birtwell, Frances Byron, Cynthia Sabourin. Row 3: Nancy Wrinkle, Stephanie Chmielewski, Kathy LaBerge, Jane Passburg, Suzanne Dreyer, Mary Holotka, Susan Waterman, Jeanne Mercier. Not pictured: Bob Wenning.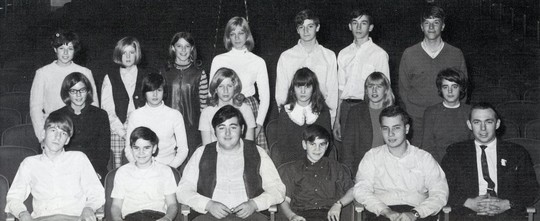 One section of the Ski Club during Bob's junior year. Front row: Rick Pesto, Paul Kinney, Bob Price, Mark Kinney, Paul Munzert, Mr. Gary Bunce (advisor). Row 2: Fleda Weyant, Susan Quimby, Joanne Bergamini, Katherine Evans, Jane Stolecki, Beth Lacey. Row 3: Valarie Weber, Mary Mitchell, Deborah Angers, Nancy Wrinkle, J. Glenn Reardon, Timothy Redin, David Sabourin.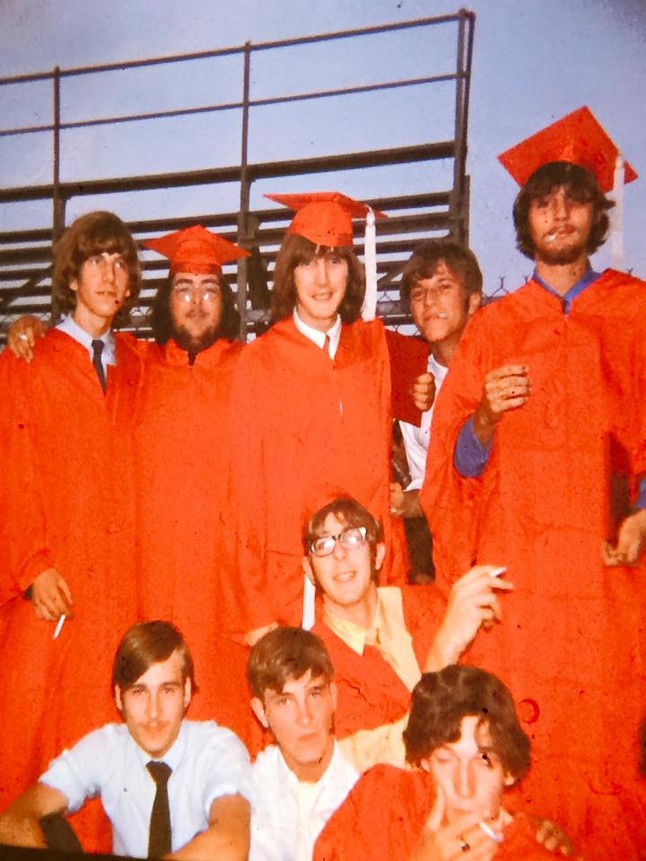 Bob poses with a few classmates following graduation. Front row: Mitch Dante, Charlie Ackerman, Bill Kenyon, David Sand. Row 2: Rick Pesto, Bob, Jack Evans, Dave Sabourin, Roy Esposito. Photo courtesy of Roy Esposito.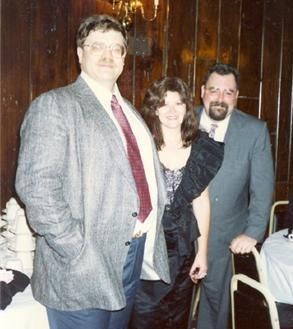 Doug Milroy, Pamela Stenard Ossorio, and Bob at our 20th class reunion in 1990. Photo courtesy of Pamela Stenard Ossorio.
To see other tributes, click on the "Life Tributes" link to the left and then on the page of interest.