East Longmeadow High School
Class of 1970
Our Classmates
John Ouellette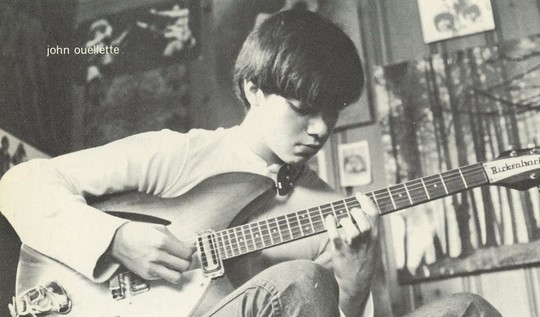 John's senior candid photo.
Our dear classmate John Ouellette, who was in our class since first grade, passed away on Oct. 13, 1991.
He was on the swim team all four years, on the track team in his sophomore year, and in the Latin Club during his freshman year.
Here are excerpts from John's obituary, which appeared in the Springfield Union-News newspaper:
John David Ouellette, 38, of 49 Crystal Lake Road, Stafford Springs, Conn., president of Nouvelle, Inc., a manufacturer of packaging machines, died Sunday, Oct. 13, 1991 in Hartford Hospital. Born in East Longmeadow, Mass., he attended local schools there and was a graduate of Tufts University.
He leaves his wife, the former Phyliss Morse; his parents, C.P. "Mike" and Jean (Forsey) Ouellette of East Longmeadow; a son, Thomas J.; a daughter, Jenny Claire Ouellette, both of Ellington; three brothers, Michael T. of South Amherst, Paul R. of East Longmeadow and Peter J. of Pittston, Pa.; a sister, Susan Shea of Enfield, and several nieces and nephews.
Memorial contributions may be made to the American Cancer Society, 23 East Center St., Manchester, Conn. 06040.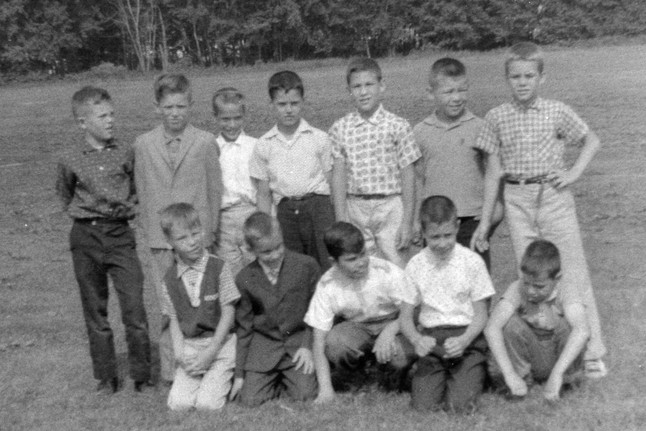 Third grade boys from Mrs. Ravosa's class at Mapleshade School. Front row: John Illig, William Lowe?, Carl Porcelli, Steve Tesini, John Ouellette. Standing: Bill Scheumann, Ken Hall, Doug Kenyon, Dave Carpenter, Bill Stark, Bruce Moore, Arthur Valonen. Photo courtesy of Arlene Breau Wolfe.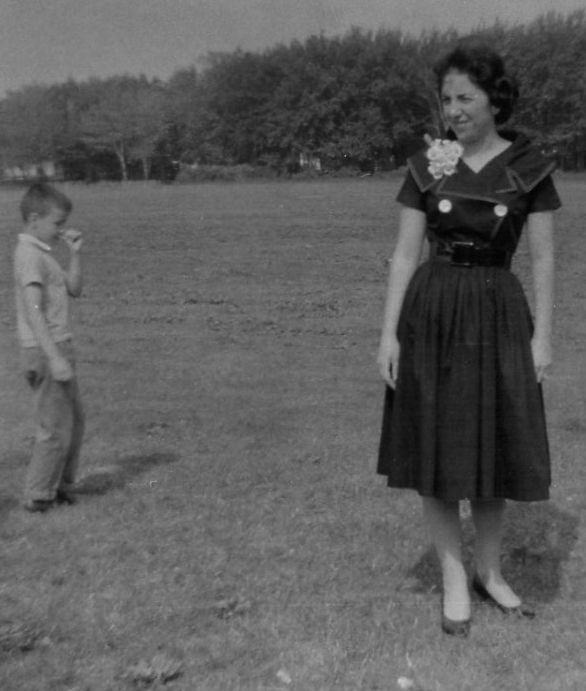 John with teacher Mrs. Rita Ravosa in third grade at Mapleshade School. Photo courtesy of Arlene Breau Wolfe.

Homeroom photo in John's freshman year. Front row: Lee Mazzaferro, Adrienne Myers, Eva Nichols, Jane Passburg, Pat Olier, Priscilla Perusse, Pam Murphy, Linda Mottle, Cindy Page, Kathy Newton, Nola Omsted, Miss Mary Kennedy (homeroom teacher). Row 2: Greg Naylor, Rich Mondoux, Bruce Ostrander, Ralph Nooney, Rick Oliveri, Channing Orr, Bruce Moore, Ross Overlook, Steve Newell. Row 3: Kim O'Brien, David Owen, Alan Morris, John Ouellette, Peter Ouellette. Not pictured: Scott Moore, Doris Pelletier.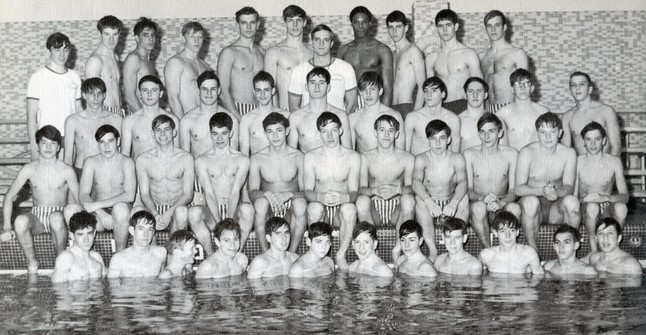 Varsity swim team in John's sophomore year. Front row: Thomas McQuillan, John Dempsey, Brian Smith, David Taylor, David Radebaugh, Steve Geoffrion, Bruce Lindwall, John Ouellette, Dennis Plante, David Sand, Daniel Lawson, Bill Snow. Row 2: Dale Goddard, Paul McNamara, Westcott Clarke, Mark Goddard, Stan Sroka, Bob Dunn, John Haetinger, Dave Owen, Robert Paige, Geoffrey Weigand, William Tyler. Row 3: Gus Maserati, Jim Bourque, Richard Dion, Keith David, John Lewis, Robert Storey, Roy Esposito, Paul LaBroad, John Beck, Phil Towle. Row 4: Stephen House (manager), Mark Hadeler, Peter Ouellette, Bob Willard, Erwin Belorusky, Brad Smith, Mr. Richard Bolles (coach), Lew Thaxton, Paul Oswald, Bob Ireland, Malcolm Butler. Not pictured: Mr. Ronald Sarazin (coach).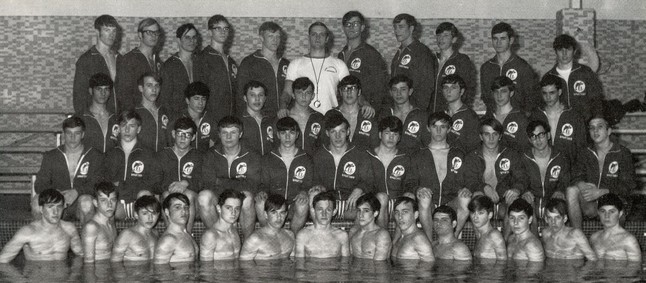 Varsity swim team in John's junior year. Front row: Paul LaBroad, David Smith, Richard Seligman, Michael Creighton, J. Glenn Reardon, Thomas McLaughlin, Kenneth LaBroad, James Montana, Rene Young, Ronald Rennell, Robert Parker, Michael Boutin, Richard Taft, John Hire. Row 2: Rick Willard, Bruce Lindwall, John Dempsey, Geoffrey Weigand, John Ouellette, Robert Dunn, Dale Goddard, Keith Lindner, Chuck Taylor, David Radebaugh, Phil Towle. Row 3: Jonas Robinson, John Haetinger, Michael O'Melia, Bill Snow, Peter Rybacki, Paul McNamara, Stan Sroka, Jim Bourque, David Owen, Keith David. Row 4: Mark Hadeler, Malcolm Butler, Richard Dion, Donald Hanson, Bob Willard, Mr. Richard Bolles, (coach), Erwin Belorusky, Peter Ouellette, Robert Peirce, John Lewis, Stephen House (manager). Not pictured: Paul Oswald, Mr. Ronald Sarazin (coach).

A Spartan duo far in the lead on the breaststroke phase of the 200 yard individual medley: Paul McNamara and John Ouellette (background).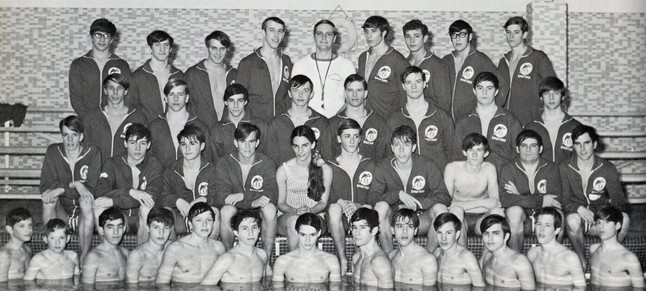 Varsity swim team in John's senior year. Front row: Neil Washburn, Robert Tongue, James Lodigiani, Kenneth Alexander, Lee Hedges, Brad LaBroad, John Ouellette, David Lewis, Michael Busekist, Robert Riga, Richard Colby, David Scheumann, Mark Nooney. Row 2: Richard Taft, Michael Boutin, Richard Seligman, Thomas McLaughlin, Miss Janet Kerr (coach), Robert Parker, David Smith, John Bonin, Ronald Rennell, David Radebaugh. Row 3: Gus Maserati, Bruce Lindwall, James Montana, Peter Rybacki, Mark McCandlish, Donald Hanson, John Hire, David Owen. Row 4: Michael O'Melia, Paul LaBroad, Chuck Taylor, John Haetinger, Mr. Richard Bolles (coach), Peter Ouellette, Stan Sroka, Paul McNamara, William Tyler.
To see other tributes, click on the "Life Tributes" link to the left and then on the page of interest.