East Longmeadow High School
Class of 1970
Our Classmates
Ed "Chip" McDonough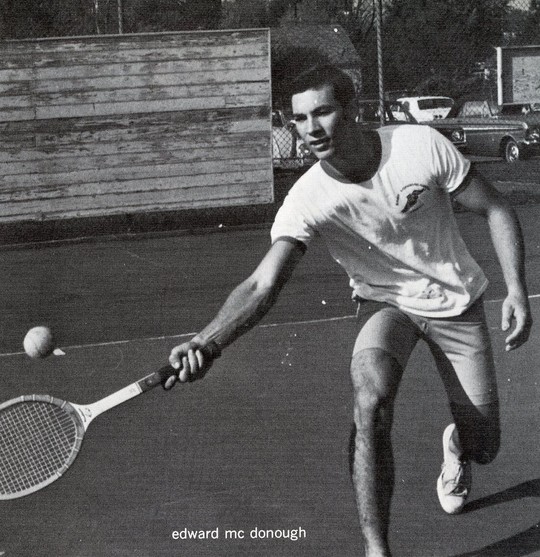 Chip's senior candid photo.
Our dear classmate Ed McDonough, who we knew as "Chip," was born in Kentucky. He joined our class in February, 1967 in the middle of his freshman year.
Chip was on the track team during his junior and senior years.
Here are excerpts from his obituary, which appeared in the Denver Post newspaper, Denver, CO and at aspenmortuaries.com:
Edward Patrick "Chip" McDonough, age 58, passed away on March 18, 2011 following a chronic illness.
Beloved significant other of Judi; beloved brother of Thomas Patrick McDonough and wife Giselle. Beloved brother of Eileen Catherine Yeager and husband Dale.
Survived by numerous loving family members including nieces, nephews, cousins and friends.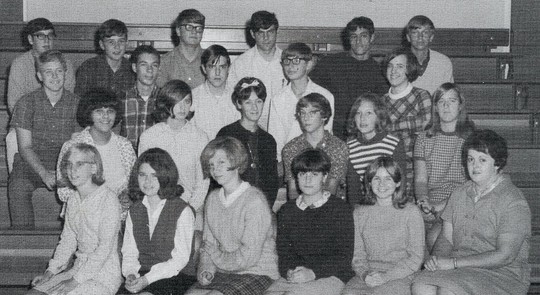 Homeroom photo in Chip's sophomore year. Front row: Karen Martin, Ginger Martin, Lois Melbourne, Cathy Maurer, Sue McGill, Miss Sandra Johnson (homeroom teacher). Row 2: Lee Mazzaferro, Candice Marino, Marilyn Man, Marilyn Medbury, Janet McCarthy, Jane Mertz. Row 3: Andy Malloy, Chip McDonough, George Lull, Victor Linden, Allison Lipp. Row 4: Paul McNamara, Rick Maurer, Doug Milroy, Tom Mineo, Jim Manferdini, Rich Malmstrom. Not pictured: Bruce Lindwall, Gus Maserati.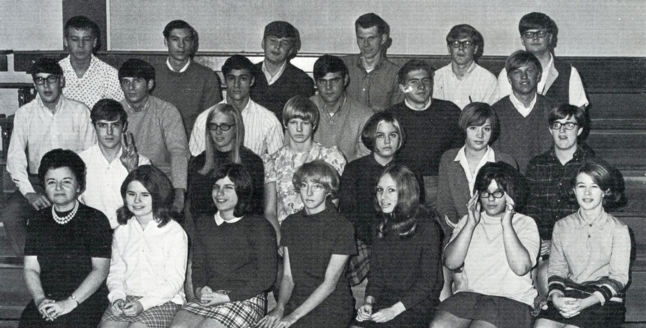 Homeroom photo in Chip's junior year. Front row: Mrs. Ruth Yetwin (homeroom teacher), Ginger Martin, Brenda Misitano, Marilyn Medbury, Janet McCarthy, Lee Mazzaferro, Dorene Meyer. Row 2: George Lull, Karen Martin, Pam Murphy, Cathy Maurer, Lois Melbourne, Jane Mertz. Row 3: Paul McNamara, Rich Mondoux, Jim Manferdini, Tom Mineo, Frank Miorandi, Rich Malmstrom. Row 4: Bruce Moore, Chip McDonough, Rick Maurer, John McGrady, Andy Malloy, Doug Milroy. Not pictured: Glenn Kelly, Marilyn Man, Gus Maserati, Scott Moore.
Varsity track team underclassmen in Chip's junior year. Front row: James Montana, Daniel Lawson, Michael O'Melia, Tom McDonough, Stephen Smith, Mark Pozzi, Rick Villamaino, Mark Hammond, Michael Shubert. Row 2: Steve Viger (manager), Gil Paquette, Bill Creighton, Rick Willard, Bruce Moore, Felix Tranghese, John Haetinger, Stan Sroka, Larry Bradley, Paul LaBroad, Mark McCandlish. Row 3: Larry Cooper, Peter Ouellette, Chip McDonough; Bruce Ostrander, Jeff Crary, Carl Larson, Victor Linden, Kim O'Brien, Robert Hafey, Kevin Lightcap, Richard Dion. Not pictured: Brian Lavertue, Phillip Towle, Steven Wescott.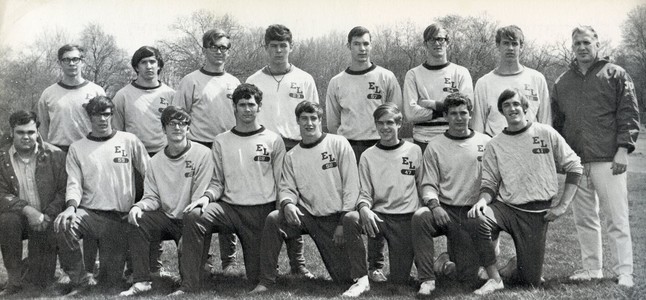 1970 varsity track team seniors. Front row: Steve Viger (manager), Peter Ouellette, Kim O'Brien, Bob Ireland, Rick Willard, Larry Bradley, Stan Sroka, Carl Larson. Row 2: Gil Paquette, Paul LaBroad, Larry Cooper, Bruce Moore, Chip McDonough, Jeff Crary, John Haetinger, Mr. Francis Dutille (coach). Not pictured: Jim Manderfini, Felix Tranghese.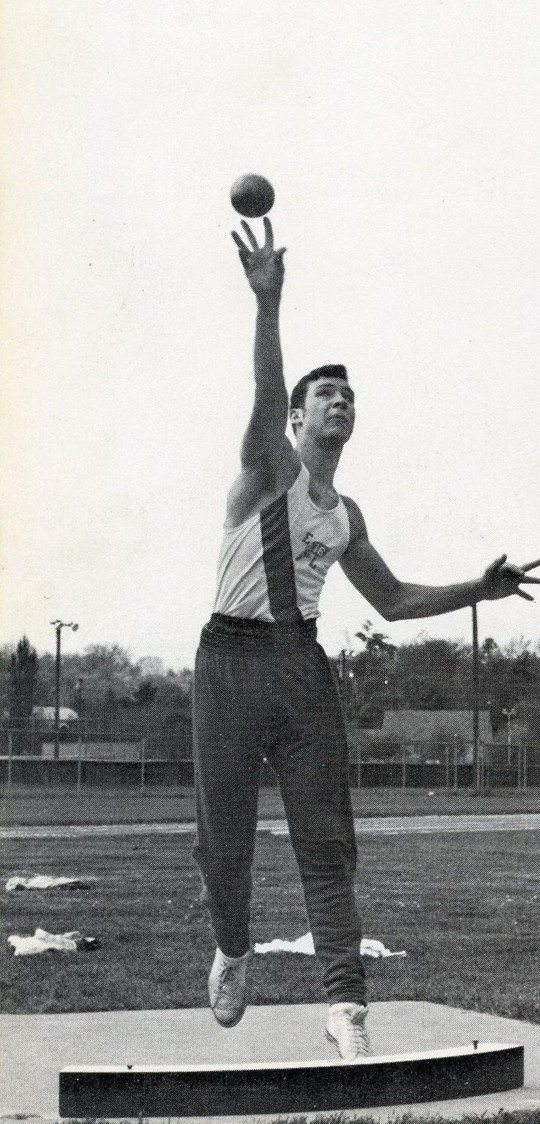 In a skyward launch, weightman Chip McDonough hefts the shot for a first place 42' 11 1/4" against Agawam. In the Western Mass meet Chip placed third and boosted our relay team to a third place.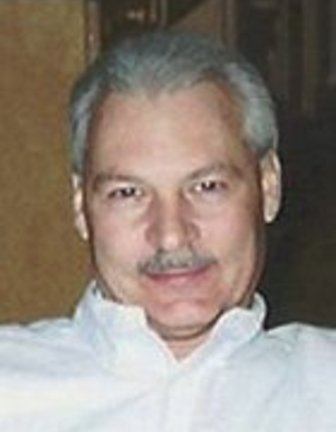 To see other tributes, click on the "Life Tributes" link to the left and then on the page of interest.