East Longmeadow High School
Class of 1970
Our Classmates
Doug Milroy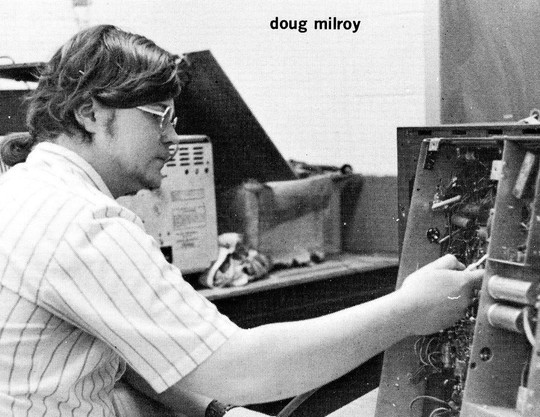 Doug's senior candid photo.
Our dear classmate Doug Milroy, who was in our class since kindergarten, passed away on Apr. 7, 2005. According to his older brother, Finlay, Doug was working as a physician's assistant treating a patient with hepatitis, when he accidentally stuck himself with a syringe. He contracted hepatitis which progressed to liver cancer, from which he passed away.
Here are excerpts from Doug's obituary, which appeared in the Charlotte Observer newspaper, Charlotte, NC:
Douglas William Milroy, of Waldorf, MD, formerly of Troy, NC, died Thursday, Apr. 7, 2005 at Southern Maryland Hospital in Clinton, MD.
Mr. Milroy was born in Springfield, MA on October 25, 1952, a son of the late Finlay C. and Muriel M. Milroy.
He had retired from the U.S. Army as a physician's assistant.
He was an historian of the Civil War, and enjoyed people.
Survivors include his wife, Peggy Angelia Milroy of Waldorf, MD; sons, Colin Edward Milroy and Michael Ian Milroy; and brothers, Edward Gordon Milroy and Finlay Cameron
Milroy.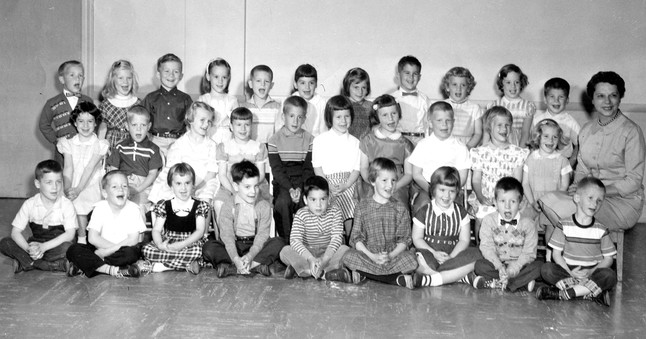 Doug's kindergarten class photo, May 1958. The Community Co-operative Kindergarten met at the Congregational Church. Front row: unknown boy, David Sand, Lynne Kinney, Bruce Cohen?, Tom Ouellette, Jane Passburg, Ellen Bonneville, unknown boy, Thomas Murray. Row 2: Nancy Bryson, unknown boy, Susan Waterman, Andrea Burger, Andy Farquharson, Nancy Burritt, Susan White, Doug Milroy, Nancy Birtwell, Janet Gorrod?, Mrs. Margaret Tull. Row 3: John Haetinger, Nancy Blaisdell, Larry Cooper, unknown girl, Larry Bradley, Paula Seligman, unknown girl, Ralph Nooney, Alison Cox, unknown girl, Dale Goddard. Photo courtesy of Mary Darling Studio.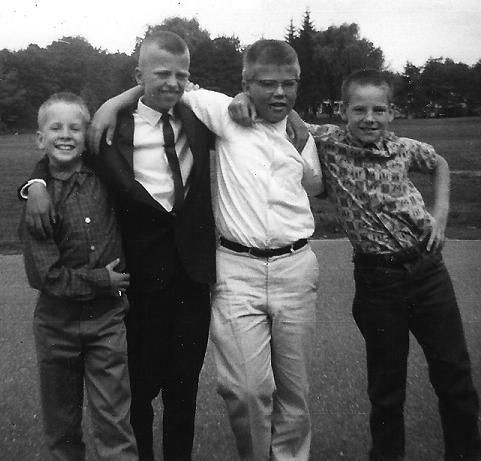 Bruce Lindwall, Rich Malmstrom, Doug, and Kurt Whitney in 5th grade, Mapleshade School. Photo courtesy of Arlene Breau Wolfe.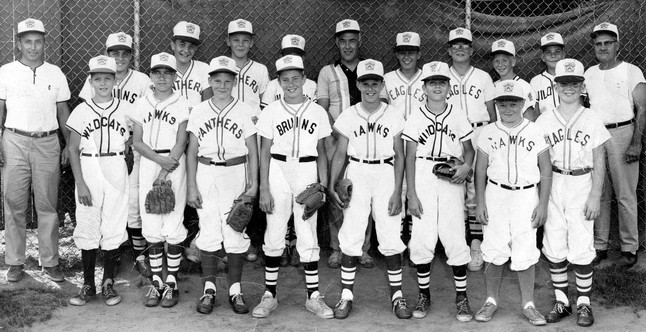 1965 Little League All Stars, ages 10 - 12. Front Row: John DeAngelo, Mike O'Melia, Kurt Whitney, Frank Miorandi, Dave Carpenter, Joe DeAngelo, Bobby Manning, Tommy Thompson. Row 2: Mr. Floyd Whitney (coach), Tom Mineo, Felix Tranghese, Bruce Moore, Paul Lieberwirth (hidden), Mr. Clancy Valade (coach), Dave Gallerani, Doug Milroy, Billy Soares, Scott Grabowski, Mr. Mallery Miorandi (coach). Photo courtesy of Bruce Moore.

Homeroom photo in Doug's freshman year. Row 1: Janet McCarthy, Marilyn Man, Karen Martin, Cathy Maurer, Marilyn Medbury, Brenda Misitano, Jane Mertz, Mr. Charles McKinney (homeroom teacher). Row 2: Andy Malloy, Rick Maurer, George Lull, Paul McNamara, Doug Milroy, David McCallum, Tim Lynch. Row 3: Gus Maserati, Tom Mineo, Jim Manferdini, Frank Miorandi, John McGrady. Not pictured: Rich Malmstrom, Sue McGill, Lois Melbourne.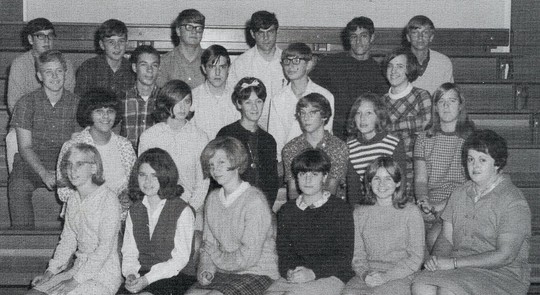 Homeroom photo in Doug's sophomore year. Front row: Karen Martin, Ginger Martin, Lois Melbourne, Cathy Maurer, Sue McGill, Miss Sandra Johnson. Row 2: Lee Mazzaferro, Candice Marino, Marilyn Man, Marilyn Medbury, Janet McCarthy, Jane Mertz. Row 3: Andy Malloy, Chip McDonough, George Lull, Victor Linden, Allison Lipp. Row 4: Paul McNamara, Rick Maurer, Doug Milroy, Tom Mineo, Jim Manferdini, Rich Malmstrom. Not pictured: Bruce Lindwall, Gus Maserati.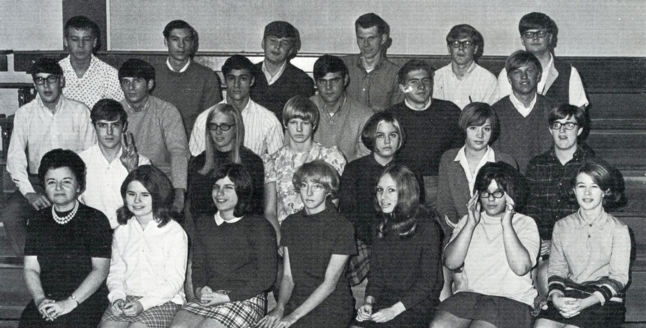 Homeroom photo in Doug's junior year. Front row: Mrs. Ruth Yetwin, Ginger Martin, Brenda Misitano, Marilyn Medbury, Janet McCarthy, Lee Mazzaferro, Dorene Meyer. Row 2: George Lull, Karen Martin, Pam Murphy, Cathy Maurer, Lois Melbourne, Jane Mertz. Row 3: Paul McNamara, Rich Mondoux, Jim Manferdini, Tom Mineo, Frank Miorandi, Rich Malmstrom. Row 4: Bruce Moore, Chip McDonough, Rick Maurer, John McGrady, Andy Malloy, Doug Milroy. Not pictured: Glenn Kelly, Marilyn Man, Gus Maserati, Scott Moore.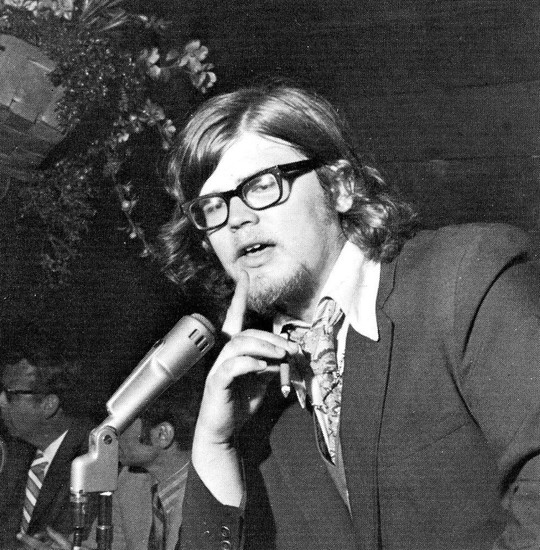 Doug as the emcee of our senior banquet: "A master of wit, Doug Milroy aptly handled introductions, jokes, and appreciative applause for his talents."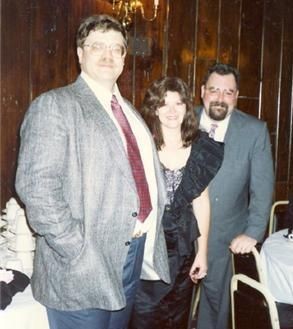 Doug, Pam Stenard Ossorio and Bob "Albert" Price at our 20th class reunion in 1990. Photo courtesy of Pamela Stenard Ossorio.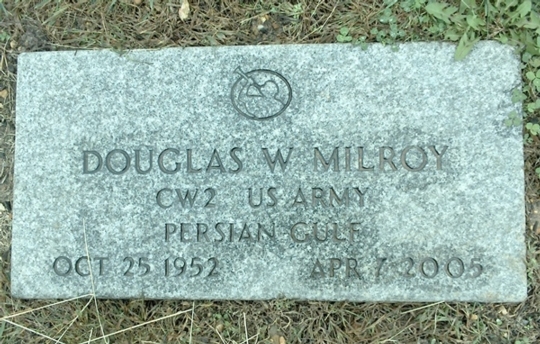 Doug's gravestone in the Cheltenham Veterans Cemetery, Cheltenham, MD. CW2 was his rank in the U.S. Army. It stands for Chief Warrant Officer 2. Photo courtesy of Stan Jett.
To see other tributes, click on the "Life Tributes" link at the left and then on the page of interest.