East Longmeadow High School
Class of 1970
Our Classmates
Jane Mertz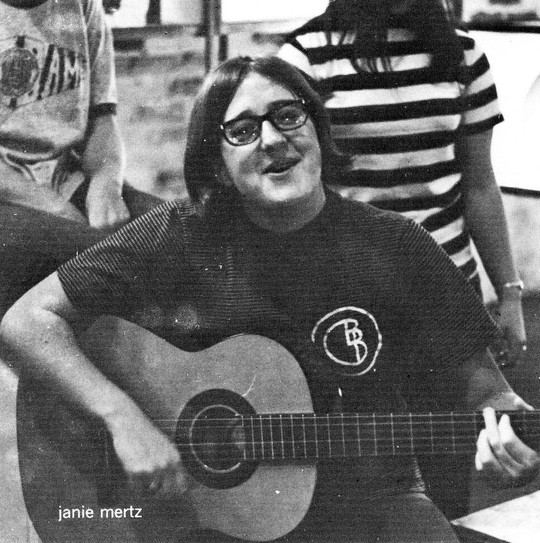 Jane's senior candid photo.
Our dear classmate Jane Mertz, who joined our class in third grade, passed away from cancer on May 19, 2003, according to her brother, Richard Mertz. Her sister, Barbara Christian, wrote us, "My brother, Richard and I miss her very much. She was a great person and had a wonderful sense of humor."
Jane was on the swim team during her sophomore year and played intramural sports during her freshman and sophomore years.
Here are excerpts from her obituary, which appeared in The Republican newspaper:
Jane L. Mertz, 50, of 8B Hale Street, Rockport MA, died Monday afternoon, May 19, 2003 in the Den-Mar Rehabilitation & Nursing Center following an extended illness.
Born in Springfield on September 11, 1952, she was the daughter of George Q. Mertz of East Longmeadow and the late Florence L. (Park) Mertz. She received an associate degree from Greenfield Community College in Greenfield, Massachusetts and graduated cum laude from Salem State College with a B.A. in history in 1987.
Miss Mertz was employed for many years at the Bayridge Hospital in Lynn as a mental health counselor. She did missionary work at a shelter in Amsterdam and was also a park interpreter for Metro Parks in Boston. She was a certified scuba diver and enjoyed mountain climbing with her mother. Miss Mertz was also a member of the Orthodox Congregational Church of Lanesville.
In addition to her father, she is survived by a brother, Richard P. Mertz of East Longmeadow; a sister, Barbara A. Christian of

Niles, Michigan

; two nephews, Scott Mertz of Agawam, and

Daniel

Mertz of W. Springfield; and a niece, Caitlin Mertz of

West Springfield

.

Homeroom photo in Jane's freshman year. Row 1: Janet McCarthy, Marilyn Man, Karen Martin, Cathy Maurer, Marilyn Medbury, Brenda Misitano, Jane Mertz, Mr. Charles McKinney (homeroom teacher). Row 2: Andy Malloy, Rick Maurer, George Lull, Paul McNamara, Doug Milroy, David McCallum, Tim Lynch. Row 3: Gus Maserati, Tom Mineo, Jim Manferdini, Frank Miorandi, John McGrady. Not pictured: Rich Malmstrom, Sue McGill, Lois Melbourne.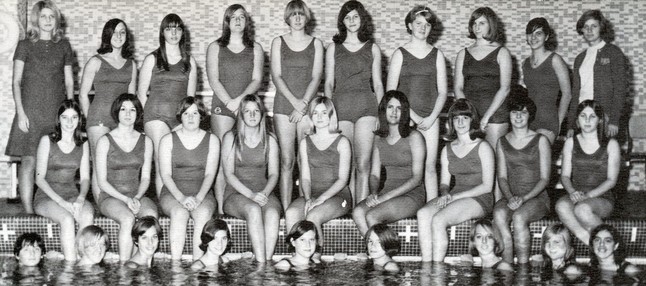 Girls' swim team in Jane's sophomore year. Front row: Peg Izzo, Nancy Muller, Mardel Stranch, Kerry McRae, Charlotte Merton, Sally King, Susan Muller, Nancy Blaisdell, Diane LaFave. Row 2: Beth Davidson, Kathy Barry, Frances Byron, Jane Passburg, Susan Waterman, Barbara Harton, Cynthia Sabourin, Sue Abel, Debbie Sawyer. Row 3: Cindy Richardson (manager and diving assistant), Sandy Albano, Vicky Haskell, Jane Mertz, Lynne Wallace, Nancy Burritt, Nancy Cauley, Jeri Ellen Mercier, Diane Belliveau, Mrs. Pamela Grazio (coach).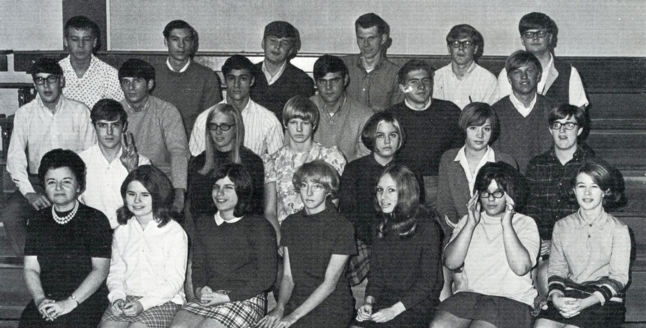 Homeroom photo in Jane's junior year. Front row: Mrs. Ruth Yetwin (homeroom teacher), Ginger Martin, Brenda Misitano, Marilyn Medbury, Janet McCarthy, Lee Mazzaferro, Dorene Meyer. Row 2: George Lull, Karen Martin, Pam Murphy, Cathy Maurer, Lois Melbourne, Jane Mertz. Row 3: Paul McNamara, Rich Mondoux, Jim Manferdini, Tom Mineo, Frank Miorandi, Rich Malmstrom. Row 4: Bruce Moore, Chip McDonough, Rick Maurer, John McGrady, Andy Malloy, Doug Milroy. Not pictured: Glenn Kelly, Marilyn Man, Gus Maserati, Scott Moore.
Additional photos of Jane, courtesy of her sister, Barbara Christian: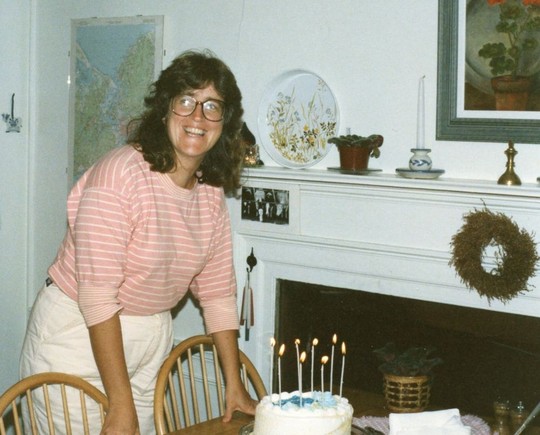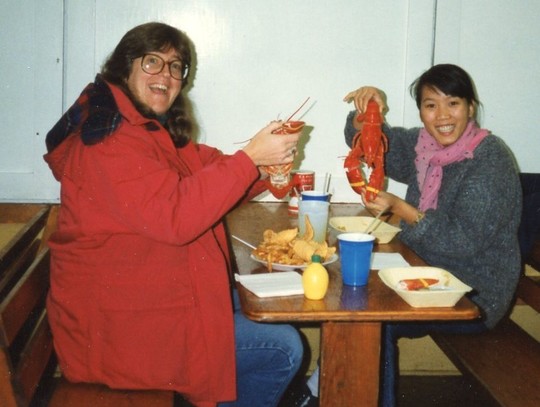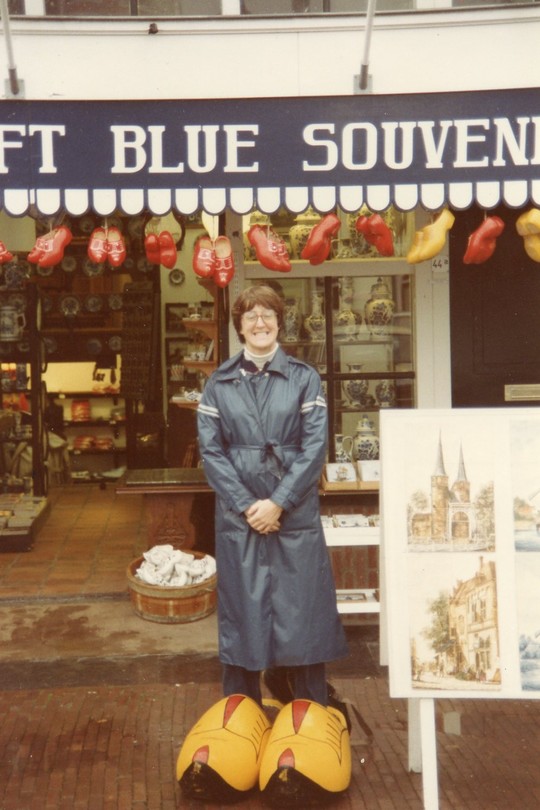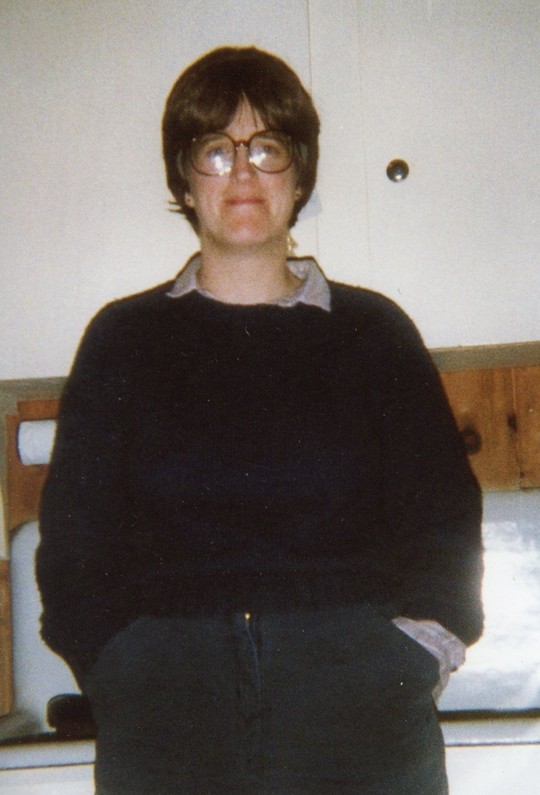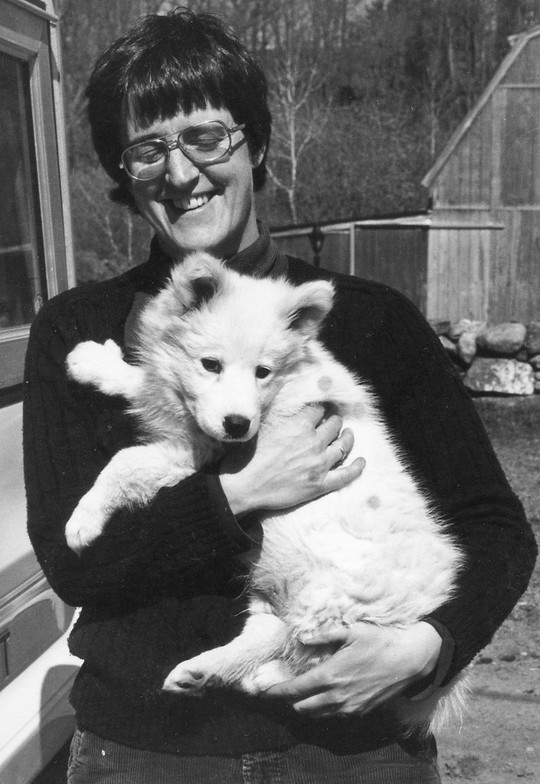 Left: Jane in Amsterdam. Right: with her dog, Amos.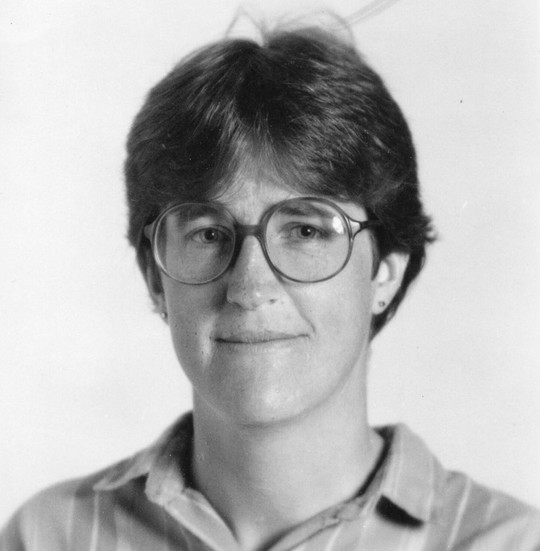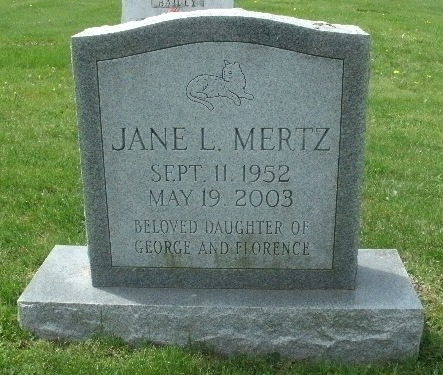 Jane's headstone in Little Valley Presbyterian Church Cemetery, Vira, PA.
To see other tributes, click on the "Life Tributes" link to the left and then on the page of interest.