East Longmeadow High School
Class of 1970
Our Classmates
John McGrady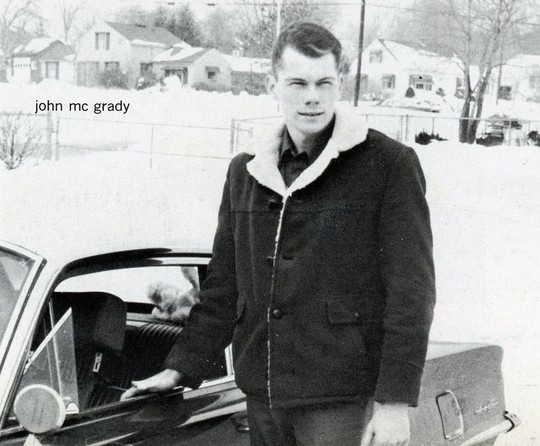 John's senior candid photo.
Our dear classmate John McGrady, who joined our class in seventh grade, passed away on Mar. 13, 2014.
Here are excerpts from his obituary which appeared in The Republican newspaper:
John P. McGrady, Jr., 64, of Ludlow, passed away Thursday, Mar. 13, 2014 at Baystate Medical Center.
Born in Springfield on Feb. 5, 1950, he was the son of the late John and June (Day McGrady. He was a 1970 graduate of East Longmeadow High School and served in the United States Army Reserves, obtaining the rank of Sergeant.
He worked as a custodian at Mountain View School in East Longmeadow for many years before working at Westover Air Force Base for over 20 years as a federal police officer in the rank of Captain.
John loved watching his beloved Red Sox and Patriots. He also enjoyed gathering for breakfast once a month with retirees from Westover Air Force Base. Above all, John loved family get-togethers and trips to Wildwood Crest, NJ.
He leaves his loving wife of forty years, Joan (St. John) McGrady; his daughter, Darcie McGrady of Ludlow; two sisters, Lynn Martin and Gail Morin and her husband Joe, both of East Longmeadow; four nieces and nephews, Melissa, Sarah, Todd, and Claire; and their children. He also leaves his beloved dog and companion, Panda and his cat, Patches.
Donations may be made to Shriners Hospital, 516 Carew St., Springfield, MA 01104 or to Dakin Pioneer Valley Humane Society, PO Box 6307, Springfield, MA 01101.

Homeroom photo in John's
freshman year.
Front row:
Janet McCarthy, Marilyn Man, Karen Martin, Virginia Martin, Catherine Maurer, Candice Marino, Marilyn Medbury, Brenda Misitano, Jane Mertz, Mr. Charles McKinney.
Row 2:
Andrew Malloy, Richard Maurer, George Lull, Paul McNamara, Douglas Milroy, David McCallum, Timothy Lynch.
Row 3:
August Maserati, Thomas Mineo, James Manferdini, Franklin Miorandi,

John McGrady. Not pictured: Richard Malmstrom, Susan McGill, Lois Melbourne.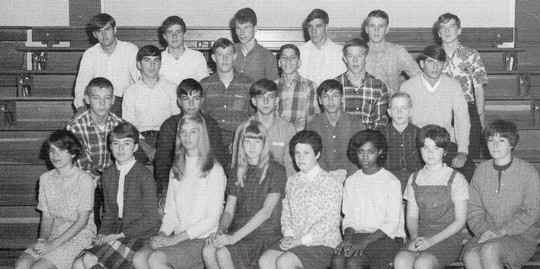 Homeroom photo in John's sophomore year.
Front row:
Brenda Misitano, Nola Olmsted, Linda Mottle, Pamela Murphy, Kathleen Newton, Adrienne Myers, Patricia Olier, Mrs. Ruth Hirshberg.
Row 2:
Bruce Moore, John Ouellette, David Owen, Enrico Oliveri, Channing Orr.
Row 3:
Thomas Ouellette, Ross Overlock, Stephen Newell, Gregory Naylor, Richard Mondoux.
Row 4:
Ralph Nooney, Franklin Miorandi, John McGrady, Peter Ouellette, Scott Moore, Kim O'Brien. Not pictured: Bruce Ostrander.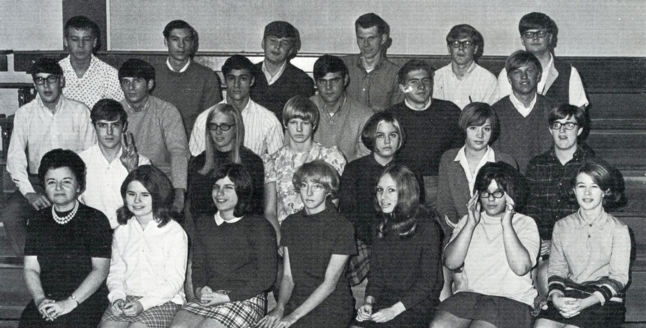 Homeroom photo in John's junior year.
Front Row:
Mrs. Ruth Yetwin, Virginia Martin, Brenda Misitano, Marilyn Medbury, Janet McCarthy, Lee Mazzaferro, Doreen Meyer.
Row 2:
George Lull, Karen Martin, Pamela Murphy, Catherine Maurer, Lois Melbourne, Jane Mertz.
Row 3:
Paul McNamara, Richard Mondoux, James Manferdini, Thomas Mineo, Franklin Miorandi, Richard Malmstrom.
Row 4:
Bruce Moore, Edward McDonough, Richard Maurer, John McGrady, Andrew Malloy, Douglas Milroy. Not pictured: Glenn Kelly, Scott Moore, Marilyn Man, August Maserati.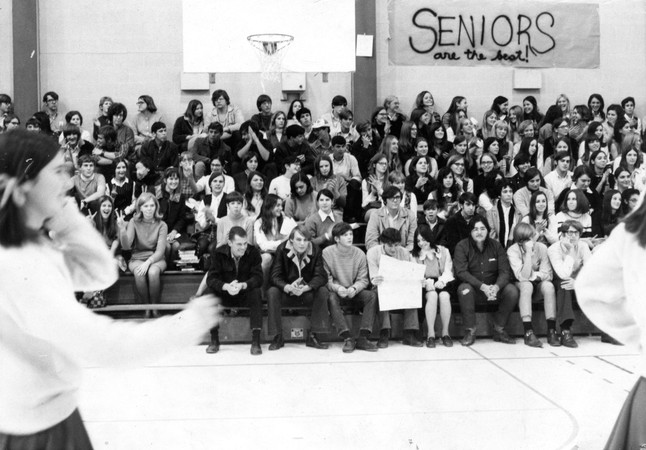 John in the front row at a pep rally in the gym during our senior year.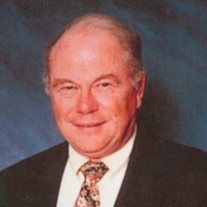 To see other tributes, click on the "Life Tributes" link at the left and then on the page of interest.