East Longmeadow High School
Class of 1970
Our Classmates
Diane Michael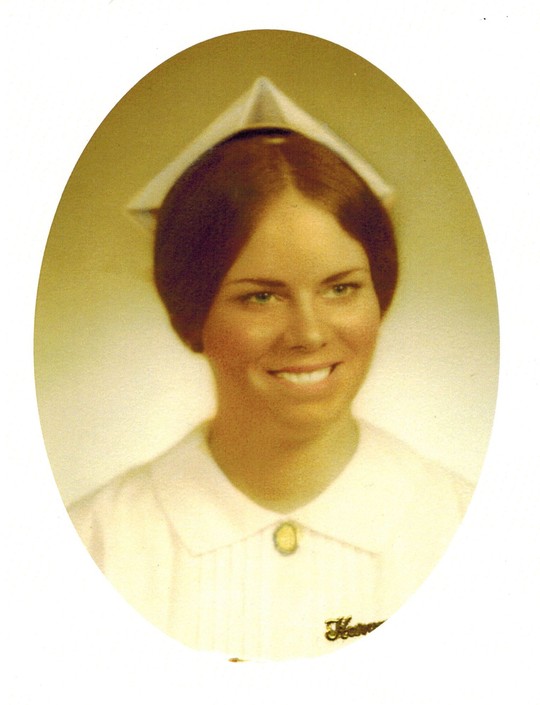 Diane in 1972 upon graduation with a degree in nursing from Northeastern University.
Our dear classmate Diane Michael, who
attended Cathedral High School from ninth through eleventh grades, then
joined our class in September 1969 at the beginning of her senior year, passed away on Jul. 6, 2014 away from injuries sustained in a single-car accident.
Here are excerpts from her obituary, which appeared in The Republican newspaper:
Diane "Di" Patricia Michael, 63, passed away unexpectedly on Sunday, July 6, 2014 at Baystate Medical Center.
Born in Springfield, MA on May 16, 1951, a loving daughter of the late Mark J. Jr., and Patricia (Dowd) Michael, she was raised and educated in East Longmeadow, before becoming a longtime resident of Springfield.
Di graduated from East Longmeadow High School and later received her degree in nursing from Northeastern University. She was employed as a Registered Nurse for over 40 years at Providence Hospital in Holyoke. Her career at the hospital began began as a pediatric nurse and evolved into a behaviorial health nurse.
Di was treasurer of District 1 and a board member of the Massachusetts Nurses Union. She was a very loving and caring person. Diane had a fondness for all animals, especially cats. She was an inspiration and provider, who offered balance and security to her family and friends.
Diane is survived by her loving siblings, her brother, Patrick J. Michael of Springfield and sisters Carol Anzalotti and her husband, Neal, of Las Vegas NV and Donna Birtwell and her husband, Jonathan of East Longmeadow; her nieces and nephews Jonathan Birtwell and his wife, Kirstin; Cortney and Matthew Birtwell; Margaret Michael; Mark Michael; and Kathryn Miller and her husband, Andrew. Diane was also predeceased by her brother, Mark S. Michael in 2004.
In lieu of flowers, donations in Di's memory can be made to the Dakin Humane Society, PO Box 6307, Springfield, MA 01101.
To see other tributes, click on the "Life Tributes" link to the left and then on the page of interest.