East Longmeadow High School
Class of 1970
Our Classmates
Steve Gagner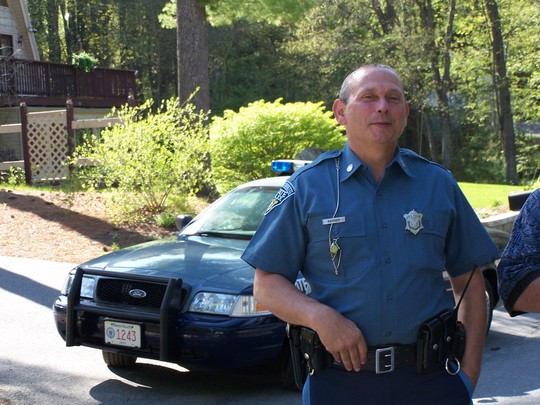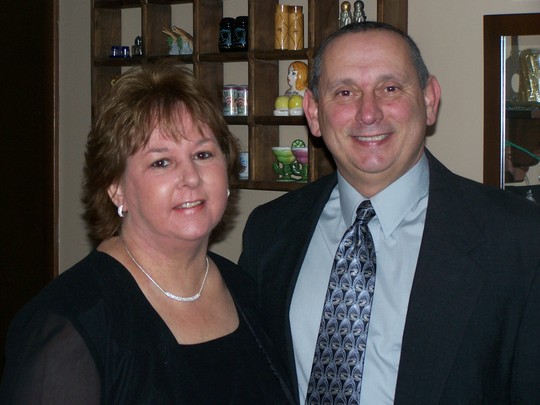 Left: Steve in uniform serving with the Massachusetts State Police. Right: Steve with his wife, Sue. Photos courtesy of Sue Gagner.
Our dear classmate Steve Gagner, who joined our class in seventh grade, passed away from pancreatic cancer on Feb. 18, 2008, according to his wife, Sue.
While in high school, he played on the baseball team during his junior year.
Here are excerpts from Steve's obituary, which appeared in The Republican newspaper:
Steven H. Gagner, 55, of 40 Glendale Circle, passed away Monday, Feb. 18, 2008 at his home. He was the husband of Susan (Moore-house) Gagner, whom he married in 1981.
He also leaves his sons James and his wife Alison Gagner of Ware, Christopher Gagner of Wakefield RI and Jeffrey Gagner of Ware; a grandchild, Khliyah Gagner; his brothers Kenneth of Monson, Brian of Easthampton, and Lee and his wife, Marcia of Easthampton; his sisters Cynthia Catellier and her fiance, Miner Thompson of West Springfield, Patricia Simone and her husband Joseph of East Longmeadow, and Diane Chieka of Chicopee; a sister-in-law, Debbie Gagner of Wales, as well as many nephews and nieces. He was predeceased by a brother, David.
He was born in Springfield, son of Earl and Louise Gagner and had lived in Ware for 23 years. He was a 25 year veteran of the Massachusetts State Police having begun his career with the former MDC Police. He received a B.S. in Criminal Justice from Westfield State College. He was a graduate of East Longmeadow High School "Class of 1970".
He was long active in youth sports off all kinds in Ware.
In lieu of flowers donations may be made to the Ware Sports Boosters in Steve's memory.
On August 14, 2009, we received an email from Sue Gagner, Steve's wife, expressing this sentiment:
"Steve was VERY active with our three boys in high school and most of all sports. He coached and was their biggest fan. He was known for his kind smile and generosity. He touched many kids' lives here in our town of Ware.
"We were married for 27 yrs and Steve had just celebrated his 55th birthday weeks before he died. We have three wonderful sons, James, 26 yrs, married to Alison and they have a beautiful 18 mo old daughter, Khaliyah. Jim recently became a police officer for the town of Hadley. Our middle son Chris, 25, is engaged to be married next year. He graduated from URI and is now attending Brown for his masters in computer engineering. He and Jen live in RI. Our youngest son, Jeffrey, 22 yrs, is a senior at UMass/Dartmouth in civil engineering. He has a long time girfriend, Katie.
"We were blessed with a good life and great family. Steve was taken from us way too early. He was diagnosed with pancreatic cancer in May 07 and died Feb 08. He was a very proud man and worried more about me, the kids and his dogs than himself.
"His brother David (Deb David (ELHS 1970) Gagner's husband) died six months before Steve. They were best friends as well as brothers. His oldest brother, Lee, now has been diagnosed with pancreatic cancer. Lee lives with his wife Marcia (Petronino) in Easthampton.
"This is a horrible disease and I hope they make some progress for a cure before it takes the next generation of Gagners.
"Please keep in touch and if anyone has any stories about Steve, I (and my kids) would love to hear them. I miss him terribly, but know he is with me. I just have to think about that sweet smile and all my troubles go away."
Note: Steve's wife, Sue, has joined our site as a guest member. Please feel free to contact her by clicking on the Classmate Profiles page, scrolling down to Guest Members, and clicking on her name.

Homeroom photo in Steve's freshman year. Front row: Donna Fiorentino, Garnett Hall, Linda Gray, Mary Holotka, Nancy Galvin, Pat Hendrick, Nancy Holland, Deborah Hanson, Ann Marie Hearn, Mr. Gordon Smith (homeroom teacher). Row 2: Vivian Haskell, Ellen Hopkins, Andrea Hastings, Dale Goddard, Steve Gagner, John Illig, Dave Gallerani, Armand Gamache, Andy Farquharson. Row 3: Rick Grimaldi, Doug Goodrich, Eddie Goguen, Steve Geoffrion, John Haetinger, David Farrell, Mark Hadeler, Frank Gibney. Not pictured: Debbi Gray, Linda Farrell, Ken Hall.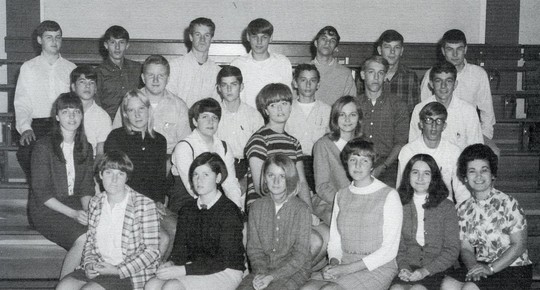 Homeroom photo in Steve's sophomore year. Front Row: Linda Gray, Nancy Holland, Mary Holotka, Pat Hendrick, Ann Marie Hearn, Mrs. Dorothy Allard (homeroom teacher). Row 2: Vivian Haskell, Debbi Gray, Donna Fiorentino, Deborah Hanson, Andrea Hastings, Andy Farquharson. Row 3: Dale Goddard, Brian Falk, Steve Geoffrion, Steve Gagner, John Haetinger, Dave Gallerani. Row 4: Rick Grimaldi, Dave Farioli, Mark Hadeler, Doug Goodrich, David Farrell, Armand Gamache, Peter Garafalo.
Homeroom photo in Steve's junior year. Front Row: Mr. Ronald Sarazin (homeroom teacher), Linda Gray, Vivian Haskell, Karen Esposito, Debbi Gray, Barbara Ducharme. Row 2: Tom Gorman, Dale Goddard, Steve Geoffrion, Steve Gagner, Lois Dusenberry, Deborah Hanson, Donna Fiorentino. Row 3: Armand Gamache, Doug Goodrich, John Haetinger, Roy Esposito, John Evans, Bruce Duncan, Andy Farquharson. Row 4: Brian Falk, Mark Hadeler, Rick Grimaldi, Dave Gallerani, Dave Farioli, Peter Garafalo. Not pictured: Don Eddy, Ann Marie Hearn.
To see other tributes, click on the "Life Tributes" link to the left and then on the page of interest.