East Longmeadow High School
Class of 1970
Our Classmates
Sandy Brennan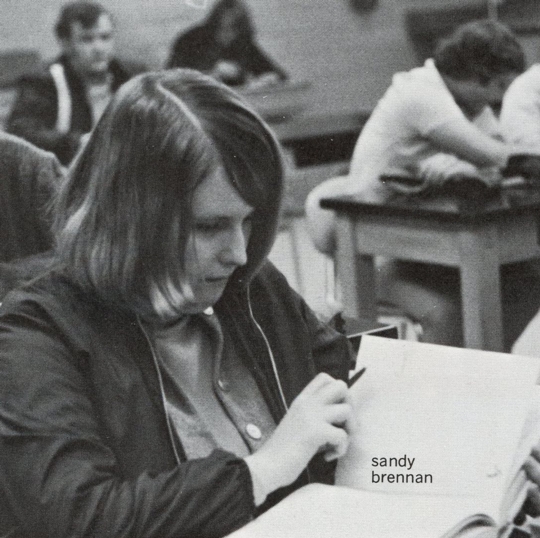 Sandy's senior candid photo.
Our dear classmate Sandra "Sandy" Brennan, who joined our class in eighth grade, passed away on Jul. 24, 2019, according to her sister, Debbie LaFlamme, ELHS 1975. Debbie told us Sandy was a very private person. In accordance with Sandy's wishes, further details about her life and passing will remain private.
During her time in high school, Sandy was in the chorus in her freshman, junior, and senior years.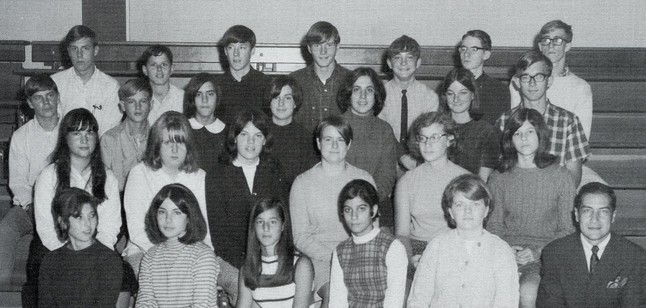 Homeroom in Sandy's sophomore year. Front row: Marlene Cabana, Stephanie Chmielewski, Susan Circosta, Donna Colapietro, Nancy Cauley, Mr. Alexander Kotrotsos. Row 2: Arlene Breau,

Sandy Brennan

, Marsha Coons, Andrea Burger, Alison Cox, Nancy Burritt. Row 3: Todd Cormier, Lawrence Bradley, Debra Campanella, Nancy Bryson, Debra Butler, Janice Breen, Lawrence Cooper. Row 4: Thomas Churchill, David Carpenter, Roger Campbell, Robert Clark, Charles Ackerman, Steven Corey, Jeff Crary. Not pictured: Jeffrey Burton.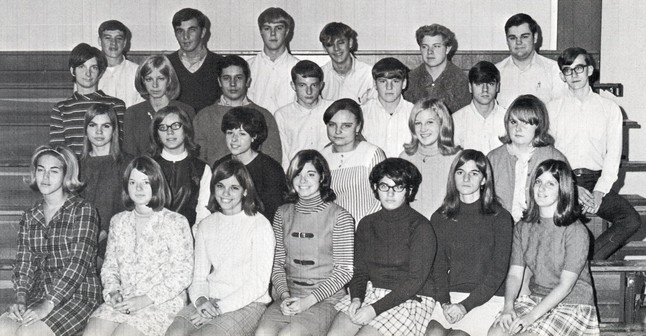 Homeroom in Sandy's junior year. Front row: Mrs. Fredlee Shore, Jane Viveiros, Regina Truitt, Gail Vagts, Teresa Villamaino, Donna Tranghese, Nancy Yacovone. Row 2: Nancy Vallett, Susan Wolcott, Valarie Weber, Melinda Wheeler, Susan Wicks,

Sandy Brennan

. Row 3: Deborah LaBorde, Nancy Wrinkle, Anthony Zampiceni, Malcolm White, Kurt Whitney, David Turnberg, Jarl Weyant. Row 4: Richard Willard, Felix Tranghese, James Wilkins, Robert Wenning, Edward Warren, Stephen Viger. Not pictured: John Vigliano, Mark Whyte, Bruce Carriere.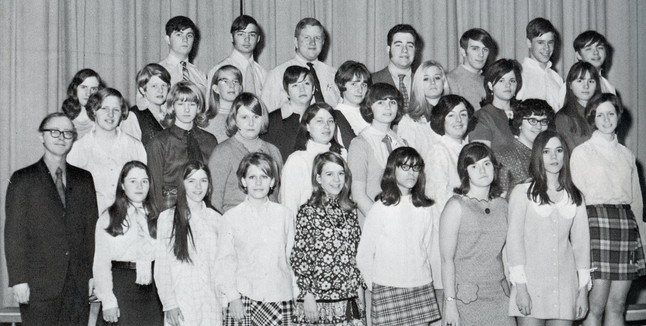 A portion of the chorus in Sandy's senior year. Front row: Mr. John Cheney (director), Cynthia Sault, Sue Sullivan, Susan Regnier, Gail Martin, Linda Clark, Patricia Vadnais, Debra Lawson. Row 2: Patricia Hendrick, Pamela Murphy,

Sandy Brennan

, Cynthia Johnson, Roberta Hire, Marie Roy, Janice Debour, Carol Adams. Row 3: Eileen Roy, Cheryl Macintosh, Leslye Johnson, Lois Melbourne, Sandra Aitcheson, Karalee Shaw, Diane Diodati, Virginia Rush. Row 4: John Hire, James Gilmartin, Brian Falk, Bruce McClure, Chuck Taylor, Richard Hiller, John Gilmartin.
To see other tributes, click on the "Life Tributes" link to the left and then on the page of interest.