East Longmeadow High School
Class of 1970
Our Classmates
Larry Bradley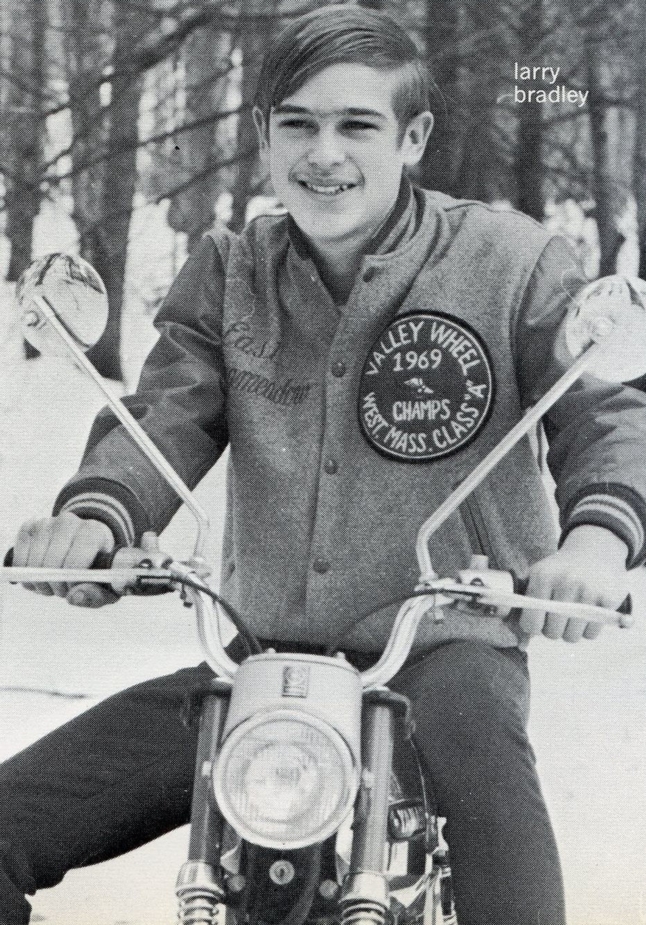 Larry's senior candid photo.
Our dear classmate Larry Bradley passed away on Nov. 2, 2023.
Larry joined our class in first grade. During high school, he was on the track team all four years, a member of the Spartan Spirit newspaper team during his junior and senior years, in the Chess Club during his freshman and sophomore years, and in the Math League during his senior year.
Here are excerpts from his obituary, which appeared on the jacksonvillegardens.com website:
Lawrence "Larry" Frank Bradley, age 71, of Orange Park, FL, passed away on Thursday, Nov. 2, 2023 at the Haven Hospice Custead Care Center after an extended illness.
Larry was born on Jul. 25, 1952 in East Longmeadow, MA to his late father, Frank E. Bradley, a gun fitter at Smith and Wesson, and his late mother, Betty L. (Wilson) Bradley, a homemaker.
Larry graduated from East Longmeadow High School in 1970 and he earned his Bachelor of Science in mechanical engineering from the University of Massachusetts, Amherst.
After graduation, he worked for Foster Wheeler Energy Corp. and Burns & Roe as a service engineer and power plant start-up engineer at many power plants, including Big Cajun, Gibson, Oswego and Seminole Electric. He traveled to Spain to start up a coal fired power plant where he developed an appreciation of red wine.
After marrying the late Charlotte M. Kepper on Jun. 20, 1981 in Baton Rouge, LA, they settled in Orange Park, FL.
Larry spent the majority of his career at the St. Johns River Power Park, Jacksonville, FL, and was known as a kind and fair manager. He was an expert in boiler operation and controls and all coal firing equipment. He worked in every department, assisting employees solving maintenance and operations problems. After completing the startup of Unit 1, he was promoted to be the manager of the technical department. He continued providing engineering solutions, and was affectionately known as Mr. Wizard due to his originality and prowess at solving problems.
Larry enjoyed his motorcyle, playing pool, woodworking, cheering for the Marlins, and reading books.
He was predeceased by his parents and his wife of 40 years, Charlotte Keppeler in 2021.
Larry is survived by his sister, Laural Webster (Bob), of East Longmeadow, two nieces, one nephew, and seven grand-nieces.
Family and friends want to thank the Haven Hospice Custead Care Center staff for the excellent care Larry received during his final week.
In lieu of flowers, please donate to the Haven Hospice Custead Care Center and/or to the Safe Animal Shelter, 2913 County Rd. 220, Middleburg, FL 32068.

Homeroom photo in Larry's freshman year. Front row: Linda Bates, Janet Betterley, Lynn Belliveau, Jayne Anderson, Sandra Andrews, Nancy Blaisdell, Deborah Andwood, Donna Bitzer, Mrs. Margaret Clarke. Row 2: Patricia Berard, Sandra Babcock, Kendra Bowker, Christine Bortle, Jean Bonin, Judith Bliss, Nancy Birtwell, Susan Abel. Row 3:

Larry Bradley

, Koby Borodkin, Laura Bradley, Leslie Bergeron, Donna Anderson, James Bourque, John Beery, William Anderson. Not pictured: Adele Archie, Paul Battige, Leonard Beaulieu, Robert Boisseau.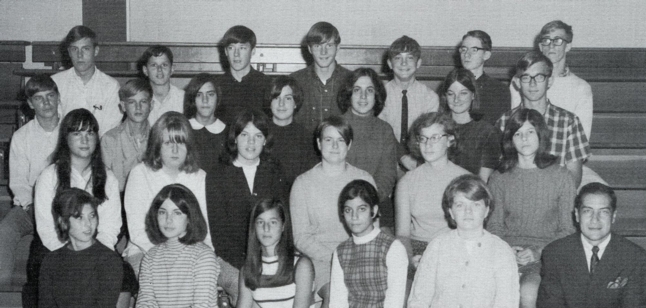 Homeroom in Larry's sophomore year. Front row: Marlene Cabana, Stephanie Chmielewski, Susan Circosta, Donna Colapietro, Nancy Cauley, Mr. Alexander Kotrotsos. Row 2: Arlene Breau, Sandra Brennan, Marsha Coons, Andrea Burger, Alison Cox, Nancy Burritt. Row 3: Todd Cormier,

Larry Bradley

, Debra Campanella, Nancy Bryson, Debra Butler, Janice Breen, Lawrence Cooper. Row 4: Thomas Churchill, David Carpenter, Roger Campbell, Robert Clark, Charles Ackerman, Steven Corey, Jeffrey Crary. Not pictured: Jeffrey Burton.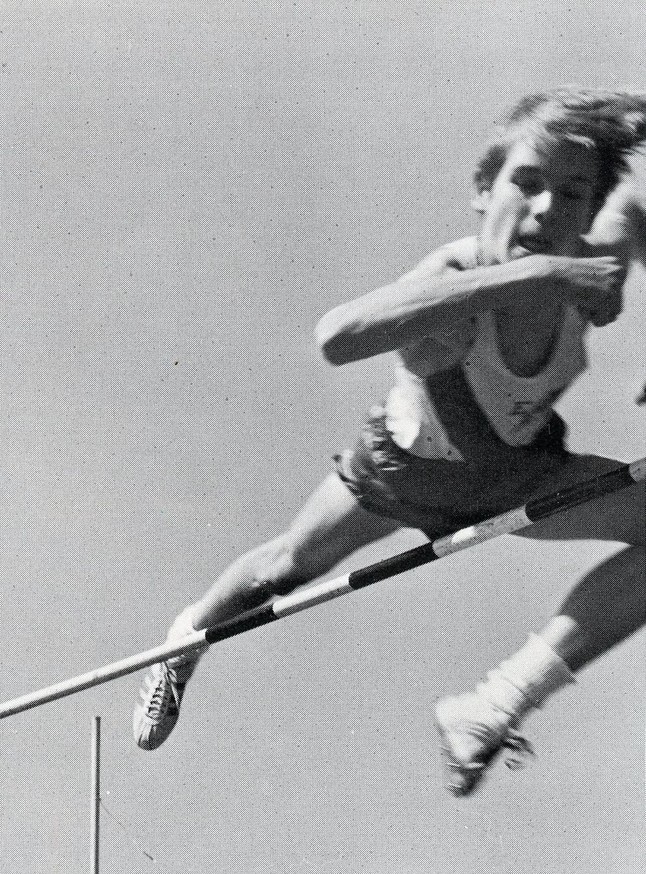 Larry on the track team during his junior year. Yearbook caption: "Mighty mite Larry Bradley jumps his height against Classical."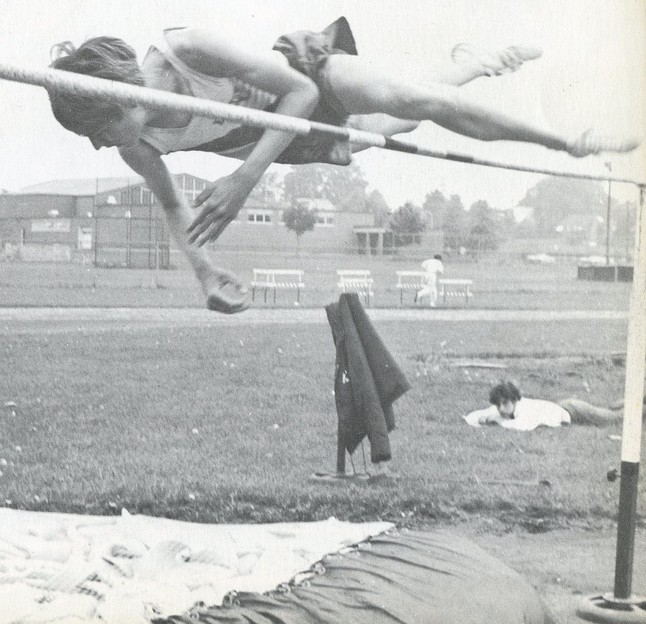 Larry on the track team during his senior year. Yearbook caption: "Back in flying form, Larry Bradley rejoins the practice action at 5'9" after a shoulder injury. True to form, Larry clinched a second in the Western Mass. meet."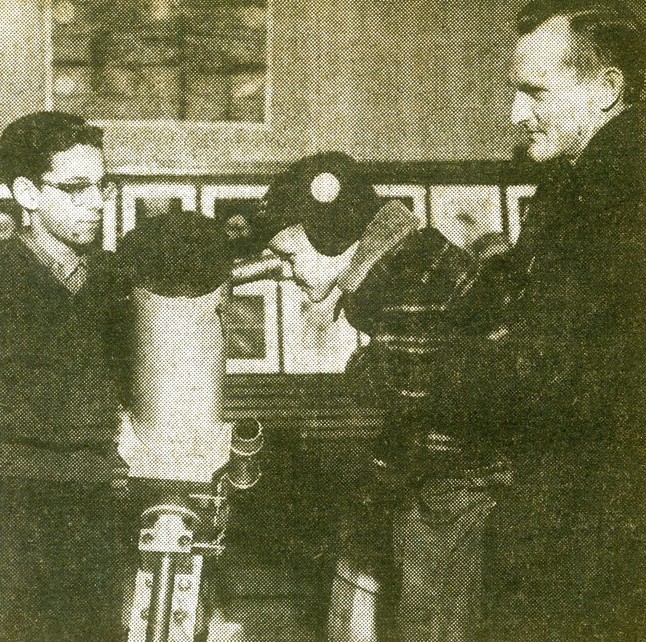 On Mar. 20, 1958, during an arts and crafts show at Birchland Park School, five-year-old Larry Bradley gets a lift from his father, Mr. Frank Bradley, at an astonomy exhibit of the Springfield Stars Club. Gary Frederickson, left, club member, explains the exhibit to the space-conscious father and son. Photo and caption courtesy of the Springfield Union newspaper.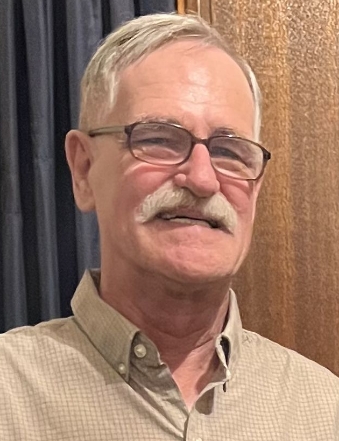 To see other tributes, click on the "Life Tributes" link to the left, then on the page of interest.