East Longmeadow High School
Class of 1970
Our Classmates
Janice Breen (Clutterbuck)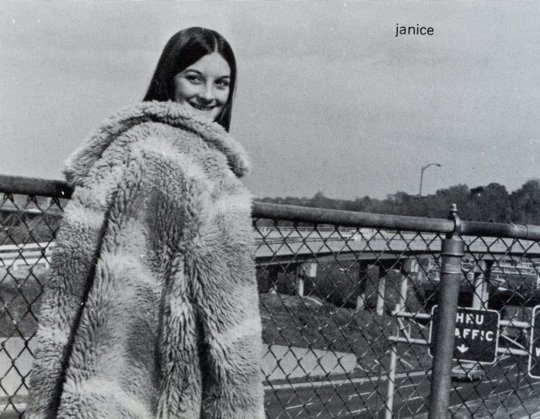 Janice's senior candid photo.
Our dear classmate Janice Breen Clutterbuck passed away on Dec. 17, 2019.
Janice joined our class in first grade. During high school, she was a member of the Red Cross Club and Spanish Club.
Here are excerpts from her obituary which appeared in the Scituate Mariner newspaper, Scituate, MA:
Janice M. (Breen) Clutterbuck, 67, of Scituate, MA, formerly of Plainville, passed away on Tuesday, Dec. 17, 2019 after battling Alzheimer's disease.
She was the beloved wife of Peter Clutterbuck for 46 years. Devoted mother of Todd Clutterbuck and his wife, Paige of Ringwood, NJ; Jason Clutterbuck and his wife, Sheena of Wrentham; and Ryan Clutterbuck and his wife, Alycia of Scituate. Cherished "Nanny" to eight grandchildren. Loving sister of Marianne Breen and her husband, Arnold Duclersaint of Deham; Maureen Breen and her partner, Kate Chesley of Palo Alto, CA; and John Breen and his wife, Gloria of Sebastopol, CA.
She was predeceased by her parents, Jack and Louise Breen of Scituate.

Janice was born in Boston and grew up in East Longmeadow. She and Peter were longtime residents of Plainville, where they raised their three sons.
She worked for many years as a physical therapist assistant in Attleboro. Upon retirement, Janice lived in Scituate and spent the winters in Punta Gorda, FL.
Throughout her life, she was a voracious reader, often completing a book a week. Long walks were enjoyed daily in some of her favorite locations by the water. Janice also adored visits from her grandchildren, especially during those warm days that could be spent enjoying the outdoors.
In lieu of flowers, contributions in her memory may be made to the Alzheimer's Association, 309 Waverley Oaks Rd., Waltham, MA 02452.

Homeroom photo in Janice's freshman year. Front row: Nancy Burritt, Sandra Cushman, Alison Cox, Susan Circosta, Marlene Cabana, Debra Campanella, Arlene Breau, Debra Butler, Andrea Burger. Row 2: Donna Colapietro,

Janice Breen

, Nancy Cauley, Stephanie Chmielewski, Marsha Coons, Nancy Bryson, Alicia Coles, Steven Corey, Todd Cormier. Row 3: David Carpenter, Robert Bradley, Jeffrey Burton, Robert Clark, Roger Campbell, Thomas Churchill, Lawrence Cooper, Jeffrey Crary. Not pictured: Sandra Brennan.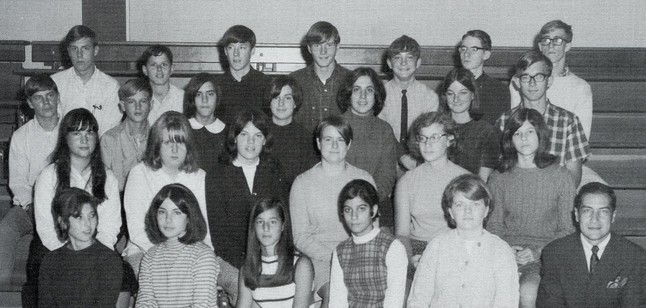 Homeroom photo in Janice's sophomore year. Front row: Marlene Cabana, Stephanie Chmielewski, Susan Circosta, Donna Colapietro, Nancy Cauley, Mr. Alexander Kotrotsos. Row 2: Arlene Breau, Sandra Brennan, Marsha Coons, Andrea Burger, Nancy Burritt. Row 3: Todd Cormier, Lawrence Bradley, Debra Campanella, Nancy Bryson, Debra Butler,

Janice Breen

, Lawrence Cooper. Row 4: Thomas Churchill, David Carpenter, Roger Campbell, Charles Ackerman, Steven Corey, Jeffrey Crary. Not pictured: Jeffrey Burton.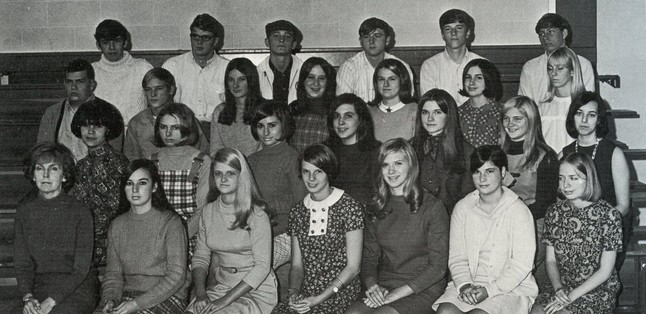 Homeroom photo in Janice's junior year. Front row: Mrs. Kathy Payne, Laura Bradley, Leslie Bergeron, Janet Betterley, Donna Anderson, Arlene Breau, Kendra Bowker. Row 2: Patricia Berard, Teresa Bagnall, Donna Bitzer, Debra Butler, Jean Bonin, Nancy Blaisdell, Christine Bortle. Row 3: Paul Battige, Lawrence Bradley,

Janice Breen

, Lynn Belliveau, Andrea Burger, Nancy Bryson, Sandra Andrews. Row 4: Leonard Beaulieu, William Anderson, Charles Ackerman, James Bourque, David Sabourin, John Beery. Not pictured: Adele Archie.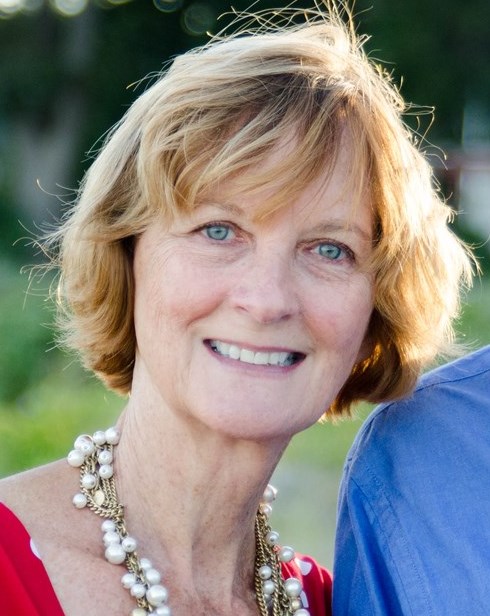 To see other tributes, click on the "Life Tributes" link to the left and then on the page of interest.