East Longmeadow High School
Class of 1970
50th Class Reunion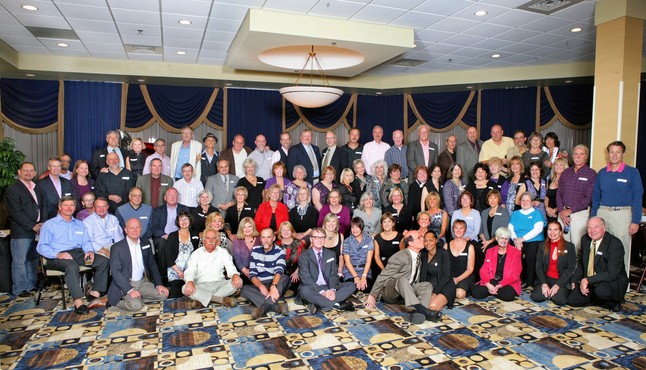 Our 40th class reunion in October 2010.
Jun. 27, 2021 - - - Our 50th class reunion is on!
Recently, the 50th Class Reunion Committee contacted two doctors for their opinions on whether we should hold our class reunion this October. Scott Moore's friend, Dr. Manuel Gordillo, M.D., an epidemiologist who treats COVID-19 patients, and classmate Dr. Mike Rafferty, M.D., an internist, both feel that with most of our classmates likely having received the vaccine and with Massachusetts having one of the highest vaccination rates in the country, we should feel confident about having our reunion in October.
The committee is therefore pleased to announce we'll hold our 50th class reunion on Columbus Day weekend, Oct. 8-10, 2021!
Around Aug. 1, 2021, we'll send out registration forms by regular mail.
Here is the schedule of events:
4:00 p.m. - 6:00 p.m. --- Informal social gathering at the

Pizza Shoppe

, 134 Shaker Rd., East Longmeadow. Order your own food and beverages.
1:00 p.m. --- Guided tour of ELHS by social studies teacher Darryn Izzo, cousin of classmate Peg Izzo Donahue.
6:00 p.m. - 11:00 p.m. --- Banquet at

Twin Hills Country Club

, 700 Wolf Swamp Rd., Longmeadow. Attire: business casual
9:00 a.m. --- Farewell breakfast at

Panera Bread

bakery-cafe, 450 N. Main St., East Longmeadow. Order your own breakfast. Birchland Park Jr. High School math teacher Mrs. Jean Finnegan will join us.
Our reunion hotel is the

Hampton Inn

, 20 Phoenix Ave, Enfield, CT. We've reserved a block of rooms at a discounted rate from Oct. 7-12, 2021. Please

click here

to make your reservation or call the hotel at (860) 741-3111 and ask for the East Longmeadow High School Class of 1970 Reunion rate, group code ELH.
If your contact information is not current, please update it by signing in to our class site, then, under Member Fuctions, clicking on Edit Contact Info.
Please

contact us

with any questions or concerns. We look forward to seeing you in October!
If you wish to serve on the reunion committee, please

contact us

and we'll add your name. Current members include Karen Esposito (chair and treasurer), Scott Moore (secretary), Donna Anderson, Andrea Hastings Driscoll, and Gina Truitt McKinney.