East Longmeadow High School
Class of 1970
50th Class Reunion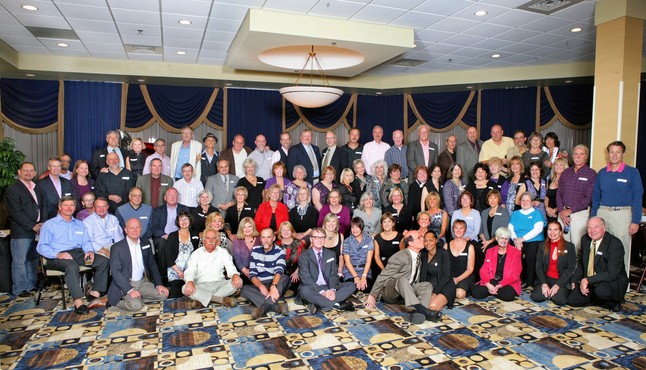 Our 40th class reunion in October 2010.
May 21, 2020 - - - Our 50th class reunion is postponed for one year!
On May 21, 2020, the class reunion committee decided unanimously to postpone our 50th class reunion for one year, over concerns about the coronavirus (COVID-19) pandemic. Originally scheduled for Oct. 9-11, 2020, our reunion will now take place on Oct. 8-10, 2021. We hope you'll join us then!
The schedule of events remains the same, except for the new dates:
6:00 p.m. --- Informal social gathering at the

Pizza Shoppe

, 134 Shaker Rd., East Longmeadow. Order your own food and beverages.
1:00 p.m. --- Guided tour of ELHS
6:00 p.m. - 11:00 p.m. --- Banquet at

Twin Hills Country Club

, 700 Wolf Swamp Rd., Longmeadow. Attire: business casual
9:00 a.m. --- Farewell breakfast at

Panera Bread

bakery-cafe, 450 N. Main St., East Longmeadow. Order your own breakfast.
Our primary concern is with everyone's health and welfare. Around July 1, 2021, if we feel conditions have improved enough to hold our reunion, we'll send an email survey, asking if you plan to attend, and provide reservation details for our reunion hotel, the

Hampton Inn

, 20 Phoenix Ave, Enfield, CT.
If you wish to serve on the reunion committee, please contact us and we'll add your name. Current members include Donna Anderson, Andrea Hastings Driscoll, Karen Esposito, Gina Truitt McKinney, and Scott Moore.