East Longmeadow High School
Class of 1970
Our Classmates
Eddie Goguen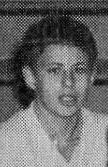 Close-up of Eddie from his freshman homeroom photo.
Our dear classmate Eddie Goguen, who was in our class from first through ninth grade, passed away on Apr. 18, 2008.
Here are excerpts from his obituary, which appeared in The Republican newspaper:
Eddie L. Goguen was taken from this life much too soon on Friday, Apr. 18, 2008 after a courageous battle with cancer.
Born Nov. 25, 1952 in Moncton N.B. Canada to Joseph Amedee and Laurina (deLiefde) Goguen, Eddie attended school in New Brunswick and relocated to East Longmeadow where he attended East Longmeadow High School, finishing his education at New Brunswick Technical Institute.
He was employed by TRW, later owning and operating Patriot Wire in Chicopee, MA. He was employed as an engineer for K&M Electronics. He headed production for Moldcon Inc. and was an engineer for Buffton Corp. all of West Springfield. Eddie relocated to South Carolina where he owned and operated a wire & cable company named UNISEM, which was recognized by state and city officials for generating jobs and revenue to a depressed part of the state.
An avid hunter and fisherman, Ed never gave up his craving for sportsmanship, adventure, and riding his 4 wheeler.
Eddie leaves his wife, Patricia of Aynor, S.C. He leaves behind his adored children, Andrew Pessolano Goguen and Jill Renee Goguen and his former wife Lisa Pessolano all of Springfield. His beloved mother Laurina Goguen of Holliston, MA, brother Joseph Goguen of Ludlow and sisters Maria Finn (Ray) of Holliston, MA and Jeanette Lienson (Stuart) of Ludenburg, MA in addition to many nieces and nephews. Eddie was predeceased by his father Joseph, and brothers Daniel and Charles Goguen.
Burial was held in South Carolina. Donations in Eddie's memory can be made to Eddie Goguen Memorial Fund in care of Bank North, 465 North Main St., East Longmeadow, MA 01028. For: Jill Renee Goguen's college education.
Note: Trish Goguen, Eddie's widow, has joined our site. In her profile, she expresses this sentiment:
"I am the widow of the late Eddie L. Goguen. He passed away from lung cancer on April 18, 2008. He was the greatest man I ever knew. We first met in 1993 and married in Sept. of 2000. Eddie was the kind of man that when you met him then you never forgot him. He was always smiling and would be the first one to help any and everyone. I know he is looking down on us from Heaven and one day we will meet again. If you have any memories of Eddie, please feel free to email me."
You may email Trish by clicking on the Classmate Profiles page, scrolling down to Guest Members, and clicking on her name.

Homeroom photo in Eddie's freshman year. Front row: Donna Fiorentino, Garnett Hall, Linda Gray, Mary Holotka, Nancy Galvin, Pat Hendrick, Nancy Holland, Deborah Hanson, Ann Marie Hearn, Mr. Gordon Smith. Row 2: Vivian Haskell, Ellen Hopkins, Andrea Hastings, Dale Goddard, Steve Gagner, John Illig, Dave Gallerani, Armand Gamache, Andy Farquharson. Row 3: Rick Grimaldi, Doug Goodrich, Eddie Goguen, Steve Geoffrion, John Haetinger, David Farrell, Mark Hadeler, Frank Gibney. Not pictured: Debbi Gray, Linda Farrell, Ken Hall. Photo courtesy of our yearbook.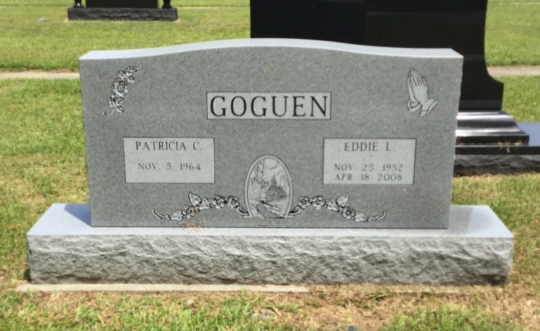 Eddie's headstone in Aynor Cemetery, Aynor, NC. Photo courtesy of Patti Yourko Burns.
To see other tributes, click on the "Life Tributes" link to the left and then on the page of interest.