East Longmeadow High School
Class of 1970
Our Classmates
David Vennell
Our dear classmate David Vennell, who was in our class at Center School during second grade, passed away on Nov. 19, 1995.
Here is his obituary, which appeared in the Tampa Tribune newspaper, Tampa, FL:
David Brian Vennell, 43, of Zephyrhills, FL died Sunday Nov. 19, 1995 at home of natural causes.
A native of Sanford, Maine he moved to this area a year ago from Saco, Maine.
He was a computer technician, a veteran of the U.S. Army, and a member of the Richland Baptist Church.
He is survived by his wife, Rita; a son, David, Jr.; and two daughters, Aurora and Sarah, all of Zephyrhills.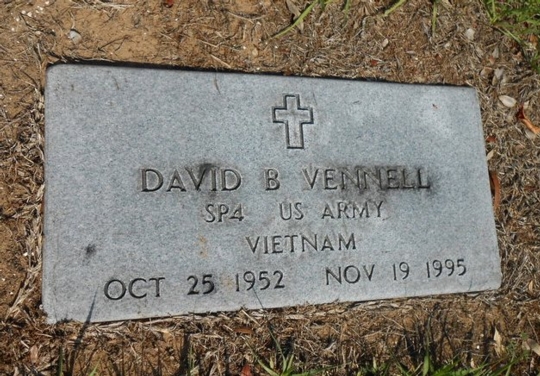 David's headstone in Richland Baptist Cemetery, Richland, FL. He held the rank of Specialist 4 (SP4) in the United States Army.